Utah officer replaces bicycle stolen from special needs man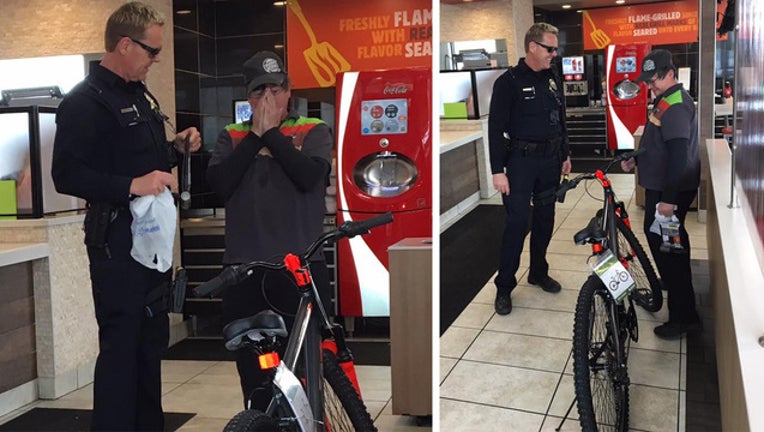 article
MIDVALE, Utah (KSTU) - When a police officer in Utah learned that a citizen never found his stolen bike, he took matters into his own hands.
A Cottonwood Heights officer dipped into his own pocket to help Troy Roberts, who has special needs, after learning his bicycle was stolen last month.  
"I have Williams syndrome," Roberts told KSTU. "It's where kids like me go off the walls and go really hyper and laugh and giggle."
Roberts works at a Burger King in Midvale, Utah, where he was Employee of the Month for two months last year. 
"He's always here cleaning and making sure everything looks good for the customers," his coworker, Oscar Cuevas explained to KSTU.
On Wednesday, the officer, who did not want to be identified, came into the Burger King location and struck up a conversation with Roberts. That's when he learned about Roberts situation.
The officer left the fast-food restaurant, and later returned with a surprise: a brand new bike.
"I was just doing my job and all of a sudden, they walked in and said, 'Hey Troy! I bought this for you,'" Troy said with a smile. "That's when I looked around and said, 'Ohhh!'"
Customers were also smiling, and snapping photos of the special moment inside the Burger King. 
A spokesperson with the Cottonwood Heights Police Department said the officer has been with law enforcement for 38 years.
"He obviously thought it was really important, and it was," explained Lt. Dan Bartlett.
As for Roberts, he couldn't be more thankful. "I'm really excited, he said, "and I can't wait to ride it."