Tropicana Field redevelopment: What's in the final four proposals for the Gas Plant District?
ST. PETERSBURG, Fla. - It's been months and years in the making, but St. Petersburg is getting closer to figuring out the future of the Tropicana Field site.
Last month, city officials announced the four finalists, officially releasing each potential developer's plans and visions for the historic Gas Plant District. All but one are newcomers to this stage of the process after Mayor Ken Welch said he wanted to start from the beginning.
Over the summer of 2022, he scrapped plans from two previously chosen developers. He said the plans were outdated and didn't reflect the current economic conditions, new workforce trends after the COVID-19 pandemic, and the city's needs. At the end of January, he plans to make a final decision between the four finalists.
The four developers include 50 Plus 1 Sports, Hines and the Tampa Bay Rays, Restoration Associates, and Sugar Hill Community Partners. One of them will completely revamp the 86-acre portion of downtown, and each has big ideas.
All four plans include the same major features: a new Rays ballpark, a mix of residential, business, and retail, plus multiple hotels.
Welch asked that proposals included a focus on affordable housing, 17.3 acres for a baseball stadium, and honor the Gas Plant District's history. The area was once home to a Black community that was displaced 40 years ago to make room for Tropicana Field. In the 1980s, local officials started looking into bringing an MLB team to the area and decided to put it in the Gas Plant District. 
LEARN MORE: Gas Plant District in St. Pete: One of the oldest Black neighborhoods razed for baseball
In addition, the proposals must include attainable housing, equitable business opportunities, office space, meeting space, open space, and economic development "that benefits all."
Additional information on the Request for Proposals process can be found here.
Here is a detailed breakdown of each proposal.
50 Plus 1 Sports
This company is a 100% minority-owned development firm based out of Cape Coral. 
It's clear from their renderings that 50 Plus 1 Sports has placed a large emphasis on the artistic design of their project. The proposal includes a large, undulating, blue, and yellow mosaic stadium canopy. Surrounding the stadium would be a multi-level area with restaurants and retail. Plans also feature an education or tech campus and intermodal transit hub.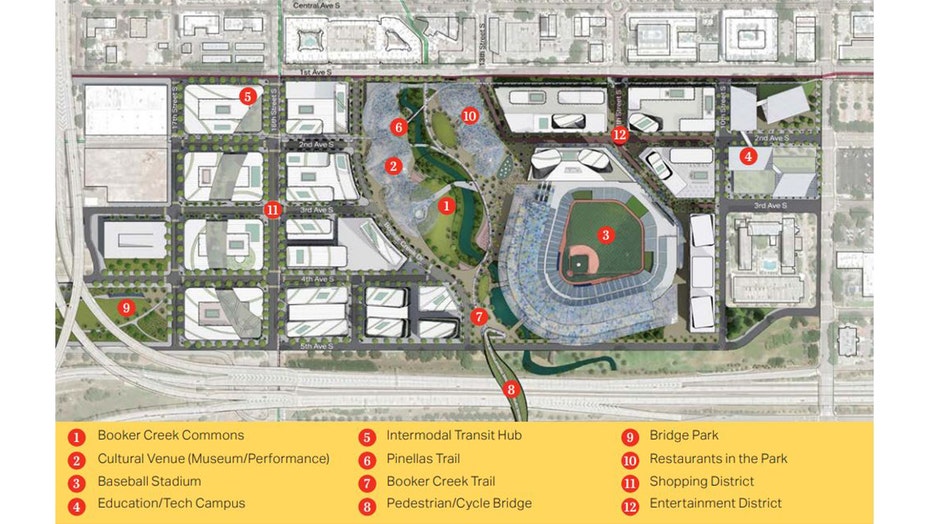 Proposed illustrative site plan from 50 Plus 1 Sports
"Residences at a full range of price-points, hotels, and offices float above the active streets and the arts will infuse community spaces and architecture. Green roofs and curbside bio-retention along
new streets capture and filter runoff that will be stored and cleaned further below grade in the Commons, before feeding a revitalized Booker Creek," according to the proposal.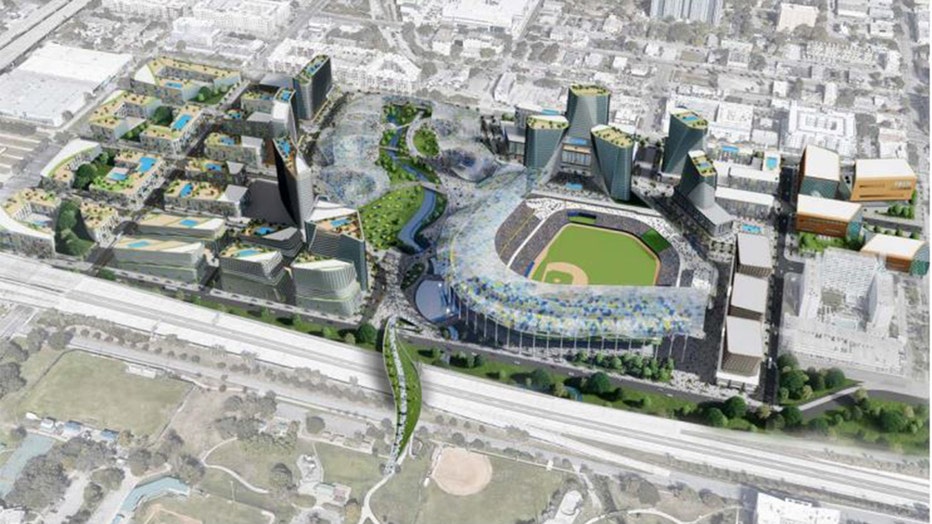 Overall view looking north of the entire historic Gas Plant Site redevelopment, provided by 50 Plus 1 Sports
Inside the 152-page proposal, the company touted itself as understanding how "small, women-owned, minority-owned, veteran-owned and service-disabled veteran-owned businesses play in our economy and actively contribute to the communities where we work." They dived into the other companies who would work with them on the Tropicana Field project, this includes AECOM, which was retained by St. Pete city officials to provide planning services for the EDGE District and the St. Petersburg Waterfront Master Plan.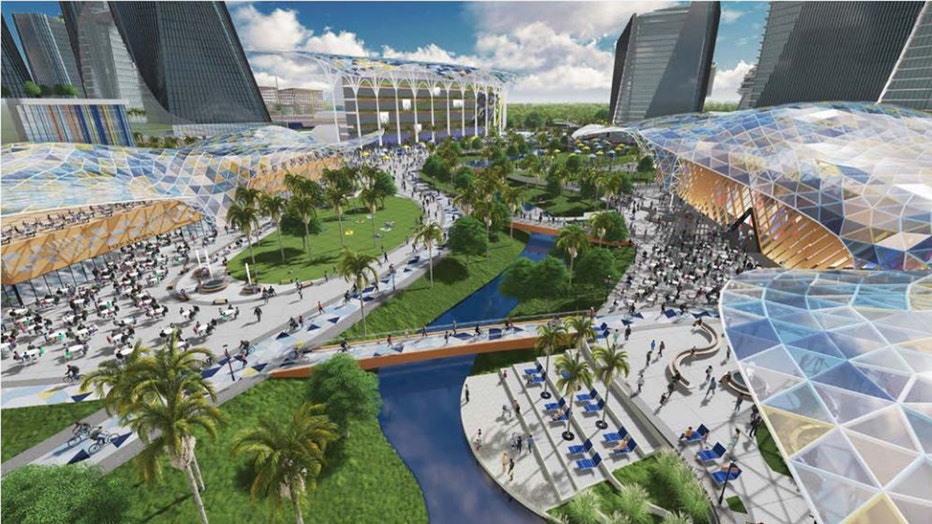 Illustration of proposed outdoor community space from 50 Plus 1 Sports
They previously completed or are currently working on the following projects: University of New Orleans Sports and Entertainment District; Sprint Center Arena in Kansas City, Missouri; and the Richmond City Center and Diamond District in Richmond, Virginia.
LINK: 50 Plus 1 Sports' full proposal can be viewed by clicking here
Other highlights (which are copied and pasted below) include:
Provide jobs, entertainment, housing and family-oriented places that will promote economic development for every neighborhood: Through an emphasis on career building, not just job training or temporary employment, and a diversity of housing types that decentralize affordability throughout the site.
Knit the city together again and re-Integrate the Tropicana site with the rest of the grid system: Through a street grid inspired by the former fine-grain Gas Plant neighborhood and an emphasis on strengthening the Booker Creek cultural and mobility corridor.
Celebrate and enhance the rich cultural diversity and authenticity as an engine for economic opportunity within the district and the surrounding neighborhoods: Through strong connections to the Edge District to the north, Campbell Park to the south, and by becoming an eclectic center for the diverse food scene and the arts in St Petersburg. Our design will reflect St. Pete's art culture through sculptural form and use of color within the architectural styling.
Make it easy to get around and expand all transportation options to reduce traffic and increase access between the neighborhoods and Downtown: Through compact walkable development blocks, enhancements in the transit transfer experience and increased safety and convenience of the pedestrian and bicycle trail system. We will emphasize pedestrian-oriented circulation within the development district, including connections to adjacent neighborhoods, with specific efforts to slow down traffic and reduce vehicle lanes.
Architectural significance, unique designs and integrated public spaces: The plan establishes a series of public space destinations at a variety of scales from civic celebration to neighborhood courtyard hangout. Public space linkages tie the district to adjoining neighborhoods in all directions.
50 Plus 1 Sports is also arguing that their proposal is "well positioned to create jobs that benefit residents of the Intown West, Intown and South St. Petersburg Community Revitalization Areas." They said there will be career development opportunity to support employees. They said the local workforce goals for direct jobs will be no less than 50% for minorities, women, and veterans.
View from 1st Ave S looking west across the retail and museum buildings under the canopy towards the residential towers. (Provided by 50 Plus 1 Sports)
Back in the day, before Interstate 175 was built, the southern border of the Gas Plant neighborhood reached 7th Avenue, connecting residents to Campbell Park. After it was constructed, along with Interstate 275, Gas Plant was isolated from surrounding neighborhoods and was split in half.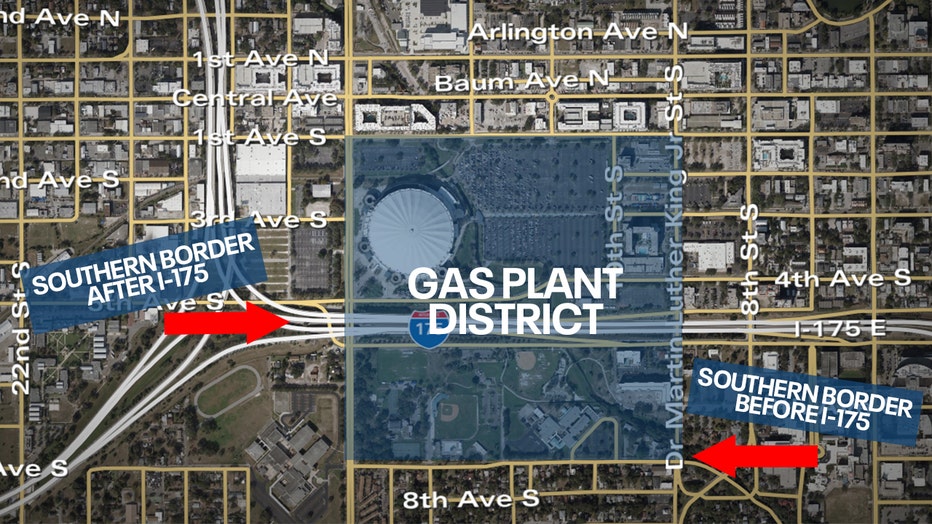 This map shows Gas Plant's loose boundaries and where the southern border was before and after the construction of I-175.
50 Plus 1 Sports is pitching to "re-establish" the previous borders of Gas Plant by creating a trail system over I-175 to Campbell Park. They said this could be adjusted if the short highway is ever demolished.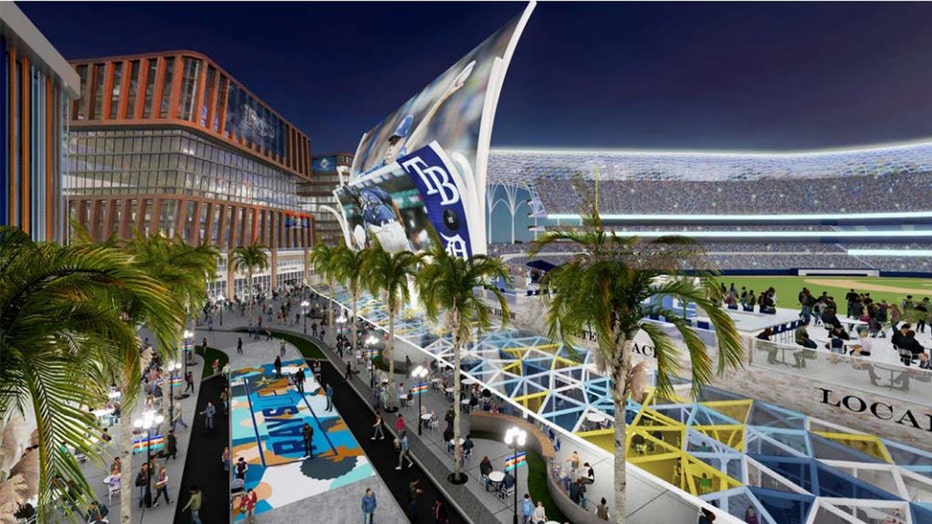 Illustration of proposed stadium entertainment district and narrative landscape opportunities. (50 Plus 1 Sports)
As for housing opportunities, they are looking to dedicate half of it to those who qualify for affordable and workforce housing. The plan will also include sites for at least three hotels, two blocks for a Tech Campus near USF St. Petersburg, additional parking areas, and PSTA connections.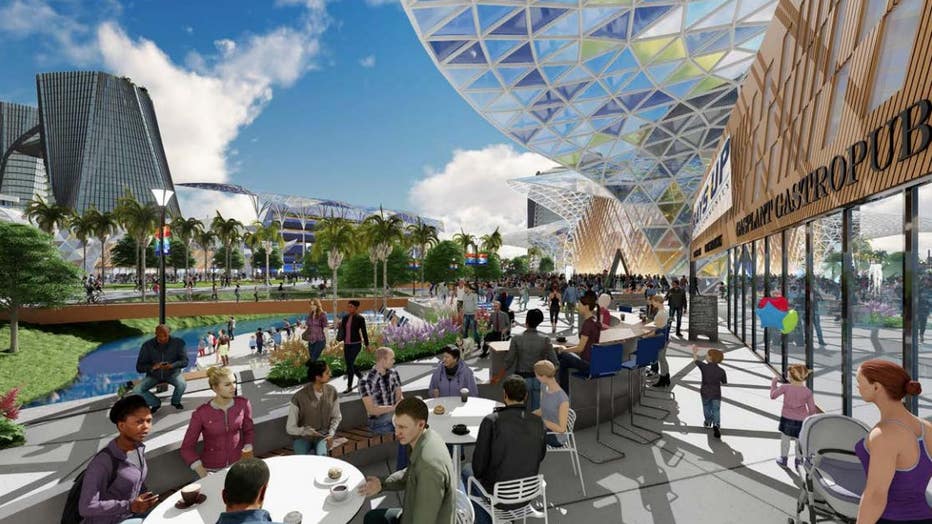 Community outdoor space around Booker Creek looking toward the stadium, provided by 50 Plus 1 Sports.
Hines and the Tampa Bay Rays
After years of uncertainty over where the Tampa Bay Rays would land after its lease with the city of St. Petersburg ends in 2027, the team teamed up with developer Hines to put its own plan forward. The Houston-based company has a "presence in 314 cities in 28 countries," according to its website, and 65 years in the real estate game.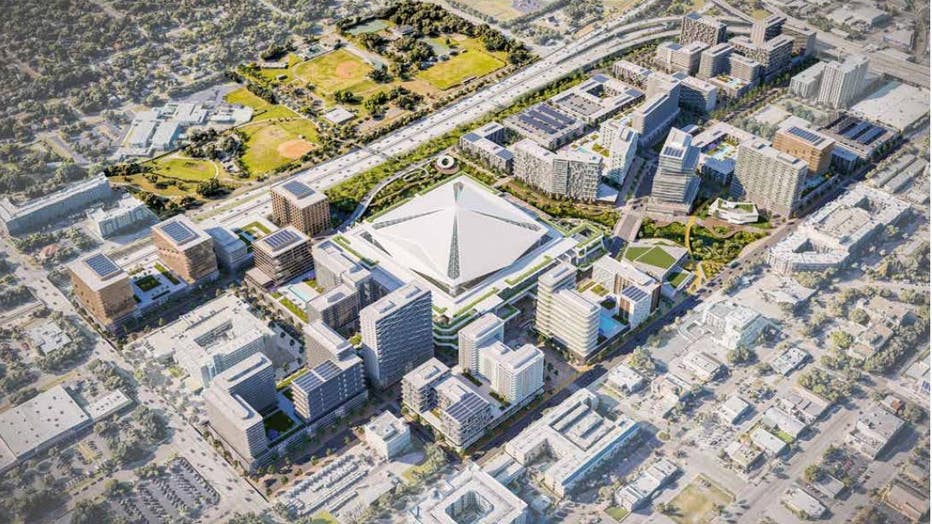 Aerial rendering of proposed ballpark, provided by Hines and Tampa Bay Rays,
The stadium design is a fixed roof pavilion concept, and the facility would be open year-round for events outside game days, such as conferences and meetings in conjunction with nearby hotels and hospitality groups.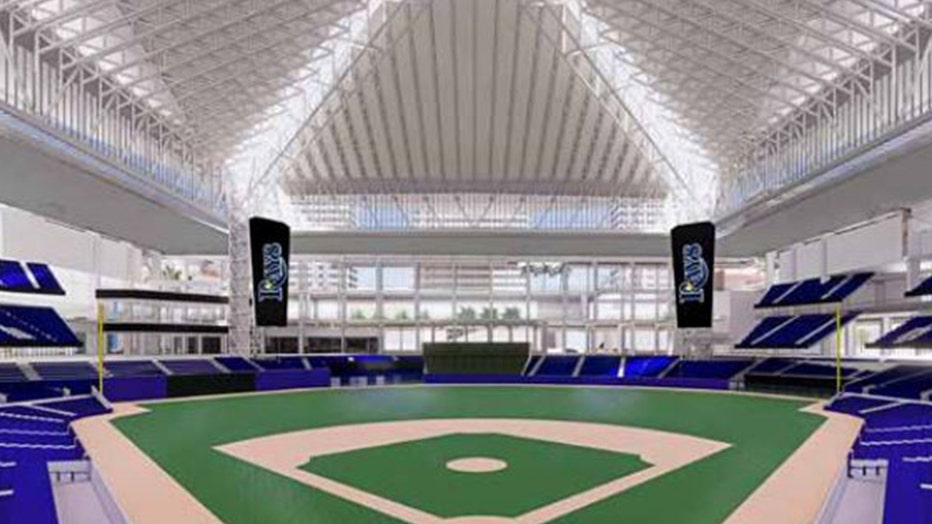 Rendering shows inside pavilion-style ballpark proposed by Hines and the Tampa Bay Rays.
Surrounding the pavilion would be "gameday street experience centers" along 2nd Street, with food and beverage options and with an event plaza. Construction of the new 30,000-seat ballpark would be between 2024 and 2027.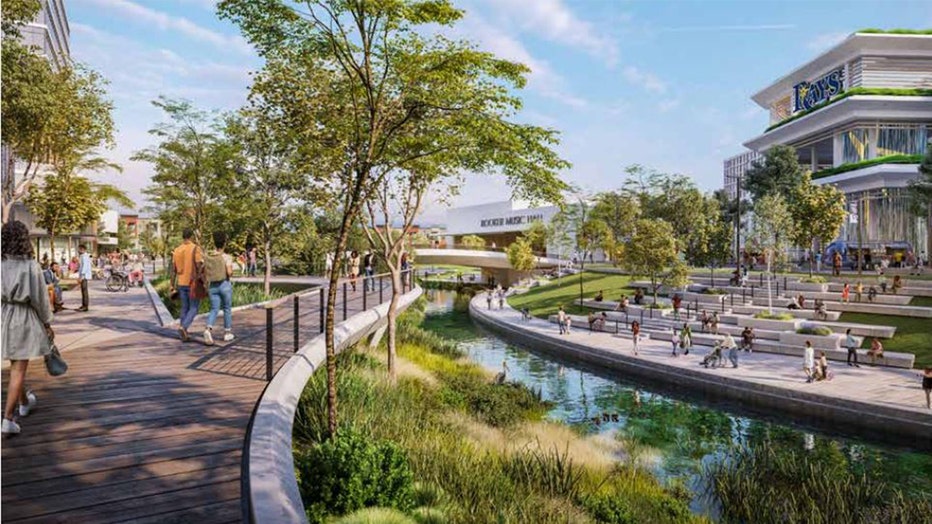 Booker Creek Greenway looking north toward the Ballpark and Booker Music Hall. (Provided by Hines and Tampa Bay Rays)
In the 245-page proposal, Hines and the Rays listed the other companies they would work with on the redevelopment project, including Dantes Partners, a Black-owned business in Washington D.C. That company would lead in the affordable and workforce housing units. 
Hines and the Rays hope to build senior living, a sports sciences incubator, arts education space, plant a tree canopy, incorporate higher education, connect Woodson African American Museum to the Heritage Trail, Campbell Park, and the Deuces, plus, implement a restoration program for Booker Creek and downstream waters. 
They have pledged 23% of their housing will be affordable, including 850 affordable and workforce housing units on-site, and an estimated 600 off-site residences. 
More specifically:
Mixed-Income Housing: 256 income-restricted units will be developed within mixed-income buildings on-site (5% of all units developed within mixed-income buildings, 128 affordable and 128 workforce housing)
Low-and Moderate-Income Housing: 603 low and moderate-income housing rental units will be developed on-site
Hines and the Rays say they will commit $15 million through diverse rental assistance and homeownership programs throughout the south and west sides of St. Petersburg
The ballpark will be the "anchor" for the entertainment and economic areas of the development. They said small and medium storefronts would be the focus and an opportunity to attract new local, independent retailers and for existing St. Pete business owners to relocate to the site.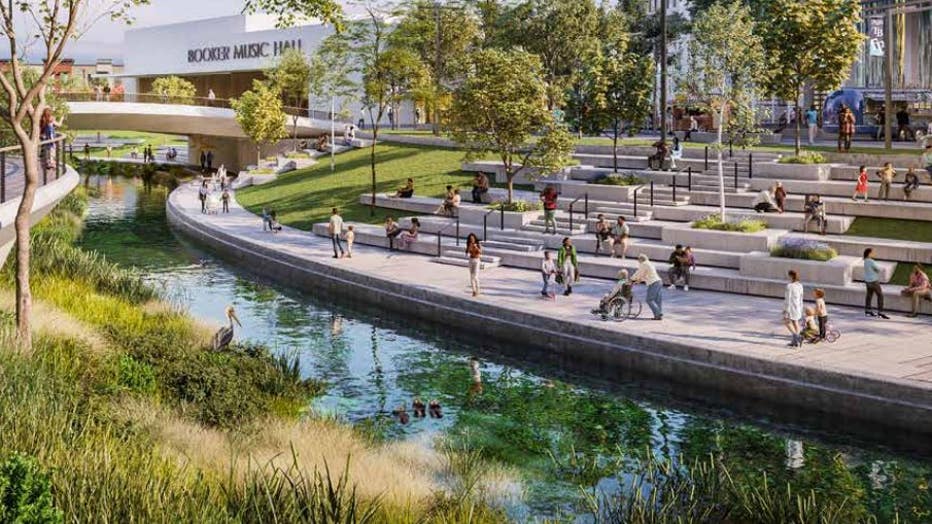 Civic space along Booker Creek (Hines and Tampa Bay Rays)
Plus, they suggest including a 2,500-3,000 seat live entertainment venue, and a "Health, Wellness, and Innovation District zone" to include mid- to high-rise office buildings for sports medicine, sports science and other life sciences research. It would likely involve Bayfront Health and USF St. Pete to promote public health initiatives. Moffitt Cancer Center has apparently expressed interest in developing a new facility at the site.
Hines and the Rays also tapped Tampa Bay Watch and Janicki Environmetal, Inc. as the project's environmental consultants.
LINK: Hines & the Rays' full proposal can be viewed by clicking here
The stadium architect would be Populous, who has created more than 154 ballpark sites. Their designs include the Yankee Stadium, Climate Pledge Arena, and the Field of Dreams. Their relationship with the Rays started 15 years ago with the spring training facility in Port Charlotte. The civil engineer would be Kimley-Horn, who designed the new St. Pete Pier.
The Rays noted at the start of the proposal, that they've "never shied away from using their platform." They went on to list examples, including favoring the Supreme Court ruling on marriage equality and publicly calling for the removal of a Confederate Monument at the Hillsborough County Courthouse.
They also touched on the history of the Gas Plant neighborhood, saying the team spent "hundreds of hours listening, learning, sharing and teaching one another."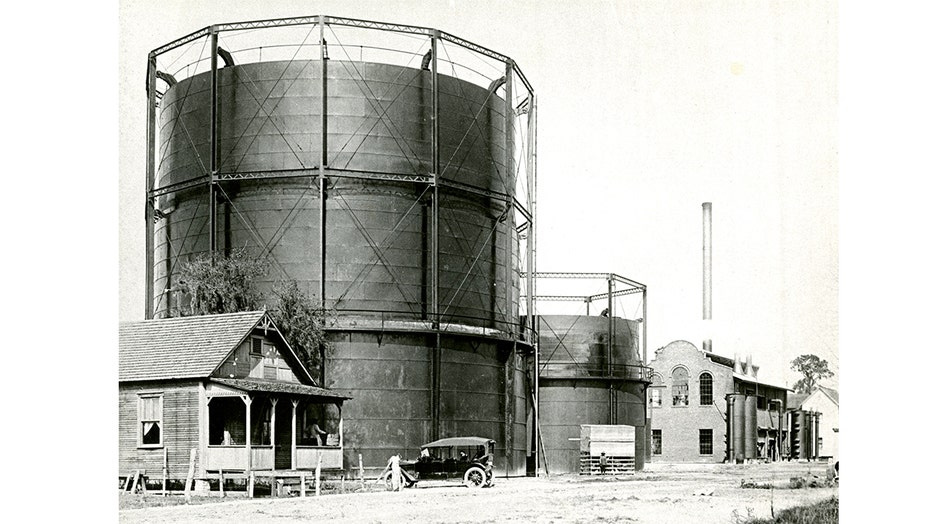 Two natural gas cylinders in the Gas Plant neighborhood. They were later demolished to make way for a multi-purpose stadium,. (Provided by the City of St. Pete)
"We are well aware that we cannot undo hundreds of years of racism with one project," the proposal stated. "Our project envisions a $50 million intentional equity commitment in partnership with the South St. Petersburg community, one that aims to produce a rich, urban experience mixing multiple scales of ground-floor retail, multi-generation affordable restorative housing, space for education, recreational play, and bolstering of … job opportunities."
Childcare is also an initiative they hope to provide space for by working with existing preschools in the South St. Pete area to build their capacity and include satellite locations for existing businesses in the Gas Plant District.
In addition, Hines and the Rays say they want to address the Oaklawn Cemetery, which operated from 1905 to 1926. The site is now where a portion of the Tropicana Field parking lot is located. First, they want to identify and remediate Randy potential environmental issues and honor the families of their loved ones. 
"Efforts will be undertaken to identify descendants and stakeholders connected to Oaklawn Cemetery and a thorough archeological work plan will be created before any additional development is
pursued on the site."
The Tampa Bay Rays have been playing at the Trop since 1998, but their lease with the venue is up in 2027.
READ: St. Pete and baseball: A relationship that spans over a century
Restoration Associates
Gas Plant Restoration Associates (GPD-RA) is a group made up of local stakeholders and philanthropists.
In its proposal, the group wrote to the mayor that they feel it's with "a sense of local responsibility and commitment that we offer a response to this historically important RFP." The team consists of four real estate development entities and a master developer that works as a service provider to all four.
GPD-RA writes they "want to acknowledge the unsolved opportunity this site has witnessed for over 14 years, despite the best efforts of well-meaning public servants."
They're planning 2,800-3,800 attainable residential units in a mixed-income, diverse community. The group writes in its 141-page proposal that it hopes to attract federal subsidies and create training and job opportunities. They plan to have a low carbon footprint too.
LINK: Restoration Associates' full proposal can be viewed by clicking here
The estimated cost of the project is $2.5 billion, which includes about $600 million to renovate the Trop. It would create a real estate value of about $4 billion, according to the proposal.
There are two options for the Trop. Option A includes a retractable dome stadium at $1.5 billion. Option B would be making improvements to the existing Trop at $600 million.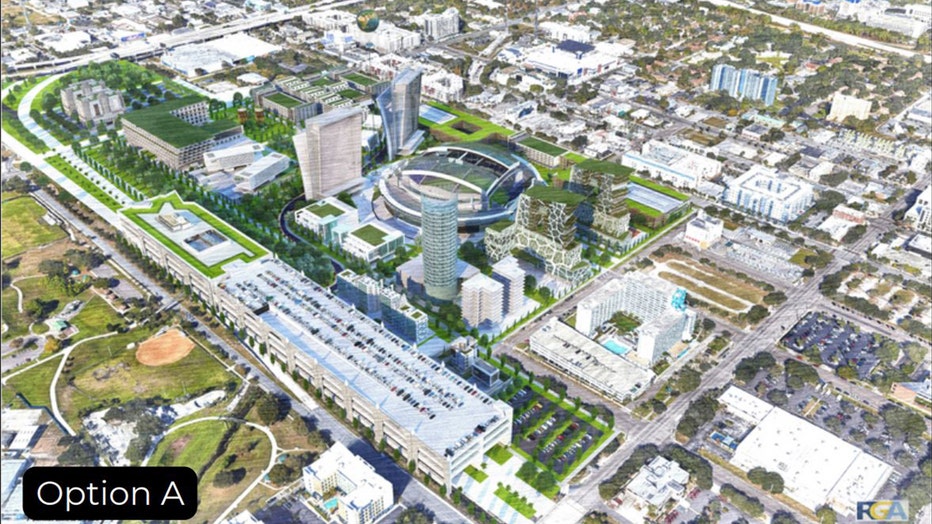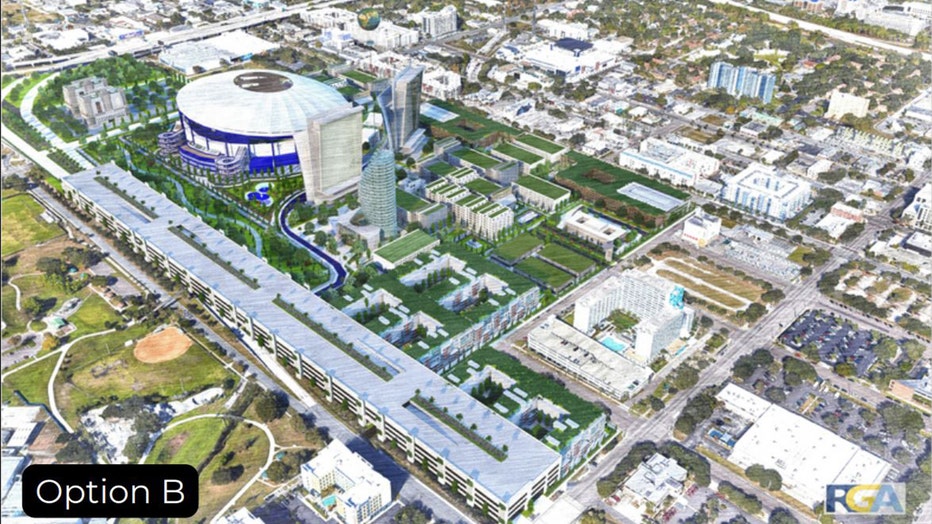 The project would include housing for seniors, the homeless, and people with special needs. GPD-RA is also planning financial literacy classes, computer training, and health and wellness education and screenings as part of the project.
They're planning about 1,000 units for the workforce and affordable housing that would cost about $325 million. A convention center and hotel with ballrooms, restaurants, and meeting rooms are included in the plan at around $450 million.
GPD-RA is also planning an African American history museum and a Gas Plant Memorial Park.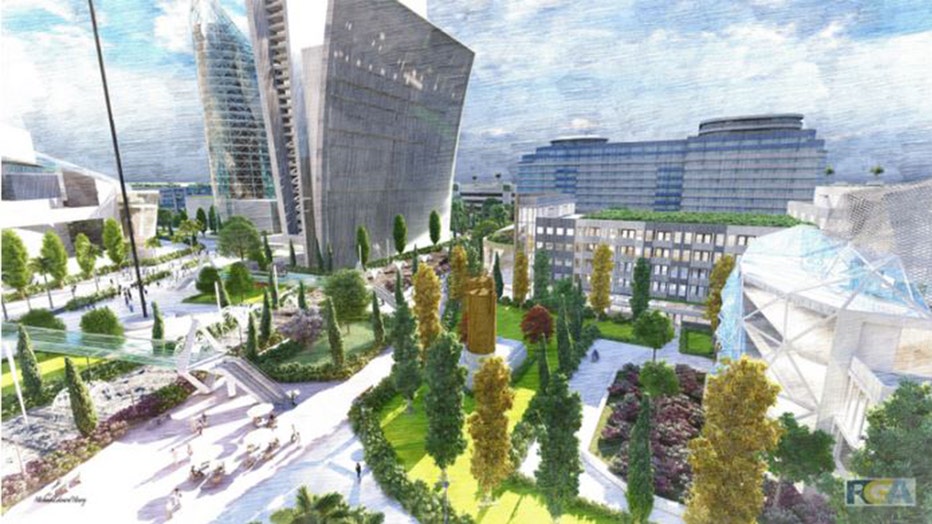 Rendering from Restoration Associations shows an African American museum and Gas Plant Memorial Park.
The project includes an intermodal center that would sit atop a reconfigured I-175. The proposal says it would add more car-free walkable space.
"A development of this caliber and this magnitude is going to have a significant change in the way that transportation works in downtown St. Petersburg and so, we took a look at that and how we could do it in a way that actually makes traffic better but also enhances that fan experience that's so important," said James Fogarty, the group's transit planner. "So, what could we do to basically make it easier to connect to the stadium site from other places in the Tampa Bay area?"
Fogarty said the intermodal center takes down the barrier created by I-175.
"Instead, it puts it in something that's going to unite the two areas," he explained, "the part to the south and the part to the north, but also help them both connect to the broader region, to the jobs and the opportunities and all the great stuff that's on both sides of the Bay."
The developer writes that there have been several attempts to redevelop and find a new home for the Rays since 2008 and nothing has worked. The group states their objective is "to retain MLB in Tampa Bay for the long term."
"We played this game too long," said William Henry, the master developer for the group. "I think it needs to come to a head now. We're at a decision point."
They also write that they don't expect "handouts" from local governments or taxpayers, and plan to apply for grants from the federal government.
Sugar Hill Community Partners
This group is led by JMA Ventures based out of California. It was one of two finalists during the last round of requests for proposals.
Todd Chapman is the Lead Developer with JMA. Kevin Johnson, Master Developer for Sugar Hill, said his team has more than 20 local and national diverse experts, including St. Petersburg Housing Authority's president. 
Johnson said more than 50 percent of the units will be affordable and workforce housing.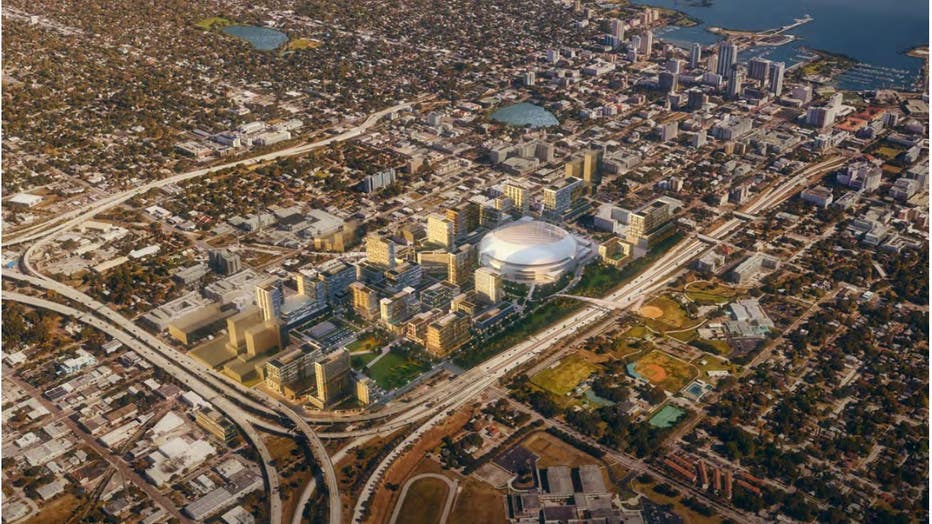 Rendering of Sugar Hill's vision for the Gas Plant District.
"It's the ability to be inclusive and equitable where people can own and live and play and worship and go to live performances," Johnson told FOX 13. "We're trying to create a brand-new neighborhood all over again, but where we level the playing field, which means there's going to be African Americans who are going to be able to participate in a real way."
According to the 305-page proposal submitted to the mayor, they have a team dedicated to affordable and workforce housing. The St. Pete Housing Authority is one of the community partners, and it plans to contribute a "substantial number of housing vouchers," and three off-campus affordable housing development sites.
LINK: Sugar Hill's full proposal can be viewed by clicking here
Habitat for Humanity of Pinellas and West Pasco Counties is another one of JMA's community partners. Habitat will help with equitable development, the proposal said, through an affordable home-buying program. There will also be co-investment opportunities where they'll set aside a minimum of 10 percent of limited partner equity in commercial project assets for local investors.
View north up 10th Avenue S showing Palm Court on game day (from Sugar Hill)
They plan to support minority businesses as well by offering flexible lease terms and smaller pop-up opportunities.
The site will include community orchards and vegetable gardens to help with food insecurity tended by local groups, like St. Pete Youth Farm.
A live event venue is also part of the plan, and the group is in talks with AEG Presents and Live Nation, the proposal said.
Renderings also include a new African American history museum, and a plan to incorporate the arts to celebrate the history of St. Pete's African American community and the city's "rich cultural legacy." The group plans to recreate the historic grid of the Historic Gas Plant District too, and include a history walk. It's a self-guided tour along 16th Street South and Second Avenue South.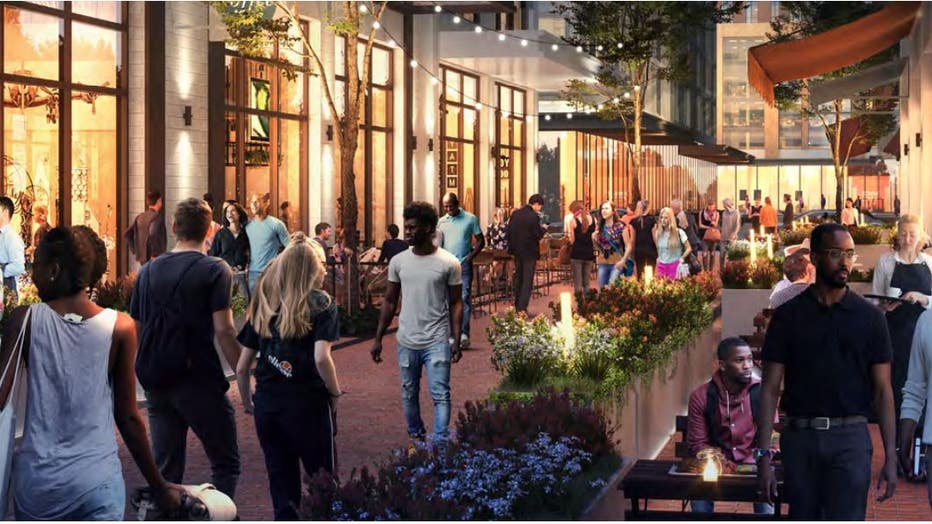 Rendering of area where restaurant and retail district called "Orange Belt Alley." (from Sugar Hill)
JMA said it will be a prominent part of the project connecting the existing African American Heritage Trail on 9th Avenue South to a future trail in Methodist Town.
"History matters," the proposal read in part. "While buildings cannot always be preserved, the stories need to be told so that the project maintains its connections to the past even as we look forward to what lies ahead."
They're planning to have a free daycare facility and assisted living facility on-site too. Other amenities include lots of green space, a bike trail, recreation center, community center, library, skate park, grocery store, and plenty of retail space.
The group also plans to have a community equity endowment where economic interest in development projects is available to the community. The proposal said they estimate it will be about $30 million over the first 20 years of the project. They'll provide grants to small and minority-owned businesses, and use them to help pay for affordable single-family homes outside of the Historic Gas Plant District.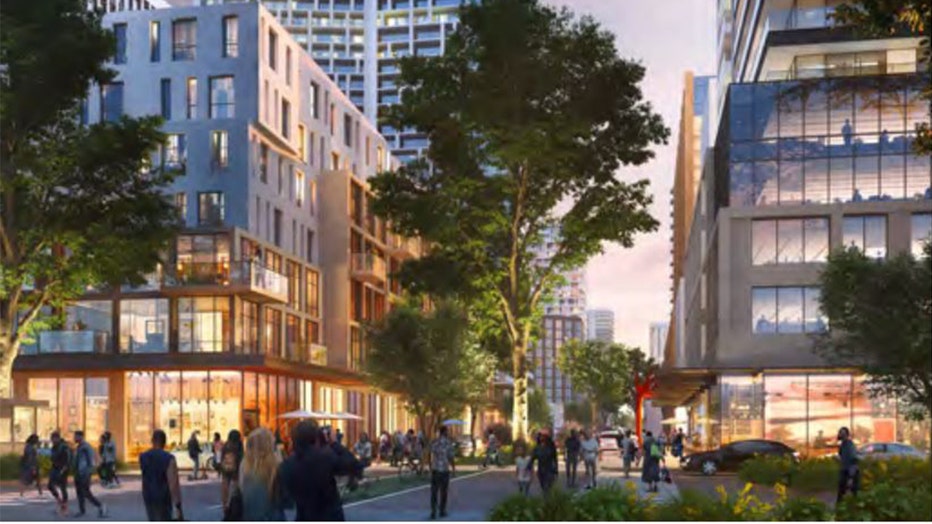 Rendering of "Second Avenue Shops" provided by Sugar Hill.
Johnson estimates the project will cost about $2-5 billion, but he said they're still doing some analysis. The proposal said the group is working to try to minimize any required public investment, and they're looking into tax increment financing. This would use the site's future property tax revenue to pay for its upfront costs and doesn't require any pledge of existing city or county revenue.
The group estimates the site would generate $336 million over 30 years. They also have a team to evaluate funding for the project.
JMA writes in the proposal that they've been in the St. Pete community for more than two years "listening, learning and engaging to understand the hopes, dreams, and concerns that the community has." 
They said their plan is based on existing cultural and physical contexts of the Gas Plant District site.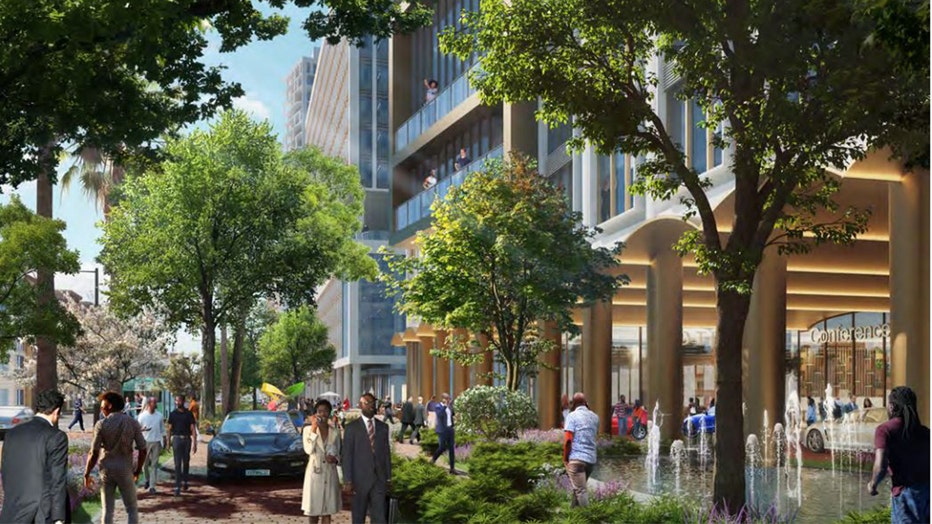 "First Avenue Gardens" rendering from Sugar Hill. 
According to the proposal, JMA plans to provide training to St. Pete residents through Pinellas Technical College and other stakeholders, like Associate Builders and Contractors Florida Gulf Coast.
They estimate about 20 percent of the construction jobs will go to South St. Pete residents. Black-owned businesses, like graphic designers, social media marketing, and public relations will be a part of the development.
What are the final steps before choosing a developer?
Everything comes down to the wire in January. The city has set up several opportunities for residents to learn and provide feedback on each proposal.
An in-person meeting was scheduled for Tuesday, Jan. 4 at The Coliseum. 
Otherwise, residents can submit their feedback online: www.stpete.org/gasplant. Each proposal can be found at this link. Comments must be in by Monday, Jan. 23. 
The city is also offering a "Feedback Pop-Up" at six facilities starting Jan. 5 to Jan. 23. At each location, the proposal summaries and renderings will be available for review. Feedback will need to be submitted online.
Campbell Park Recreation Center, 601 14th Street South
Childs Park Recreation & Fitness Center, 4301 13th Avenue South
J.W. Cate Recreation Center, 5801 22nd Avenue North
South Branch Library, 2300 Roy Hannah Drive South
Enoch Davis Center, 1111 18th Avenue South
North Branch Library, 861 70th Avenue North
Mayor Welch hopes to select a developer by the end of January. Final approval will come from the city council later this fall.