Tropical Storm Nicole: Evacuation orders, shelters announced as storm moves toward Florida
As Floridians prepare for the potential impacts of Tropical Storm Nicole, local emergency management officials are starting to announce evacuation orders.
Seminole County
County officials have issued a voluntary evacuation order for Seminole County residents in flood-prone areas, mobile or manufactured homes, and persons with special needs who may require assistance during the storm. 
The following shelters opened at 10 a.m. on Wednesday, Nov. 9:
Lawton Chiles Middle School - 1240 Sanctuary Dr, Oviedo (general population, pet friendly)
Bentley Elementary School - 2190 S Oregon Ave, Sanford (special needs, pet friendly)
Brevard County
The Brevard County Emergency Management Office recommends evacuation orders for the following area starting Wednesday, Nov. 9 at 7 a.m.:
Residents who live on the barrier islands, including areas from Kennedy Space Center south beaches, and Merritt Island
Residents in mobile homes or manufactured housing
Residences in low-lying, flood-prone areas
Any residents with special medical needs such as electrical dependence
Officials are encouraging residents to stay with friends or family, at hotels or at a public shelter. 
The following shelters will open at 9 a.m. Wednesday and will be available for general population, families wishing to bring their pets, and those with medical special needs who have pre-registered or been screened by the Florida Department of Health-Brevard. 
Max K. Rodes Community Center, 3410 Flanagan Ave., West Melbourne, FL 32904
South Mainland Community Center, 3700 Allen Ave., Micco, FL 32976
Viera Regional Community Center, 2300 Judge Fran Jamieson Way, FL 32940
Walter Butler Community Center, 4201 N Cocoa Blvd, Cocoa, FL 32927
Space Coast Area Transit will provide transportation to the shelters for registered special needs clients. To request transportation to a special needs shelter call 2-1-1.
Shelters will provide food, but evacuees should bring any other necessary items. 
We will update this article as more evacuation orders come in from other Central Florida county leaders. 
Flagler County
Flagler County said voluntary evacuations will begin at 10 a.m. on Wednesday, Nov. 9, for those who live in low-level, flood-prone areas, mobile homes, and RVs. Evacuation orders go into effect at 3:30 p.m. Wednesday for barrier islands.
Indian River County
Indian River County has issued voluntary evacuations for those who live east of U.S. 1, including the Barrier Islands, and those who live in low-lying, flood-prone areas. Additionally, people will special medical needs and those with mobile/vulnerable housing have been asked to evacuate ahead of Tropical Storm Nicole.
Volusia County
A mandatory evacuation order will go into effect on Wednesday, Nov. 9 beginning at 9 a.m. for the following Volusia County citizens:
Residents who live east of the Intracoastal Waterway
Mobile and manufactured home dwellers east of Interstate 95
Residents who live in low-lying areas and other areas prone to flooding
Residents of any campsites and RV parks
Evacuees are encouraged to stay with family, friends, a lodging establishment or a hotel, and should complete their evacuation by 4 p.m. Wednesday before weather conditions worsen.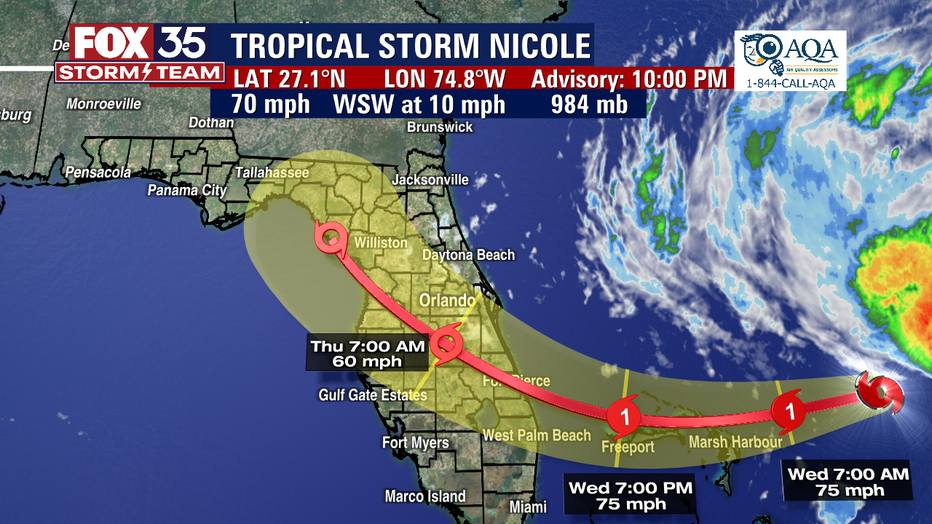 Four pet-friendly shelters will open in Volusia County beginning Wednesday, Nov. 9 at 10 a.m.:
Creekside Middle School, 6801 Airport Road, Port Orange (general population)
University High School, 1000 W. Rhode Island Ave., Orange City (general population)
Heritage Middle School, 1001 Parnell Court, Deltona (special needs)
David C. Hinson Middle School, 1860 N. Clyde Morris Blvd., Daytona Beach (special needs)
Residents are encouraged to bring any necessary items including bedding, medication, etc. 
A shelter for the homeless will also open Wednesday at:
The Bridge, 421 S. Palmetto Ave., DeLand
First Step Shelter, 3889 W. International Speedway Blvd., Daytona Beach (individuals must first report to Halifax Urban Ministries, 340 N. St., Daytona Beach, for transportation to the First Step Shelter)
A curfew will also go into effect for Volusia County residents from 7 p.m. Wednesday, to 7 a.m. Thursday. The curfew does not apply to emergency workers, law enforcement and employees of business, industries or government entities while traveling from their jobs. Those who knowingly violate the curfew could be fined up to $500 and or imprisonment in jail for up to 60 days.