Tropical Depression 2 forms in the Gulf of Mexico on first day of 2023 hurricane season
A low-pressure system being monitored in the Gulf of Mexico has strengthened enough to become a tropical depression, the National Hurricane Center said Thursday, which also falls on the first official day of the 2023 Atlantic Hurricane Season.
The NHC said Thursday evening that it would initiate advisories regarding the tropical system, but does not anticipate any coastal watches or warnings to be issued. It is expected to remain offshore and be short-lived.
According to the NHC, the system is located about 290 miles west-northwest of Ft. Myers, Florida and 400 miles north north-west of the western tip of Cuba. It has maximum sustained winds of 35 mph and is moving west-northwest at 2 mph.The minimum central pressure is 1007 mb.
The system started as an unorganized system of showers and thunderstorms earlier this week and has steadily become a bit more organized. It remains in the northeastern Gulf of Mexico, south of the Florida Panhandle.
The NHC said it could become a tropical storm Thursday night or Friday, however, would be expected to weaken by Friday night and become a remnant low by Saturday.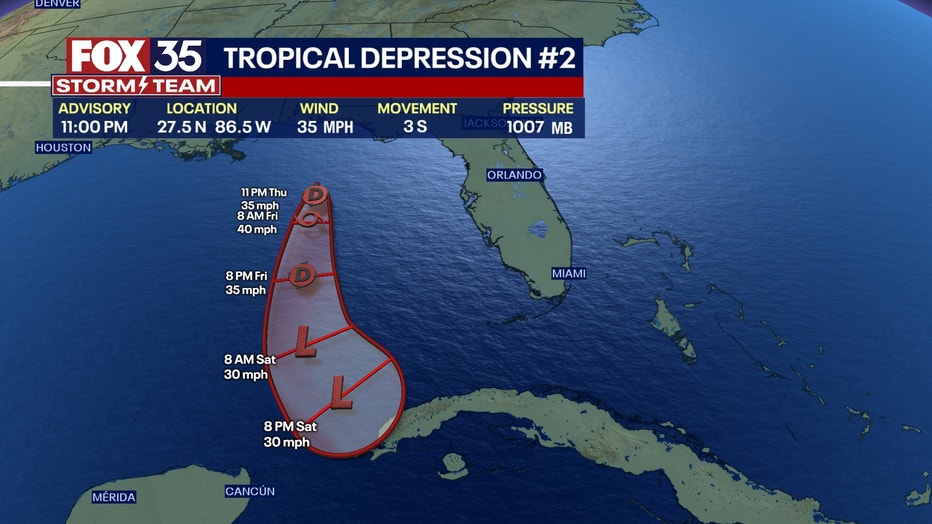 TRACKING THE TROPICS
RELATED: Here are the 2023 Atlantic hurricane season names
Hurricane Hunters
The Air Force Reserve 403rd Wing – home to the so-called "Hurricane Hunters" – took off Thursday afternoon to observe the low-pressure system in the Gulf of Mexico, and to collect important meteorological data.
Will it impact Florida?
FOX 35 meteorologist Brooks Garner said the tropical system will not directly impact Florida as the current track appears to push the system further west, then south toward Cancun and Cuba. There is a chance this weekend it could move between South Florida and Club in the Straights of Florida toward the Bahamas, but is not expected to strengthen beyond a tropical storm.
However, in Florida, we could see an increase chance for rain Thursday afternoon and into Friday, as well as higher risk for rip currents at the beaches and stronger surf. It should also bring in drier air over the weekend, which means hot temperatures.
What are this year's tropical storm/hurricane names?