Tom Hayden, famed 1960s anti-war activist, dies at 76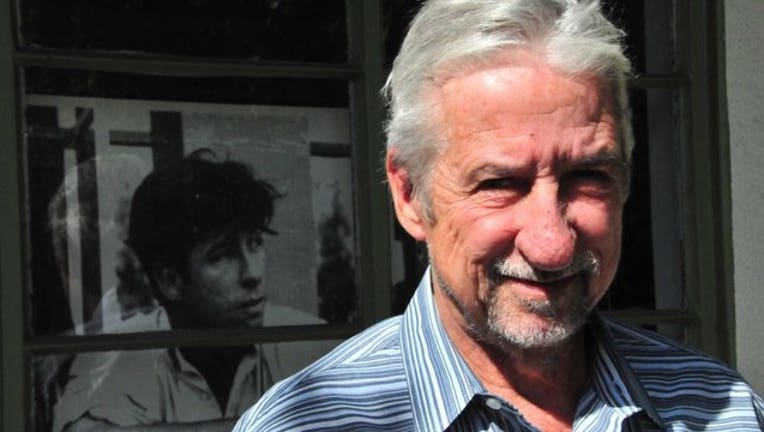 article
LOS ANGELES (AP) — In one of the most dramatic personal transformations in American political history, Tom Hayden went from being a famed 1960s and 1970s student radical to a mainstream elected official and elder statesman of the country's left. He died Sunday at age 76 following a lengthy illness.
Hayden will be forever linked to riots at the 1968 Democratic National Convention, Vietnam War protests of the 1970s and his onetime marriage to actress Jane Fonda.
Those events, however, ultimately represented just a small slice of a life dedicated to, as he put it, trying to change the world.
Elected to the California Assembly in 1982, Hayden served 10 years, followed by eight more in the state Senate.
During that time he put his name on some 100 pieces of legislation — including laws aimed at holding down college tuition costs, preventing discrimination in hiring and modest safety controls on guns.
Former President Bill Clinton praised Hayden, saying "his eventful life in pursuit of peace and justice ran the gamut from protesting to legislating, with lots of writing and teaching along the way."
Clinton added: "Attacked first by the right as a dangerous radical, then by the left for his willingness to compromise, Tom always marched to the beat of his own drummer, doing what he thought at any given time would advance his lifelong goals."
California Gov. Jerry Brown said Hayden "took up causes that others avoided. He had a real sense of the underdog and was willing to do battle no matter what the odds."
It was a battle that began at the University of Michigan at Ann Arbor in the early 1960s where Hayden, then barely out of his teens, co-founded the Students For a Democratic Society and wrote its "manifesto," the often-quoted Port Huron Statement.
"We are people of this generation, bred in at least modest comfort, housed now in universities, looking uncomfortably to the world we inherit," the lengthy screed railing against racial discrimination, war and wage disparity proclaimed in its introduction.
While critics of the time dismissed it as nonsense and Hayden's group as a band of rag-tag malcontents threatening the American way of life with their left-wing ideas, its author would be invited to colleges for decades to come to lecture about its significance.
Youth International Party co-founder Paul Krassner, who also participated in the Chicago demonstration, told The Associated Press on Monday that the manifesto was a cornerstones of the 1960s radical movement because it spelled out precisely what protesters hoped to accomplish.
"People were always saying, 'Oh, what do they really stand for?' And this laid it out," Krassner said.
Born in Royal Oak, Michigan, on Dec. 11, 1939 to middle-class parents, Thomas Emmet Hayden once considered a career in journalism and would eventually publish 20 books on a myriad of subjects.
But after graduation he turned down a newspaper job. He said in his memoir: "I didn't want to report on the world; I wanted to change the world."
He took part in Civil Rights Freedom Rides through the South and was beaten and arrested in Georgia and Mississippi. In 1964, he worked as a community organizer in Newark, New Jersey, pushing for more jobs and empowerment for the poor.
An early opponent of the Vietnam War, he made his first visit to North Vietnam in 1965 in unauthorized trip that enraged a segment of the American public at the time. He returned in 1967 and was asked by North Vietnamese leaders to bring three prisoners of war back to the United States.
In 1968, he helped organize anti-war demonstrations outside the Democratic National Convention in Chicago, where Vice President Hubert Humphrey was being nominated for president.
After the demonstrations turned violent, he and six others were put on trial as the infamous Chicago 7.
After a circus-like proceeding, with the defendants openly mocking the judge, Hayden and three others were convicted of crossing state lines to incite riot. The convictions were eventually overturned, and an official report on the violence concluded it was the result of "a police riot."
Still an anti-war activist, Hayden met Fonda in 1971 and they eventually married, following a "first date" in which he presented her a slide-show of an anti-war teach-in he was conducting. Fonda had a daughter, Vanessa Vadim, by her marriage to film director Roger Vadim, and she and Hayden would have a son, Troy Garity.
Backed by heavy financial support from Fonda, Hayden plunged into California politics in the late 1970s. With the disdain he'd attracted during his anti-war years fading, he was elected to the Assembly as a representative of the liberal city of Santa Monica and its surrounding area.
During his years in office he and Fonda split up and he later married actress Barbara Williams. The couple had a son, Liam.
Before launching his successful Assembly bid, Hayden had made an unsuccessful run for U.S. Senate. He later made unsuccessful bids to become governor of California, mayor of Los Angeles and Los Angeles city councilman.
A lifetime baseball fan who boasted he once won a Los Angeles Dodgers fantasy camp batting title, Hayden sometimes jokingly defined his political career in baseball terms, saying he ran 11 political campaigns and compiled a 7-4 won-loss record.
After leaving public office, he wrote and traveled extensively — lecturing, teaching and speaking out against the wars in Iraq and Afghanistan.
He was also an advocate for animals, and in 2012 he lobbied Brown to preserve a piece of legislation known as Hayden's Law, which he had authored to protect shelter animals from premature euthanasia.
Until his health failed in recent months he remained politically active, supporting Hillary Clinton for president and railing against Donald Trump. He said Clinton had a broader coalition and better chance of winning than leftist favorite Bernie Sanders.
"I've fretted all year about the ominous threat of domestic fascism in our country revealed in the rhetoric and extremism of Donald Trump and his hard-core followers," he wrote in an op-ed piece in April.
Hayden had a stroke last year but continued to make public appearances until last summer.
He is survived by his wife, sons and stepdaughter Vanessa Vadim.
___
Deutsch is a retired AP special correspondent who contributed to this report. Associated Press writer Tarek Hamada contributed from Phoenix.