The new 'Four Loko'? Capriccio Bubbly Sangria causes social media buzz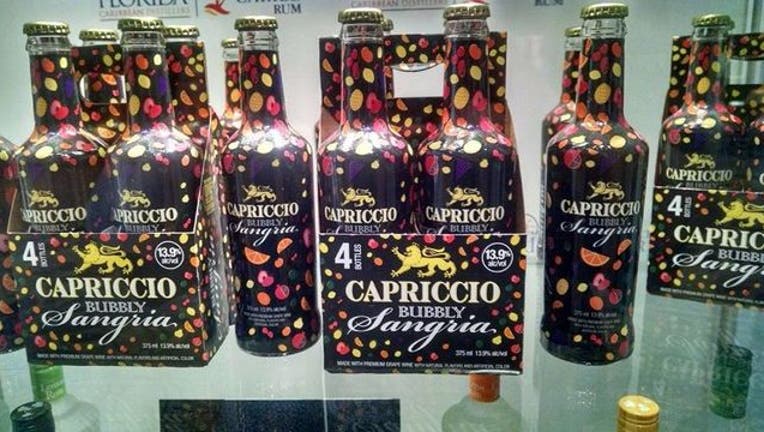 article
(FoxNews.com) - Have you consumed Capriccio Bubbly Sangria? 
Twitter users have been describing the Florida Caribbean Distillers beverage -- which is 13.9 percent alcohol by volume -- in various posts.
"This drink must have some secret s*** they don't include in the ingredients cause this wild asf," one person said last week in a now-viral tweet, INSIDER reported. 
Florida Caribbean Distillers' national sales director Dave Steiner spoke to Fox News. He called the drink "all-natural sangria made from 100 percent fruit juice and grape wine," adding that it doesn't have any additives or preservatives.
Capriccio Bubbly Sangria, however, has received other descriptions on Twitter. 
"did a lil capriccio test taster. this s*** really like a 4loko lol Be safe tho," a tweet said.
"That Capriccio Sangria is the new Four Loko" another Twitter user claimed, adding that they are "here for it."
Steiner had a different take on the sangria being the "next" version of the drink. 
"It's not a comparison that we make," he said, adding that the company "can't certainly control what happens in social media."
Curious about the sangria? Twitter has you covered with an array of reviews. 
"Kay so about the Capriccio its all true it is VERY true," a user chimed in. "It is the effects of a fourloko but the taste of wine with the sparkle of champagne. Get it. Its worth it. Two or chugging one will have you straight for a WHOLE night."
"Ok so these capriccio bubblies taste like a fruit punch four loko. Nothing too serious with the taste but one bottle WILL F*** YOU UP," another person weighed in. "Idk what's worse that or 4lokos."
"I had two Friday and woke up the next morning on the kitchen floor with a chicken tender in my hand," one review said.
Not everyone felt the same way. 
"my final verdict on the capriccio is that I will not spend $11.28 on that again," a Twitter user wrote. "If someone else buys it I will drink it. As a starter. It doesn't even get me tipsy so thanks for nothing."
"Ehh, it was okay," another consumer said when replying to the viral May 12 tweet. "It's really not worth the hype."
"All alcoholic beverages affect every person differently," Steiner said, citing "age, gender, weight and food consumption" as factors.
He said the company is unable to "speak to every specific instance of how the product affects someone," but that it recommends drinking responsibly and knowing your tolerance.
Steiner, who described the sangria as a "premium product," said the company is "very proud of it, and very humbled by the sudden hype."
More on FoxNews.com.