Tampa man accused of being loyal to ISIS, planning terrorist attack to plead guilty in federal court
TAMPA, Fla. - It's been nearly three years since Muhammed Momtaz Al-Azhari was arrested at his Tampa home, after federal officials said he was kicked out of Saudi Arabia on terrorism charges, planned to carry out an attack in Tampa on behalf of ISIS, according to the FBI.
Thursday, he plans to plead guilty, according to court documents.
Al-Azhari was arrested in May 2020. At the moment, prosecutors said he admired the Pulse nightclub shooter and wanted to see a similar attack in the Tampa Bay area. Al-Azhari was arrested after 
The FBI said the U.S. citizen had served three years in a Saudi Arabian prison for trying to join a terrorist group. He was sent to the United States in 2018, winding up on the FBI's radar in April 2020 after attempting to buy a gun and silencer on eBay.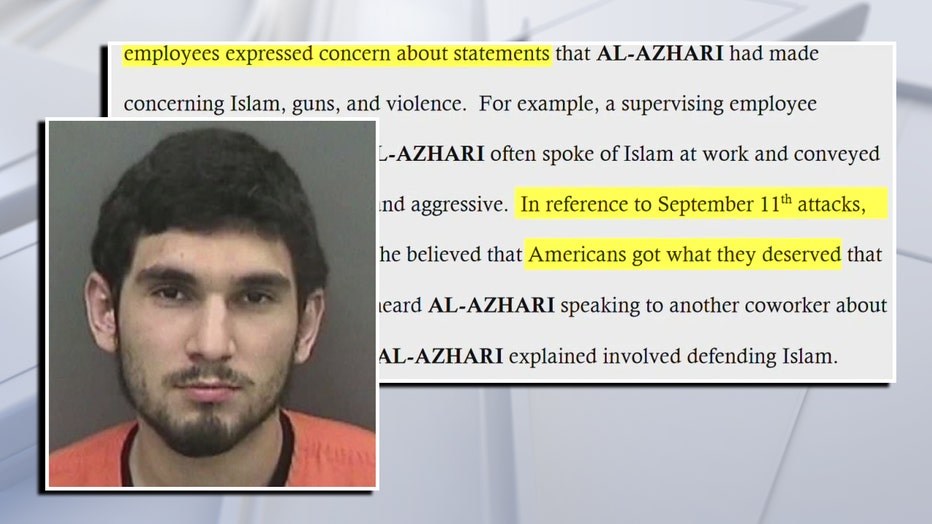 Muhammed Momtaz al-Azhari is accused of plotting a terror attack in Tampa
For the next month, the FBI watched as he bought weapons, disguises, and tactical gear. They even listened while he was at home in East Tampa, as he bad-mouthed news clips about ISIS and recited terrorist tropes.
During recorded conversations, Muhammed Momtaz al-Azhari, 23, of East Tampa said, "I want to die in a shootout with disbelievers. I want to take revenge," to a confidential informant. "I don't want to take [kill] four or five, I want to take at least fifty, like brother Omar Mateen in Orlando did."
The FBI followed as he went to the site of the Pulse shooting, and said he cased in-person or searched on his phone for Bayshore Blvd., Honeymoon Island, the Hard Rock Casino, the FBI's Tampa office, and "busy beaches."
MORE: Neighbor: Tampa terror suspect 'didn't like Americans'
At one point, TPD arrested him for carrying a loaded gun at his job at Home Depot on North Florida Ave.
He was released after a judge ordered him not to possess weapons.
The FBI wrote he told co-workers at Home Depot that on 9/11, "Americans got what they deserved."
Conversations with confidential informants reveal he was willing to kill women and children, saying, "We do not stop the bombing because of children in America."
PREVIOUS: DOJ: Tampa man accused of helping ISIS said 'Americans got what they deserved' on 9/11
Although he appears to have scouted numerous places, including Honeymoon Island, it is unclear whether he ever settled on an actual target.
He also rehearsed portions of an attack and the statements that he would make during or in connection with such an attack.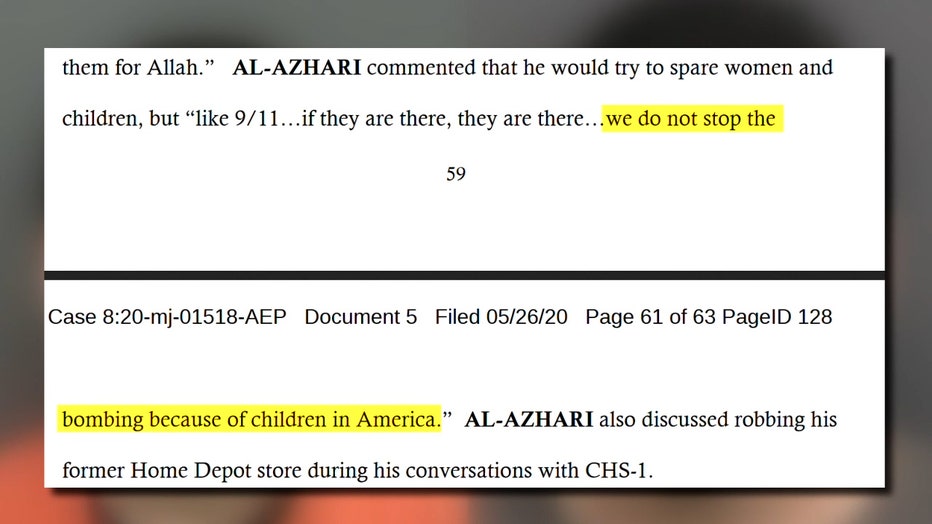 "He didn't like Americans, he'd tell you that," said Sherrie Warren, one of A-Azhari's neighbors. "He kept to himself. But when he came out to the garbage can, he was rude. You couldn't talk to him. He said women aren't supposed to talk, just men."
Days later, police in Temple Terrace say an officer was forced to open fire on a woman who began swinging a "large knife" toward the officer at city hall. The woman turned out to be A-Azhari's sister, 21-year-old Hiba Momtaz Al-Azhari.
PREVIOUS: Prosecutors: Sister of alleged terrorist sought revenge, tried to stab Temple Terrace officer
On May 29, 2022, she showed up outside the police department and asked to file a police report about something that had happened a few days before. Surveillance footage form that day shows an officer coming out to speak with Hiba he then reaches inside her purse and pulls out a large chef's knife.
That officer told her several times to drop the weapon, investigators said. He and another officer fired four gunshots. Hiba later died at a hospital.
During their investigation at her home, they found the note discarded in a trash can.
"FDLE finding that letter where she is saying 'jihad' connects the last piece of the puzzle here," according to Andrew Warren, the Hillsborough state attorney at the time. "This woman was upset that her brother had been arrested, just days before."
A-Azhari's federal hearing will take place at 11 a.m. Thursday.