Sunday storm whipped through Deltona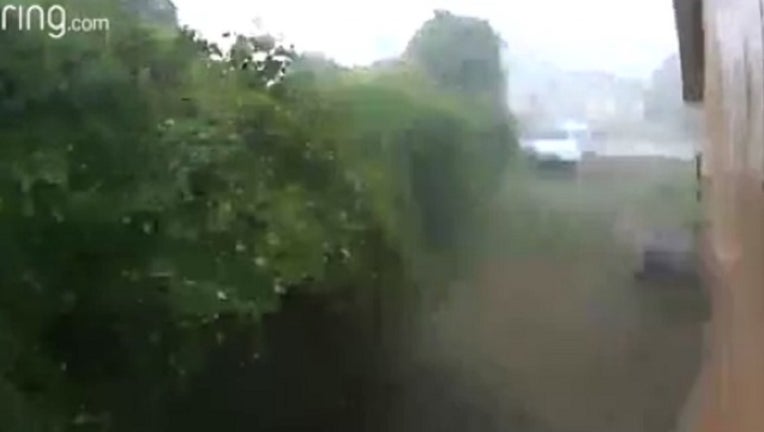 DELTONA, Fla. (WOFL FOX 35) - Locked out at the worst possible time Sunday, Danny Rosi huddled in the center of his back porch as massive winds and rains whipped through his Deltona backyard.
"All of the sudden this whole place just goes nuts," said Rosi, cleaning up shingles from his yard Sunday evening. 
"I'm banging the door for my wife. I'm just like, 'What is going on?' It was just chaos out here, absolute chaos for 30 seconds."
Several neighbors report just that: A 30-second or so burst of storms late Sunday afternoon that cut through the Fort Smith Boulevard area in the south side of town.
The entire burst was caught on Rosi's brother's RING security camera, where the massive rain is shown sweeping in, sending debris flying through his neighborhood, and then just ending completely.
Joey Wright found trees down near his parent's house after the burst along with some large dents in their roof and their hammock blown through their screened porch. 
However, Wright said only five minutes away at his home the storm was just a brief wave of rain.
"My dog jumped on the couch cause there was a little clap of thunder, and that's it," Wright said.
That evening, many neighbors weren't quite sure what to call the quick storm that seemed to target only a small line of town. 
There were no official reports of tornado touchdowns in the area as of Sunday evening and most of the damage was minor.
"I have no idea what it was, but that 30 seconds I was living it, it was like being in the Twister ride," said Rosi.
Power crews were spotted working on lines throughout town Sunday night, though many in the affected neighborhoods reported their power up and running.