Straight out of Oakland: Cleopatra's 'Jumper Cable Jam'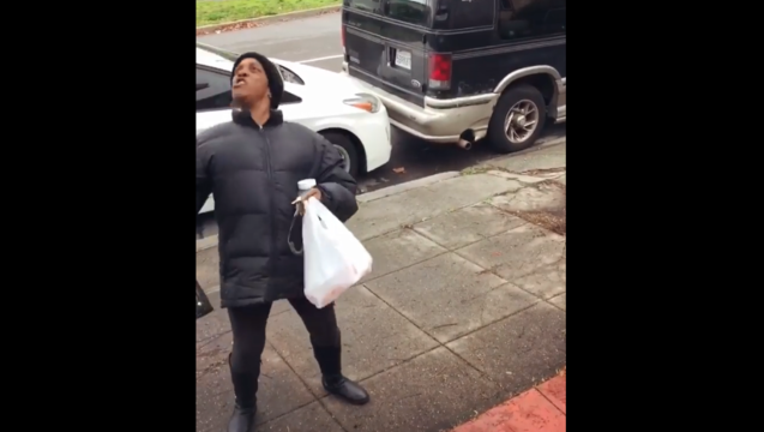 article
OAKLAND, Calif. (KTVU) - "You better get those cables out and charge your sh**!" 
Have you heard this impromptu ditty straight out of Oakland?
San Francisco-based psych-band Milk For the Angry posted this charming video on their Facebook page this week. It shows a nice musical interaction between a couple of band members sitting on a stoop near the Oakland-Emeryville border and a neighbor named Cleopatra. 
"It was totally random. She was just walking along," Cole Bailey, the band's drummer said over the phone on Thursday. "This lady's car was broken down and we started playing guitars." 
Apparently Cleo's friend brought the jumper cables for another person in distress. But first, she was sure to really get into this off-the-cuff jam, complete with random references to ice-cream and popcorn before settling in on the subject matter at hand-- jumper cables. 
"It was totally unexpected and spontaneous. It blew us away," Bailey said. 
Bailey filmed the encounter and can be heard chiming in with some harmonies. The front man-guitarist Dana Lindstrom holds the rhythm down as he sits on the steps and strums, while an inspired Cleopatra sings and dances. 
Bailey said the band was in the process of recording their forthcoming album, 'Extraterrestrial Desert', which is due in March. 
You can catch the band live at Bottom of the Hill on March 26. 
As for Cleopatra, you'll just have to keep your eye out for this singing-lyrical sensation if you're in the East Bay. 
(Be sure to WATCH the video. Sound on please)