'Starry Waffles' painting charms viewers, but the story behind it will warm your heart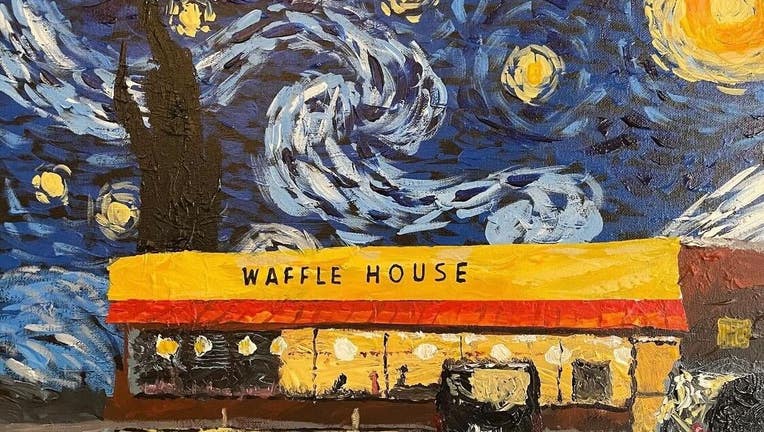 article
What happens when you combine the Waffle House with one of the world's most famous paintings? You get a masterpiece called "Starry Waffles."
Louisiana artist Matt Dawson came up with this modern take on Vincent van Gogh's Starry Night painting and posted it on social media. It even got the attention of the official Waffle House Instagram page, which left a heart-eyes emoji in the comments under the photo. 
One commenter called it "genius" while others couldn't wait to get a print of it. 
"I would love this on a hoodie or sweatshirt," a person wrote. 
Another said, "For a husband who has certain love for the American icon of Waffle House, this will be a fabulous addition to his home office wall!"
MORE NEWS: See Mercury, Venus, Mars, Jupiter and Uranus at the same time
Dawson told FOX 35 that the Waffle House has inspired many of his paintings for a very special reason. 
---
TRENDING VIDEO: 
---
"I love the Waffle House. I used to take my wife to a doctor in New Orleans when she was sick and every time on the way back we'd stop at the Waffle House in Sorrento, Louisiana," Dawson said. "In addition to the tip, I'd put 5 bucks in the juke box for the server for her favorite artist. I just loved the memories there."
Over the years, Dawson has painted a few Waffle House pieces and said they resonated with people. So this time, he really wanted to have some fun and "show the magic that I see when I see the Waffle House."
"Combining it with Van Gogh's Starry Night just seemed perfect."
Dawson said he's not going to stop here and that he has a few more ideas for future Waffle House paintings.