Sanford mom thanks bar patrons for coming to her family's aid after crash
SEMINOLE COUNTY, Fla. - A Sanford mother is thankful for the group of bar patrons who came to her family's rescue after a bad crash right outside its parking lot.
"Even the cops, everyone, they couldn't believe we all came out safely," Amanda Vazquez said Friday.
The crash happened right outside The Hitching Post Bar and Grill on South County Road 419 in Seminole County on Sunday night.
Vazquez says she and her fiancé and their six-year-old daughter had just picked up her best friend from a home in Oviedo when a man trying to turn into the bar parking lot from the opposite lane crossed into the path of their pickup truck, causing it to flip.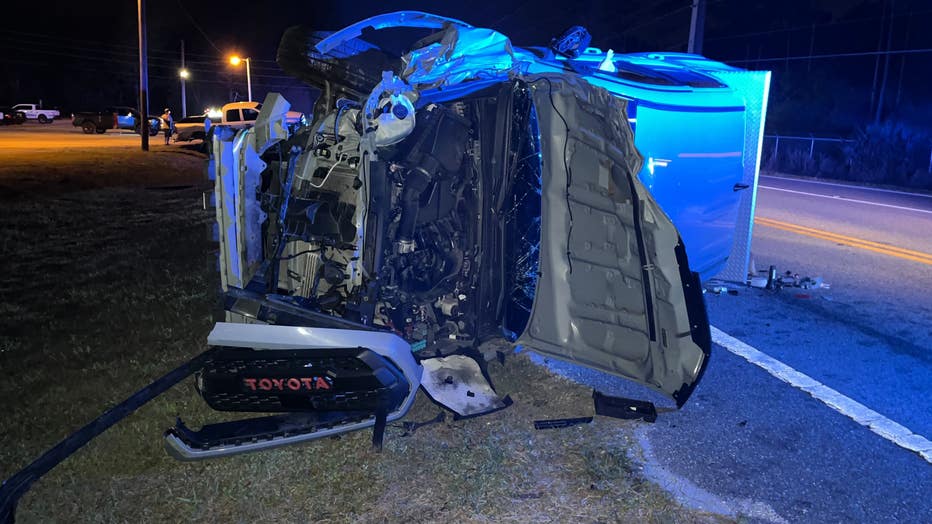 "I took off my seatbelt. Since I was dangling, I fell on top of my fiancé," Vazquez said. "All I saw was smoke. The airbags deployed from the windows."
Almost seconds later, customers from the bar came running outside to their rescue, as seen in surveillance video shared with FOX 35 News.
"It was so heartwarming to have everyone come out and help us out, and I felt the love," Vazquez said. "I am so blessed that they came to help us because it was really tragic for our family to go through such a thing."
Shane Hedrick, the bar's owner, isn't surprised his customers stepped into action.
"The people that come here, they're all family, and it's not the first time that they've done something like this. They hear accidents happen out here and they'll run out, see what they can do to help," he said.
Vazquez is thankful they're all going to be OK, including the driver in the other vehicle, but her worry now lies with her unborn child. She's five weeks pregnant, got a bruise on her stomach, and bled. 
"The doctor said everything seems fine, but I'm still so early on that I'm still in the loop on that," she said.
According to the Seminole County Sheriff's Office, the driver who crossed into the path of Vazquez was at fault but was not cited.