Rescue workers in Haiti try to reach towns cut off by storm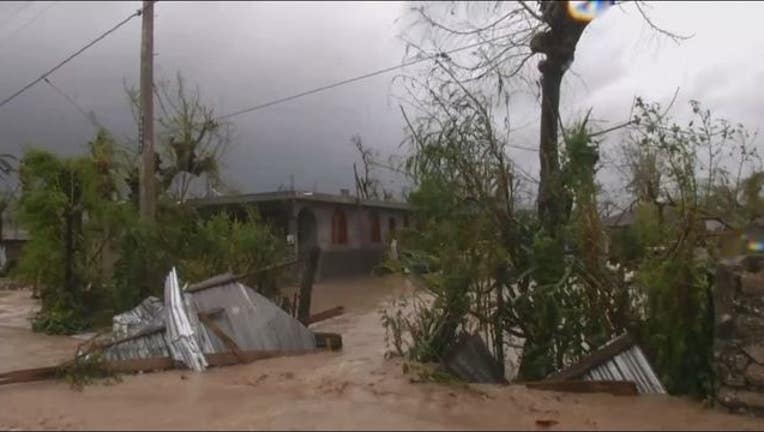 article
PORT-AU-PRINCE, Haiti (AP) - Rescue workers in Haiti are struggling to reach towns that were cut off by Hurricane Matthew.
The full extent of the death and destruction from the storm in Haiti still isn't known, even as the storm moves on. It's now started battering the Bahamas, and it's triggering large-scale evacuations along the U.S. East Coast.
At least 11 deaths have been blamed on the powerful storm as it marched across the Caribbean over the past week. Five of the deaths were in Haiti. The western tip of that country is now isolated, with a bridge washed out and phone communications down.
With top winds now reaching 120 miles an hour, Matthew has been pounding the southern Bahamas with heavy rain and storm surge.
Forecasters said the storm could hit Florida — or come dangerously close — late tomorrow or early Friday and then scrape its way up the East Coast toward the Carolinas over the weekend.
With stronger winds than even Superstorm Sandy in 2012, Matthew could become the first major hurricane to blow ashore in the U.S. since Wilma slashed across Florida in 2005.
%@AP Links
196-a-09-(Robbie Berg, hurricane specialist National Hurricane Center, in AP interview)-"to 10 inches"-Hurricane specialist Robbie Berg predicts Florida's east coast will see high winds, a 3-5 foot storm surge and heavy rain. (5 Oct 2016)
<
194-a-10-(President Barack Obama, speaking to reporters after briefing from emergency chiefs at FEMA headquarters)-"do you have (second reference)"-President Obama says the time to start preparing for Matthew is now. (5 Oct 2016)
<
APPHOTO BHS113: A city work crew puts concrete barricades in place along the northern shoreline in preparation for the arrival of Hurricane Matthew in Nassau, Bahamas, Wednesday, Oct. 5, 2016. Forecasters said the storm was on track to roll directly over the capital city before nearing the Florida coast. (AP Photo/Tim Aylen) (5 Oct 2016)
<
APPHOTO XRE122: Red Cross workers and residents walk among the damage caused by Hurricane Matthew in Baracoa, Cuba, Wednesday, Oct. 5, 2016. The hurricane rolled across the sparsely populated tip of Cuba overnight, destroying dozens of homes in Cuba's easternmost city, Baracoa, and leaving hundreds of others damaged.(AP Photo/Ramon Espinosa) (5 Oct 2016)
<