Rays mourn loss of longtime radio announcer Dave Wills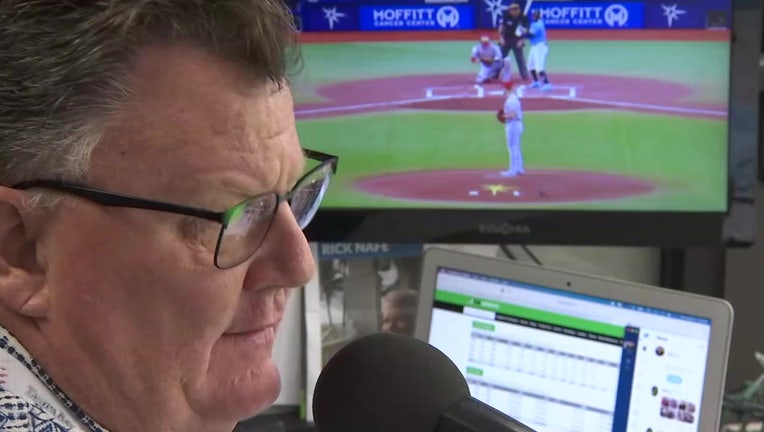 article
ST. PETERSBURG, Fla. - A baseball broadcasting legend, one of the voices of the Tampa Bay Rays on the radio, Dave Wills, has died. 
On Sunday, the team held a special moment of silence before their spring training game against the Baltimore Orioles to honor his 18 years with the Rays Radio Network.
"He was an absolute joy and just so much fun," former co-worker Steve Carney said.
READ: Baseball and Tampa Bay Rays return to Tropicana Field four weeks early
Carney served as Wills' radio producer from 2006 to 2010. 
"He made my time working with Rays baseball with him some of the best memories that I'll always cherish," Carney said.
Wills served alongside his longtime radio partner Andy Freed, who tweeted a picture of the two of them from Saturday's game Sunday writing, "Yesterday was like every other day for the last 18 years. Sharing. Laughs. Baseball. Fun. No way to know it was the last time. Sadness beyond words today. It always felt like we were actual brothers. Will miss him forever. Love to him and his family."
"Dave meant so much to so many people. He's been in many people's homes and radios for many, many years so no doubt will be missed," Tampa Bay Rays Manager Kevin Cash shared.
READ: Tampa Bay Rays' Tyler Glasnow will be out 6 to 8 weeks due to oblique strain
Cash says their fun-loving interactions is what he will always remember.
"It literally is seven minutes of interview and probably 15, 20 minutes of cutting up laughing or, you know, sharing frustrations together. You know, we ride the ups and downs of the season together him along with Andy, for sure. That's what I'll think about," Cash said.
A spokesperson for the team told FOX 13 that Wills died early Sunday morning in his sleep at his home in Lutz at the age of 58. He leaves behind his wife Liz and their two kids his son Alex and daughter Michelle. 
"They were his joy. He always loved talking about his wife on the radio," Carney said. "It's going to be weird having Rays baseball on the radio without him."