Powerball jackpot climbs to $672M ahead of Wednesday night's drawing
The Powerball jackpot continues to rise after no player claimed to have a ticket matching all six numbers following Monday night's drawing.
The grand prize, which is the 10th largest in the game's history, now sits at an estimated $672 million with a one-time cash payout of approximately $320.5 million. There is a 1 in 292.2 million chance of winning the grand prize, according to the game. 
The winning numbers drawn Monday night were 2, 21, 26, 40, 42 with a red Powerball number of 9. The Power Play option was 3X.
One ticket sold in Massachusetts matched all five white balls to win the game's second-tier prize of $1 million.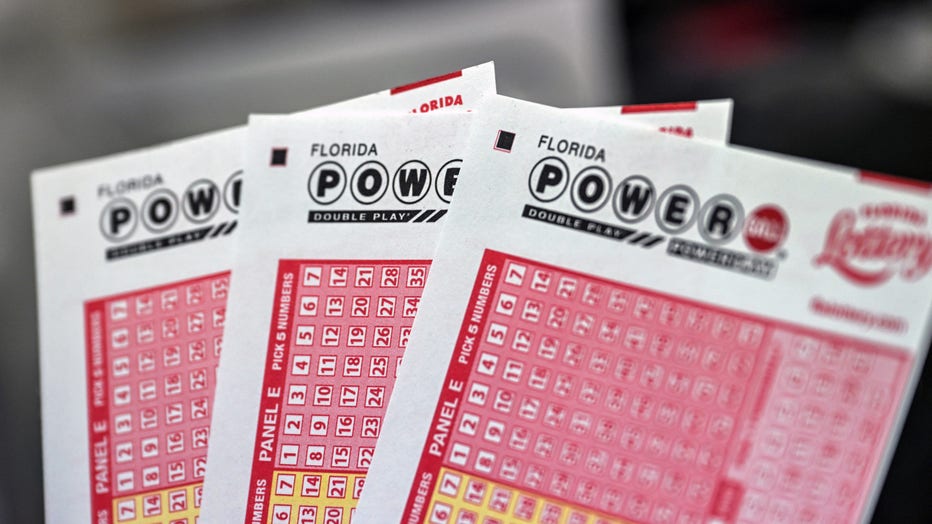 Powerball lottery tickets pictured inside a store in Homestead, Florida on July 19, 2023. (Photo by Giorgio Viera/AFP via Getty Images)
TWO LOTTERY TICKETS WORTH A COMBINED $2.6 BILLION UNCLAIMED
The biggest Powerball jackpot of 2023 – and the third-largest in the game's history – was won in July by a lucky player in California, who snagged the $1.08 billion prize, the lottery said. 
CALIFORNIA CONVENIENCE STORE OWNER REACTS TO SELLING WINNING $1 BILLION POWERBALL JACKPOT: 'SURPRISED'
Behind that was a $754.6 million grand prize won by a player in Washington in February, which is marked as the game's sixth-largest prize ever.
Powerball tickets are $2 per play and are sold in 45 states, Washington, D.C., Puerto Rico and the U.S. Virgin Islands. 
The game says more than half of the proceeds from a ticket sale remain in the jurisdiction where it was sold.