Peeping panther spotted peering into Florida home in hair-raising video
NAPLES, Fla. - While most of Florida is rooting for the Panthers to bring home the Stanley Cup, one woman spent her weekend shooing away an actual Florida panther who was caught lurking outside her home in Naples. 
In a video making the rounds on social media taken by Vendela Harold, the big cat is seen peering into the living room of her Golden Gate Estates home – and it all happened while she was watching a movie! "I feel like someone is looking at me, so I turn my head and there it is – a panther looking at me like he wanted to come in for some snacks," she said. 
The panther made its surprise visit shortly before 7 p.m. Sunday. It stayed on Harold's 3-acre property for about 45 minutes before making its way to the front of her house. It eventually left her property and took off in the direction of nearby Palmetto Elementary School, she said. 
While the experience was a "crazy one" for Harold, she said she was most concerned for her three dogs. "I (will worry) about them next time I take them out," she said. "I have not even seen a bird at my house before, so going from that to seeing a panther on my back porch was crazy."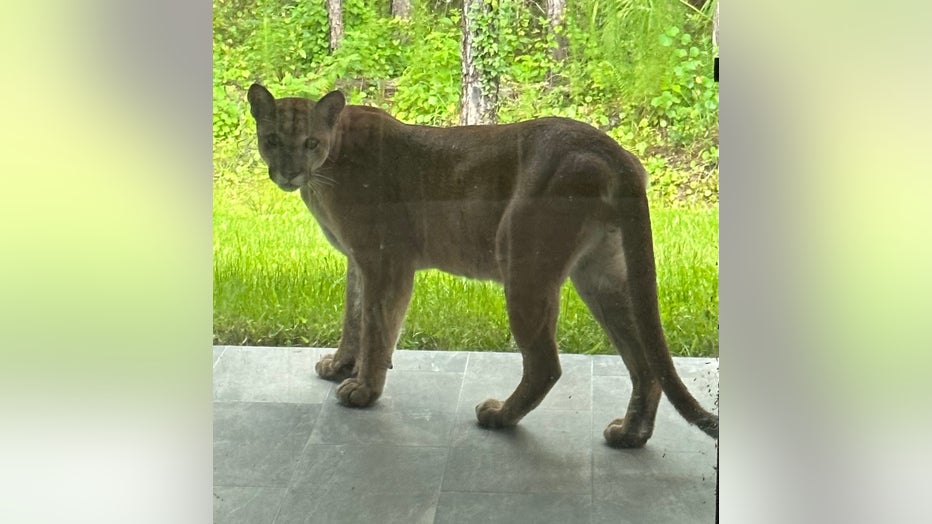 While panthers are typically "reclusive and rarely seen by people," chances of coming across one are on the rise, according to the Florida Fish and Wildlife Conservation Commission. Here's what to do if you see a Florida panther: 
Keep children within sight and close to you
Give them space
Do not run
Avoid crouching and bending over
Appear larger
Fight back if attacked