Orlando weather forecast: High heat with rainy weekend ahead
ORLANDO, Fla. - WHAT IS THE WEATHER FORECAST FOR FRIDAY AROUND ORLANDO?
Day Break forecast low: 75 degrees
Tomorrow's forecast high: 96 degrees
MAIN WEATHER CONCERNS:
It was a muggy morning and hazy afternoon skies as yet another day of Saharan Dust put a veil over our skies with particulates and poor air quality. There will be isolated to scattered strong storms in the afternoon, packing locally torrential rain, frequent dangerous lightning (even outside the storm, up to 10 miles), and gusty winds. Feels-like temperatures will reach 103° making for dangerous heat.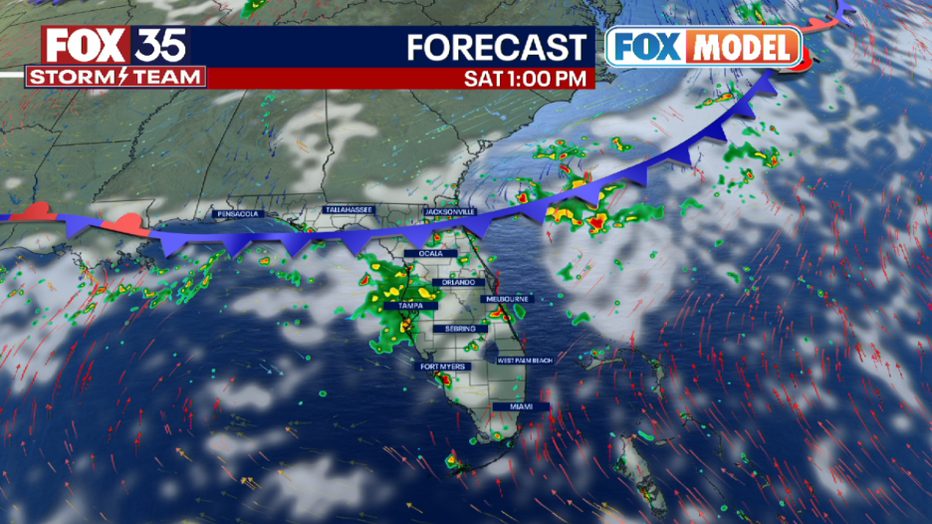 WHAT IS THE WEATHER FORECAST FOR WALT DISNEY WORLD, UNIVERSAL, AND SEAWORLD? 
On Friday, a hot and muggy morning will be followed by a hot and potentially stormy afternoon, again. Remember to hydrate!
WHAT IS THE WEATHER FORECAST FOR THE BEACHES IN CENTRAL FLORIDA?
We may see a few PM storms, but most of the action should stay west of I-95, sparing the beaches. This weekend, however, we should see storms making their way to the beach thanks to a westerly offshore flow. The rip current risk is low to moderate. Surf resides in the 1-3 inch range. Highs on the sand head for the mid- 80s. Water temps hovering around 84°.
LOOKING AHEAD:
This weekend, a weak front will approach north Florida, making for much higher rain chances. Expect numerous afternoon storms by the weekend, as we will be resuming a more typically soaking rainy-season pattern.
TRACKING THE TROPICS:
The tropics are 100% quiet thanks to the Saharan Dust. There are now no tropical waves of current concern. Download the FOX 35 Storm Team weather app to not only track the tropics, but also the afternoon/evening showers and
storms.