Driver appears to be going through crossing arm seconds before train stops
ORLANDO, Fla. - A driver in Orlando was caught on camera blowing through a railroad crossing and hitting one of the arms just seconds before a train came to a stop.
This happened at the crossing on West Princeton Street on Feb. 27. Video of the near-collision was shared on social media Thursday. "If the train was going at a normal speed, he would have gotten hit," Fernando Sosa, who recorded the video on his dash cam, told FOX 35 News. "
Ben Van Hook works near the crossing and has seen his fair share of close calls. He's not surprised to see this happen.  "I've seen people go around the gate, and they're really not supposed to do that," he said.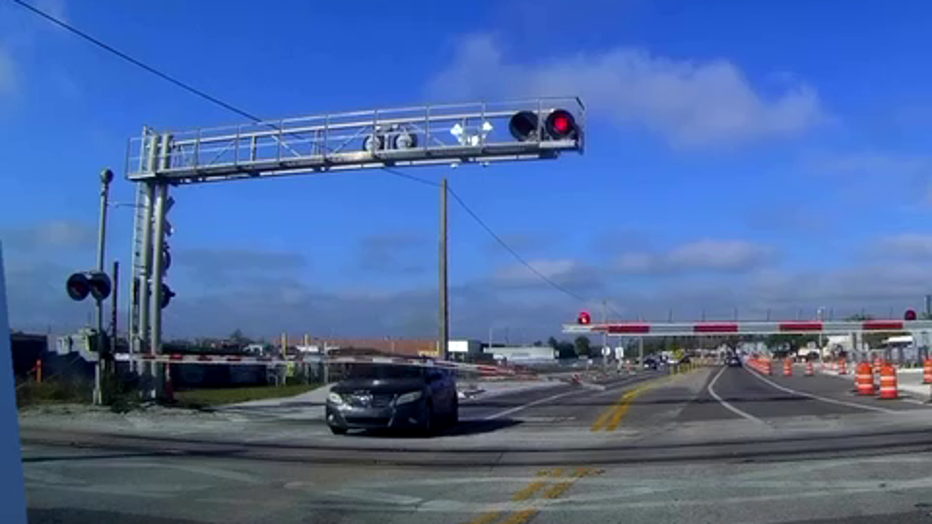 This driver was lucky, but others haven't been. Back in December, a driver died after trying to turn onto tracks in Sanford, according to the Florida Highway Patrol. The signal lights were on, and the gate arms were down at the time of the crash. 
Several months prior, someone else died after driving through a crossing in Kissimmee past the arms and into the path of a train. 
This danger goes beyond Central Florida.  According to Operation Lifesaver, a nationwide group advocating for rail safety, about 2,200 people were either hurt or killed at railroad crossings last year, and more than 60 percent of these crashes happen at crossings with lights or gates.
"I don't get it. I don't understand it. If the gate's down, and you don't go across the tracks, you won't get hit by a train," Van Hook said. "But you see trains hitting cars every day."
According to data from the Federal Railroad Administration, Florida ranked fourth for collisions at railroad crossings in 2022.