Orlando airport sees holiday crowds but not the size of years past
ORLANDO, Fla. - Sunday could be one of the busiest travel days of the year as people head home from the Thanksgiving holiday.
FOX 35 reporter Matt Trezza was at Orlando International Airport on Sunday morning and saw holiday crowds but nothing near the size of previous years. Airport staff expects just 44,000 passengers to pass through on Sunday. That is compared to nearly 170,000 on the busiest Thanksgiving travel day last year. 
This mirrors the trend that airports have seen all year. In their fiscal year wrap-up, the airport said travel is down overall in 2020. Domestic travel was specifically down 39 percent and international travel down 57 percent from last year.  For the month of September, domestic travel was down 58 percent, and international travel down 79 percent. 
"Oh this is dead, yeah absolutely," said Miguel Vargas, who was there dropping off a friend. "There's hardly anybody here."
"When we were here in March, just before everything hit, it was chaos, there was thousands of people. Now I walk around, I see nobody around, so it's definitely a lot different," said Ryan Compton, who was on his way home to Detroit.
MORE NEWS: 13-foot massive alligator snatches duck from hunters in Central Florida
Travelers tell FOX 35 that they are not surprised.
"A lot of people aren't flying due to financial reasons and especially COVID reasons. A lot of people are staying home, a lot of stay-cations," one traveler said.
One holiday traveler heading to Atlanta added "it's definitely not the usual. A lot of people I think are still scared. I think it's picking up from what I've seen though, I can see people are getting more comfortable, but we're still not there, yet."
With short queues leading to short wait times and lots of space for social distancing, the traveler explained that this "new normal" had led to a bit more convenience for passengers if they were willing to take precautions.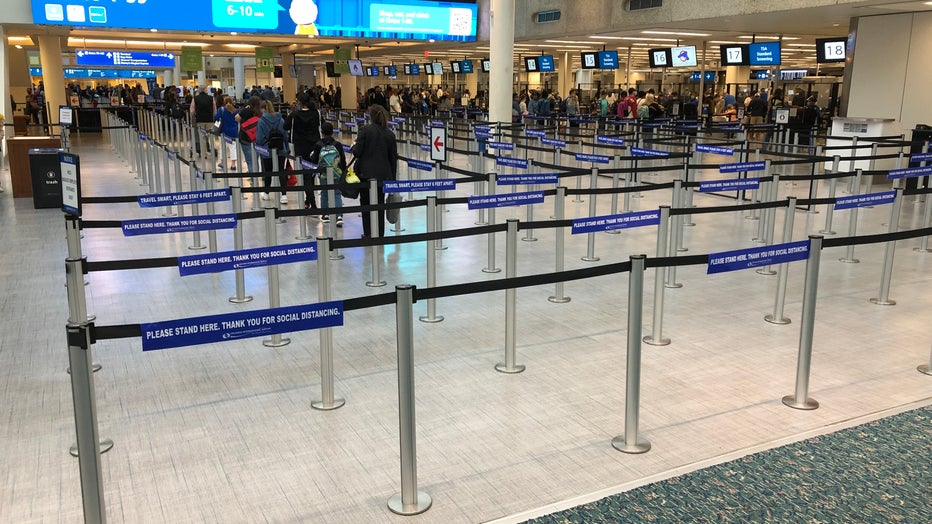 MORE NEWS: Coast Guard rescues man clinging to boat along Central Florida coast
"A lot of things we're doing now, I think we should have already been doing, so I don't think COVID's going anywhere so I think people just need to take their precautions," she said.
Orlando International Airport did say that there is one big increase that is worth noting though. The amount of postal service activity they have seen this fiscal year has jumped 62 percent compared to last year.
Tune in to FOX 35 Orlando for the latest Central Florida news.