Orange County issues mandatory mask order starting Saturday
ORANGE COUNTY, Fla. - Starting Saturday, Orange County will have a mandatory mask order in place.
During a news conference on Thursday, Orange County Mayor Jerry Demings announced that he is making masks mandatory starting Saturday, June 20th at 12:01 a.m. Every person working, living, visiting, or doing business in Orange County is required to wear a face-covering while in public. 
The Mayor said that they do not plan on using authorities to enforce the mask order.
He said that he is putting this order in place because cases are spiking. Florida saw its largest daily increase yet on Thursday, increasing by 3,207 positive cases.
MORE NEWS: Florida shatters daily reported record with increase of more than 3,200 cases
"We are committed here in Orange County, to maintain our business and commerce and having businesses remain open. In order for us to do that, however, we need the assistance of every person who is living here within our county, who's visiting our county and going out patronizing our businesses," said Mayor Jerry Demings. "We want voluntary compliance with this, we have been deliberate, at this phase, in saying that it does not carry a criminal penalty."
Mayor Demings also said that the age of people testing positive is younger than earlier in the pandemic. The median age is 29-years-old. County health officials said that at least 150 cases are linked back to the University of Central Florida students.
On Wednesday, the Orange County Convention Center reportedly completed a record high of 1,021 tests.
MORE NEWS: Florida has potential to become the next coronavirus epicenter, experts say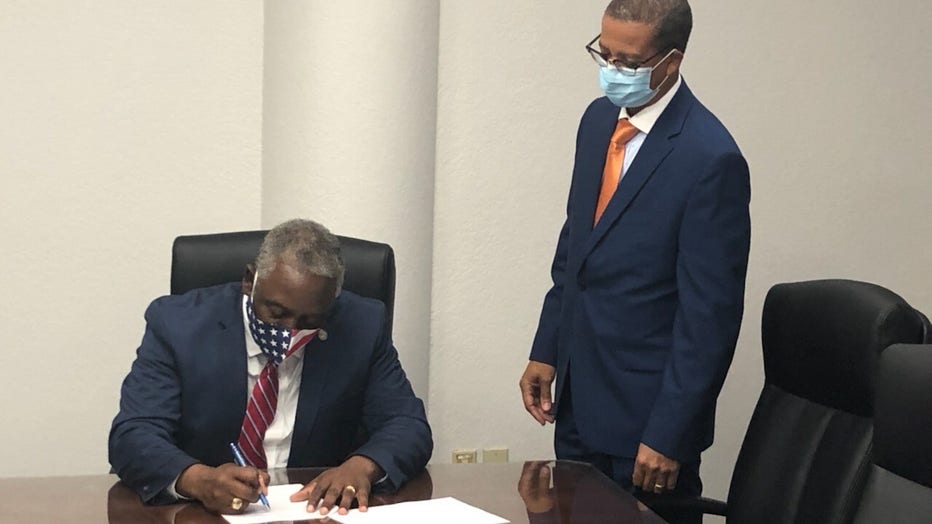 Some residents we spoke to are in favor of the mask order.
John Goodwin told FOX 35 Orlando that "people are just being really relaxed with the masks, so I think it's a great idea to wear masks in the area."
Another Orange County resident, Bridget Sloan, added that "we all have the same goal and that's for a cure, it's not just going to go away on its own, so whatever we can do to get there."
Tony Thrushman feels people should just stay home if they feel at-risk though, citing that "if you don't feel safe going out, then you probably just shouldn't go out."
CLICK HERE FOR COMPLETE CORONAVIRUS COVERAGE
Tune in to FOX 35 Orlando for the latest coronavirus news.