'Never a dull moment': Florida deputy helps wrangle 8-foot alligator in swimming pool
ORLANDO, Fla. - Wrangling alligators aren't necessarily listed in the job description of a Florida sheriff's deputy, but anything's possible in the Sunshine State. Brevard County Deputy Robert Santiago had to do just that after responding to a call on Tuesday of a wayward gator that ended up in a residential swimming pool.
In a post on the Brevard County Sheriff's Office's Facebook page, Deputy Santiago watches in astonishment as local wildlife trapper Scott Swartley secures the approximately 8-foot reptile.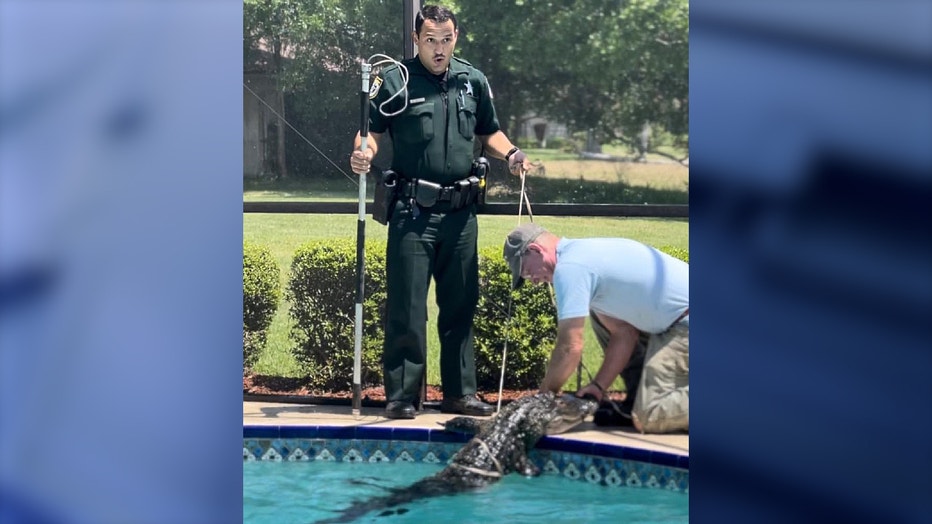 Deputy Robert Santiago with the Brevard County Sheriffs Office responds to a call of an alligator in a residential swimming pool, April 4, 2023. [Credit: Brevard County Sheriffs Office]
"When working as a Deputy Sheriff for the Brevard County Sheriff's Office there is never a dull moment!!" wrote Brevard County Sheriff Wayne Ivey. "I would love to know exactly what Deputy Santiago was thinking, but I'm pretty sure it was… 'oh hell no I didn't sign up for this!!'" 
MORE ALLIGATOR STORIES AND VIDEO:
Alligators inhabit the marshes, swamps, and rivers of every Florida county, according to the Florida Fish and Wildlife Conservation Commission. As Florida has experienced tremendous population growth and development, encounters with the large reptiles are becoming more commonplace, particularly during the mating season. 
Though alligator courtship typically begins in early April, with mating occurring between May and June, Gatorland CEO Mark McHugh shared in an alligator safety video that the early spring weather the Sunshine State experienced this past winter can be confusing to the reptiles, causing them to mate a bit early. 
While serious injuries caused by human-alligator encounters are rare in Florida, the potential for conflict always exists. Remember these tips if you ever come across an alligator:
Never feed an alligator
Keep your distance if you see one
Swim only in designated swimming areas during daylight hours
Keep pets on a leash and away from the water
If you are concerned about an alligator, call FWC's toll-free Nuisance Alligator Hotline at 866-392-4286. The FWC will dispatch one of its contracted nuisance alligator trappers to resolve the situation.