69 arrested in St. Pete street racing bust; about half were juveniles, officials say
ST. PETERSBURG, Fla. - When law enforcement officials caught wind of an illegal street racing event planned for Saturday in St. Petersburg, they were ready. A total of 69 people were arrested, including underaged individuals and a couple who brought their 1-year-old and 3-year-old that night, police said.
Nearly 40 people were arrested in an illegal street racing bust in St. Pete. 
St. Pete police, along with other agencies, made the bust near the intersection of Roosevelt Boulevard and Martin Luther King, Jr. Street North. During a press conference, Assistant Chief Antonio Gilliam – surrounded by representatives of other agencies, including Pinellas Park Police Department and Florida Highway Patrol – said many of the suspects aren't even residents of Pinellas County.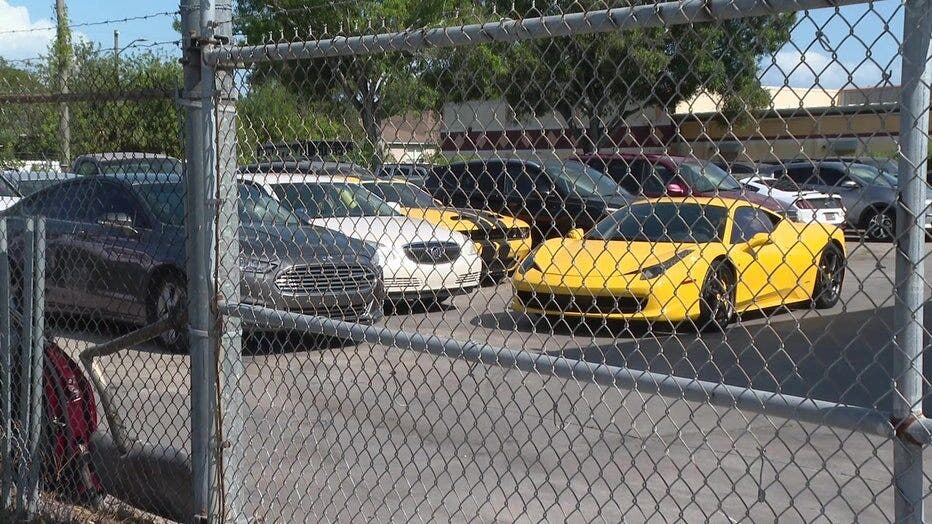 In total, there were 57 misdemeanor and 12 felony arrests, along with 24 citations. Officials impounded 23 vehicles, including a yellow Ferrari.
"Whenever the owner is the driver or occupant of one of these vehicles during a street racing event, we can take that vehicle for 30 days," explained Gilliam. "The owner must pay for fees, which could amount to the thousands."
At one point during the news conference, law enforcement showed a video that captured the moment one spectator was almost struck by a vehicle doing donuts. He also said a mother and father brought their two young children to the event. Both are facing child endangerment charges.
"As we have reminded people before, it is illegal to be a spectator of these events as well as a participant," the assistant chief noted.
Back in January, a crowd gathered along 28th Street North and 110th Avenue to watch drivers illegally race on city streets. According to officers, 34-year-old Johnny Julio Martin brought his son, Ethan, to watch.
That night, the 13-year-old was struck and killed by a motorcycle. His father was arrested.
PREVIOUS: SPPD: 2 additional men arrested after 13-year-old killed by motorcycle at illegal street racing event
Francis Simpson, Ethan Martin's mother, said news about this weekend's street racing bust was like rubbing salt in an open wound.
"I feel disappointed for the people because I feel like my son was like an animal that died in the streets, and you know, they don't care about it," Simpson said. "They don't feel what I feel and what we have to go through," she said.
"It's like all revived and I feel so mad at the time because people, they don't care. They continue doing it," Simpson said.
Simpson said Ethan was a great son who loved his brothers.
"I feel that this is a nightmare and I wish I could wake up and see him again. I wish I could change this. I wish I could go back, but I can't," Simpson said.
She said she wants those participating in street racing to hear her message because she doesn't want her son's death to be in vain. 
"They are going to have another person die," she said. "Think five minutes about how I'm feeling. If they could be in my feet for just a second," Simpson said. 
Gilliam said they would hope one tragic incident, like Ethan Martin's death, would deter the future of street racing. He said this weekend's operation shows St. Pete is a zero-tolerant city and that Pinellas is a zero-tolerant county.