National Hurricane Preparedness Week 2023: How to prepare before season begins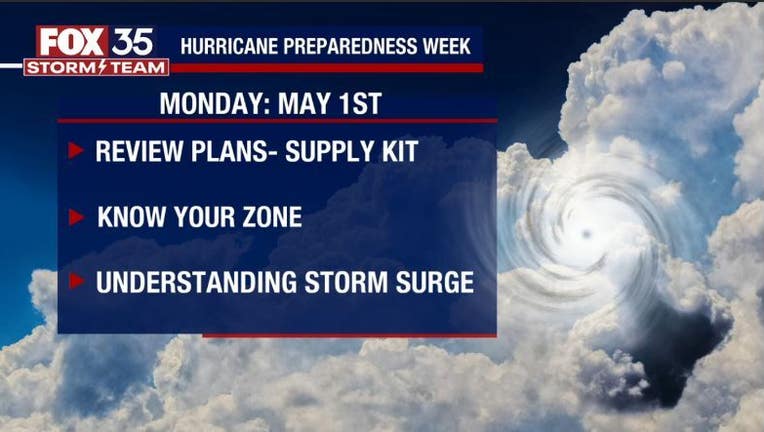 article
ORLANDO, Fla. - This week is National Hurricane Preparedness Week. The goal of this week is to inform residents about the risk of hurricanes and encourage them to make preparations ahead of the upcoming Atlantic Hurricane Season. 
Monday's topic is Prepare Before Hurricane Season. It's a good time to review your plan. 
Are you a coastal resident? Do you live in a flood-prone area? Best to know your surroundings and any hazards that may show up during a tropical event.
Assemble your supply kit. Food, water, batteries, chargers, radios, prescription drugs and cash on hand. 
Consider reviewing your home insurance plan, is it adequate? Also, document your possessions and valuables.
Create a communication plan and a written list of contacts. 
Lastly, the time is right to fortify your home. Address roof issues, make sure windows and doors are properly sealed. A quick trip to a home improvement store can accomplish these tasks all while sticking to a reasonable budget. 
The Atlantic Hurricane Season runs June 1 through November 30, 2023. 
In April, Colorado State University's hurricane experts released their yearly predictions for the upcoming 2023 Atlantic Hurricane Season, forecasting a slightly below-average hurricane season due to the likely development of El Niño.
The CSU tropical weather outlook calls for 13 named storms, six of which could become hurricanes with at least 74 mph winds. 
Phil Klotzbach, the lead author of the forecast, said that two of the hurricanes could be major (Category 3 or higher) with winds of at least 111 mph.
FOX Weather contributed to this report.