Multi-state fugitive captured in Florida after fiery stolen car crash killed dog
FLAGLER COUNTY, Fla. - A man wanted in several states was arrested in Flagler County after he took deputies on a stolen car chase that resulted in the death of a dog who was riding in the car, deputies said. 
The incident began when deputies were alerted about a stolen car out of Jacksonville that was being driven in Flagler County Thursday morning. 
Deputies located the stolen 2002 white Chevy Silverado and attempted to do a traffic stop on I-95N, but the driver fled at a high rate of speed. 
The car exited at Matanzas Woods Parkway and continued westbound, but deputies deployed stop sticks causing the tire of the car to deflate. The car continued south to US-1 to the area of Hargrove Grade where it crashed and caught fire.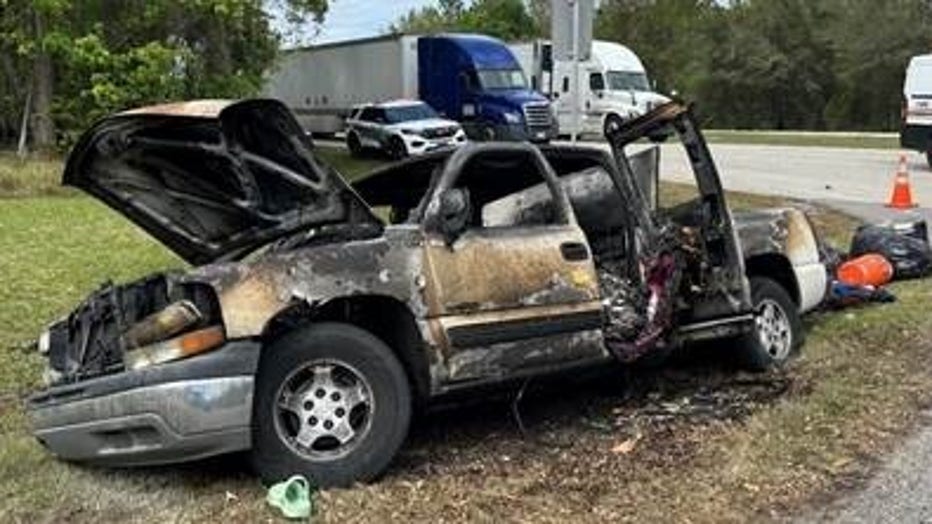 Credit: Flagler County Sheriff's Office
The man and woman in the car fled into the nearby woods, leaving one of two dogs to perish in the fire. 
Around 1:33 p.m., deputies located the man who initially gave a false name but was later identified as Emmitt Loges — a fugitive from several jurisdictions in multiple states, deputies said. 
Loges was booked on charges of Grand Theft – Motor Vehicle, Aggravated Fleeing with Injury or Damage, Touch or Strike Police Animal Causing Harm, Resisting an Officer Without Violence, Criminal Mischief (Over $1,000), and Animal Cruelty Causing Cruel Death,
A woman, Sarah Brooks of West Virginia was also found and arrested and charged with Animal Cruelty Causing Cruel Death, Pain, Suffering and Resisting an Officer Without Violence. She is being held on $22,000 bond.