Missing kids found safe, deputies say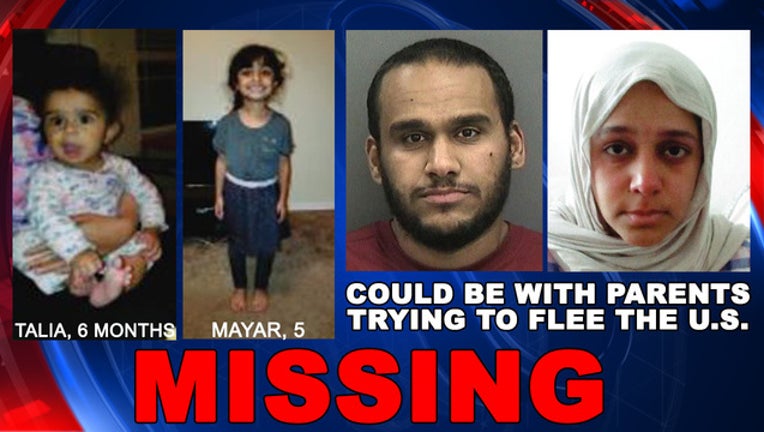 TAMPA (FOX 13) - UDPATE: Deputies say the missing kids have been found safe. "The children appear to be in good health and are being sheltered as per a court order," an HCSO spokesman says.
ORIGINAL REPORT:
Deputies are searching for two children whose parents may be trying to leave the country, they say.
Child protective investigators with the Hillsborough County Sheriff's Office say they obtained a court order take the children -- Talia Alsubhi, a 6-month-old, and Mayar Alsubhi, a 5-year-old -- into their custody.
Their father, Rami Abdulrahman Alsubhi was arrested last week on "significant" domestic violence against his wife, who is the mother of the children, the sheriff's office said.
Rami was released from jail, but deputies say they discovered him and his wife, Amerah Salem Alghamdi, may be making plans to leave the country and head back to Saudi Arabia. The departure could be as early as today. 
Talia is described as 2 feet tall, weighs 20 pounds, and has black hair and brown eyes. Mayar is described as 3-foot-4l, weighs 45 pounds, and also has black hair and brown eyes. 
Rami and Amerah's last listed address was 6218 Paddock Glen Drive #304 in Tampa. Rami is described as light-skinned, 5-foot-10 and 170 pounds, with black hair and brown eyes. Amerah is described as light-skinned, 5-foot-7, and 150 pounds. 
State and federal agencies were notified, but the sheriff's office is also asking the public to assist in finding the children. Anyone with information is asked to call the agency at (813) 247-8200 or dial 911.