Miss America chair apologizes to Vanessa Williams for '84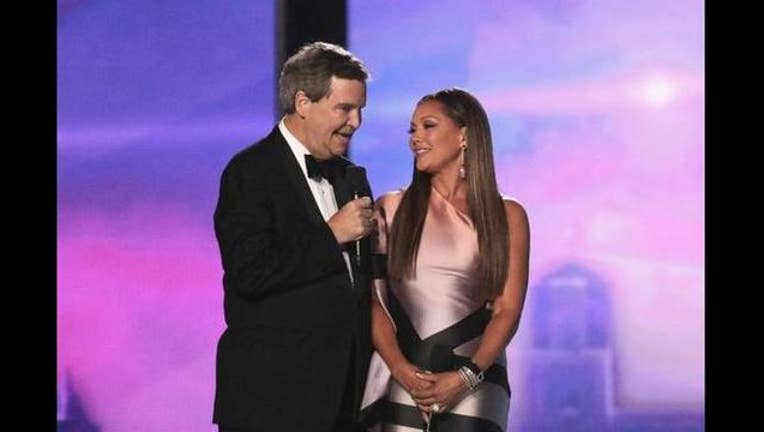 article
ATLANTIC CITY, N.J. (AP) — She wore the crown — briefly — 32 years ago, but Vanessa Williams got her moment of Miss America redemption Sunday night.
Sam Haskell, executive chairman of the Miss America pageant, apologized to the entertainer for the way the pageant's predecessors handled a controversy involving nude photos of Williams. The photographs were published in Penthouse several months after she became the first African-American Miss America. Williams resigned the title in 1984.
Haskell, who was not involved with the pageant at the time, said, "I want to apologize for anything that was said or done" during the photo scandal. "Vanessa: Welcome back!"
Williams, who went on to become a famous singer and stage and TV actress, said from the stage she "did the best I could" during the scandal.
Meeting with reporters after the pageant, Williams lavishly praised the new Miss America, Miss Georgia Betty Cantrell, then reflected briefly on her own short reign as Miss America.
"I want to thank everyone who has come up to me over the past 32 years and said, 'You'll always be MY Miss America,'" Williams said. "I got a chance to be on the stage and represent what I represented back in 1984. Thank you so much for being so welcoming to me."
Since her 1988 debut album, "The Right Stuff," Williams has sold more than 7 million records worldwide and has scored No. 1 and Top 10 hits on various Billboard album and singles charts, including pop, dance, R&B, adult contemporary, holiday, Latin, gospel and jazz.
Her work has been honored by four Emmy nominations; 17 Grammy nominations (of which 11 were for her individually); a Tony nomination, three Screen Actors Guild award nominations; seven NAACP Image Awards; and a Golden Globe, Grammy and an Oscar for Best Original Song for her platinum single "Colors of the Wind," from the Disney film "Pocahontas."
She also starred on the TV shows "Ugly Betty" and "Desperate Housewives."
Williams co-starred with Cicely Tyson and Cuba Gooding Jr. in Broadway's "The Trip To Bountiful" in 2013. She returned to the Great White Way the next year in the musical "After Midnight."
Wayne Parry can be reached at http://twitter.com/WayneParryAC