Melania Trump meets with First Lady Michelle Obama at White House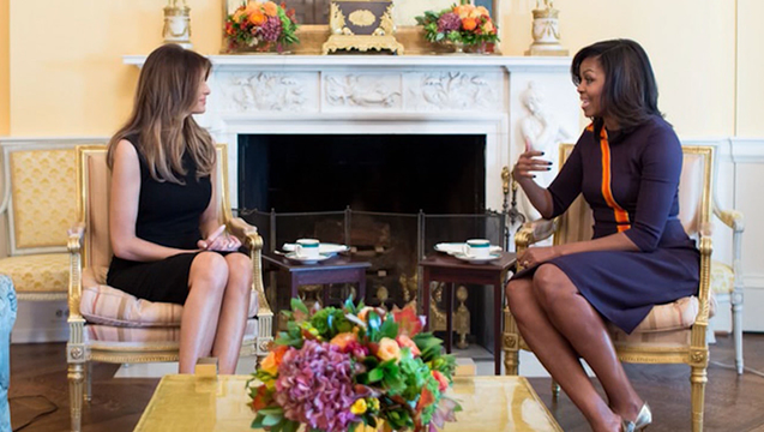 article
The White House released a photo Thursday of First lady Michelle Obama sitting next to Melania Trump, wife of President-elect Donald Trump.
The Trumps traveled to Washington, D.C. and took a triumphant tour of the nation's capital, where President Obama held a first meeting at the White House. The two men were only supposed to meet for a few minutes, but the one-on-one turned into a 90 minute closed-door talk. 
Obama said he was "encouraged" by Trump's willingness to work with his team during the transition of power, and the Republican called the president a "very good man."
At the same time, the First Lady met privately with Melania in the Yellow Oval Room, where they chatted over tea. According to TMZ, they discussed raising children before Michelle gave Melania a tour of her future home. 
President-elect Trump took to Twitter Thursday evening and said it was a fantastic day in D.C., calling his time with President Obama a really good meeting with great chemistry. 
"Melania liked Mrs. O a lot!" 
From the White House, Trump headed to Capitol Hill for meetings with House Speaker Paul Ryan, of Wisconsin, and Senate Majority Leader Mitch McConnell, of Kentucky, to discuss the GOP legislative agenda. Ryan, who holds the most powerful post in Congress, was a sometime critic of Trump and never campaigned with the nominee.
Friday morning, Trump said on Twitter he had a busy day planned in New York. 
"Will soon be making some very important decisions on the people who will be running our government," he said.