Lockdown lifted at Wekiva High School, no weapons found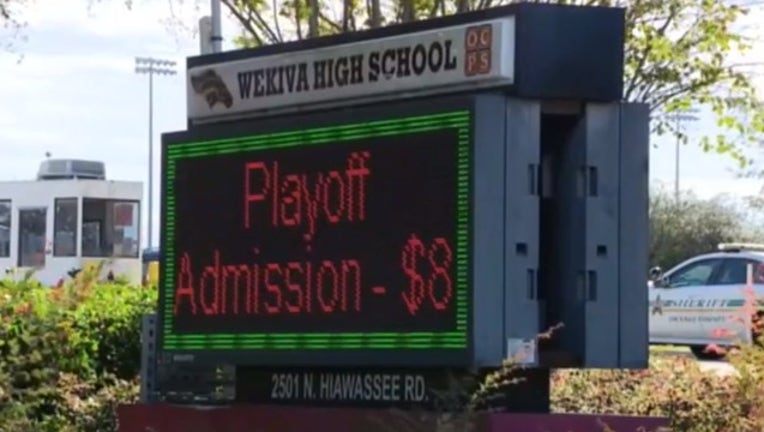 article
ORANGE COUNTY, Fla. (FOX 35 WOFL) - Wekiva High School  went on lockdown Thursday morning due to a report of a student with a possible weapon. 
Students got a big scare, as deputies searched the campus. Video recorded by a student in a classroom at the school shows a deputy telling a class to, "Put your hands up!"  
"She' was very scared. She called me, texted me, she was crying," explained Sabrina Jones, who rushed to the school after her daughter contacted her.
But Jones couldn't get inside, because it was on lockdown.
"That is awful, that is another devastating blow, because these kids are traumatized because these kind of stuff."
A Orange County Sheriff's Office spokesperson says additional deputies were brought in to do a sweep of the school and look for a possible weapon.  Deputies say no weapon was found, the principal sending out this message to parents.
"Law enforcement and district police have identified the student. All students and staff are safe."
The lockdown was later lifted. It's the second one this year.
While Sabrina realizes deputies are trying to keep everyone safe, she wishes there was another way to handle these situations.
"That's a lot on kids. They got to worry about their education and got to worry about, is they going to get shot in the school. It's ridiculous and it's senseless."
Below is the entire message sent to parents from principal of the high school, Michelle Erickson.
"Wekiva High School parents, this is principal Michelle Erickson, calling to inform you that our school has been placed on a LOCKDOWN due to a report of a student with a possible weapon on campus. Law enforcement and District Police have identified the student. All students and staff are safe. Parents, please remember that during a LOCKDOWN no one will be allowed on or off campus. I want to assure you that we take these matters very seriously and please know the safety and security of our students and staff is always a top priority. Disciplinary action will be handed out according to the Code of Student Conduct up to and including expulsion and arrest. Parents, I want to thank you for your continued support and ask that you please assist us in talking to your child about making good choices.  I will be sure to update you once the LOCKDOWN is lifted. If you have any questions please contact the school. Thank you for listening."