Meet Caramel the dog, the floating toy that was spotted aboard Axiom Space's Ax-1 flight
CAPE CANAVERAL, Fla. - Turns out, it was a dog, not a bunny aboard Ax-1's space flight to the International Space Station.
Even though it looked like "Thumper" from Disney's Bambi, the stuffed stowaway aboard Axiom Space's Ax-1 flight Friday morning was, in fact, a stuffed dog named "Caramel," who serves as the mascot of the Montreal Children's Hospital Foundation, Axiom Space said in an afternoon release.
RELATED: SpaceX, Axiom successfully launch 1st private civilian crew to space station
He wasn't just aboard the vessel to take a trip to space, he actually had an important role – to let the astronauts know when they'd reached zero gravity.
"Zero-gravity indicators are small items, often stuffed toys, chosen by space crews to provide a clear visual indication that they have reached microgravity," Axiom said.
Caramel was also chosen because of its connection to the hospital and Canadian Mission Specialist Mark Pathy, whose research includes projects linked to Montreal Children's Hospital, and Child Health Research at the Research Institute of the McGill University Health Centre.
During the live broadcast, two of Axiom Space's broadcasters noticed the floating toy and tried to figure out what it was.
"It has ears. Oh, it's a bunny! Is that Thumper? I think that's Thumper from Bambi," they said. Not quite, but not a bad guess either.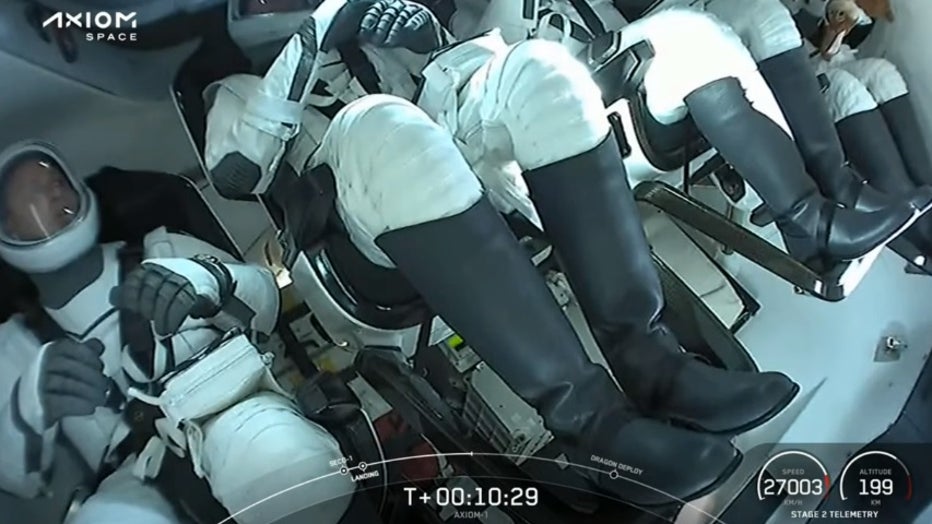 Stuffed animals have a history of going to space
A plush Earth flew on the unmanned test flight of Crew Dragon back in March 2019 to the ISS. SpaceX CEO Elon Musk tweeted a picture of the toy just before launch calling it a "super high tech zero-g indicator."
RELATED: What will the Axiom-1 crew eat at the International Space Station?
In 2020, a stuffed dino went viral as it served as the zero-g indicator on the first U.S. astronaut mission to launch from American soil since the end of the space program in 2011. 
The Axiom crew is expected to reach the International Space Station on Saturday morning.
Orlando Weather: Storm alerts, live interactive radar, forecast, and more
Click here for the latest Central Florida news, Florida stories, and local headlines.