Injured Orange City firefighter receives check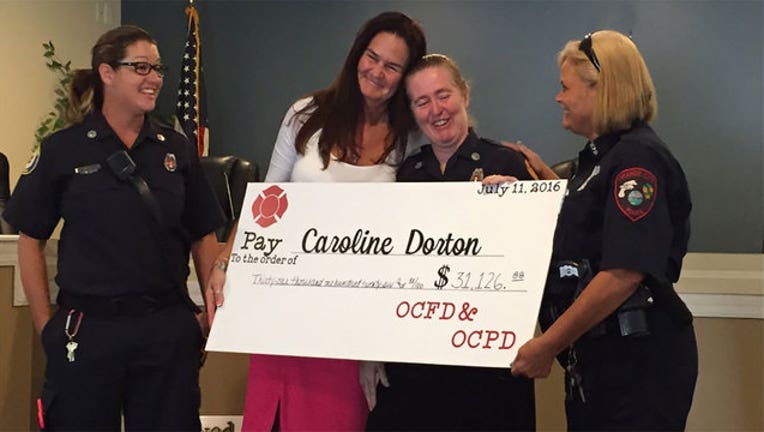 article
ORANGE CITY, Fla. (WOFL FOX 35) - The Orange City Fire and Police Department presented a check for more than $30,000 to an injured Orange City firefighter-paramedic, Caroline Dorton Monday morning.  Dorton was severely injured when she was run over by the husband of a woman she was trying to help.
Dorton was eating in a restaurant on April 17, when she heard that a woman had been stabbed in the parking lot. She ran outside to help Chericia Brown after police say her estranged husband; Henry Brown stabbed her multiple times. That's when investigators say Henry Brown got into his car and ran over Dorton and Chericia Brown. Chericia died at the scene and Brown would eventually kill their two children and himself.
Dorton suffered multiple injuries, broken bones, and couldn't walk. Nearly two months later she's back on her two feet but says she still feels pain everyday and is trying to move forward.
"Luckily I can tolerate a high level of pain but at the same time you know it's there. It reminds you that it's there. I just want to get up and go; I want to get moving with my kids," said the injured firefighter-paramedic Caroline Dorton.
The community has thrown several fundraisers to help Dorton cover her medical bills and her family.
"Right now I got workers comp helping out but that's only short term and I don't know how long I'll be out of work, I could be out a year," said Dorton.
In total, the community has raised $31,126 to help Dorton. She was overwhelmed with emotion as she accepted the check and said she couldn't be happier to have so much love and support from the community and co-workers.