Hurricane Nigel forms in the Atlantic, forecast to rapidly strengthen into major Cat. 3 storm: NHC
ORLANDO, Fla. - Hurricane Nigel formed in the Atlantic and is forecast to strengthen into a major hurricane on Tuesday, the National Hurricane Center said in its advisory Monday morning.
The Category 1 storm is located about 875 miles east-southeast of Bermuda and is moving northwest at 12 mph. It has maximum sustained winds of 80 mph and a minimum central pressure of 984 mb.
On the latest forecast track, Nigel is expected to become a powerful Cat. 3 storm by Tuesday morning, but a gradual weakening trend could start late Wednesday.
There are no coastal watches or warnings in effect.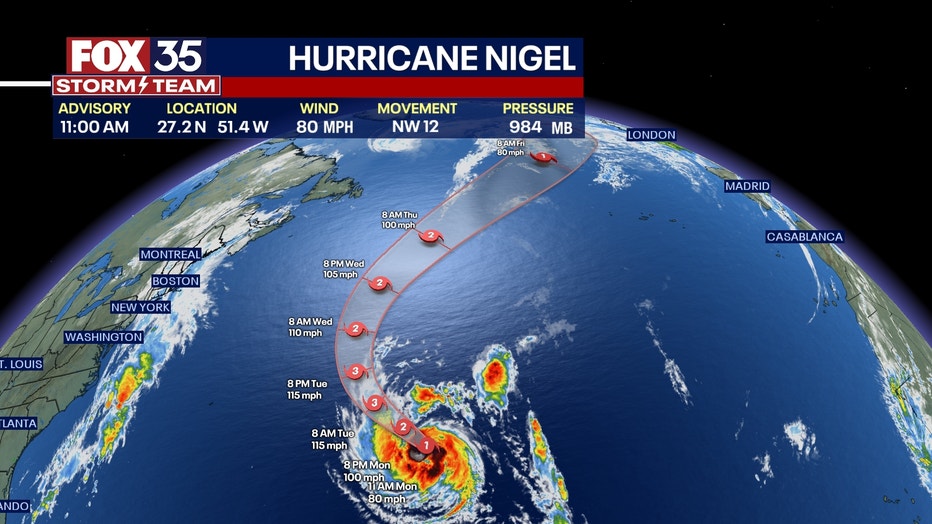 NHC watching tropical disturbance that could form near Florida
In the Western Atlantic, an area of non-tropical low pressure is forecast to form off the east coast of Florida/ southeastern United States later this week. This system could acquire some subtropical characteristics this weekend if it remains offshore while it moves slowly northward or northwestward. 
It has a low chance – 30% – of formation over the next seven days.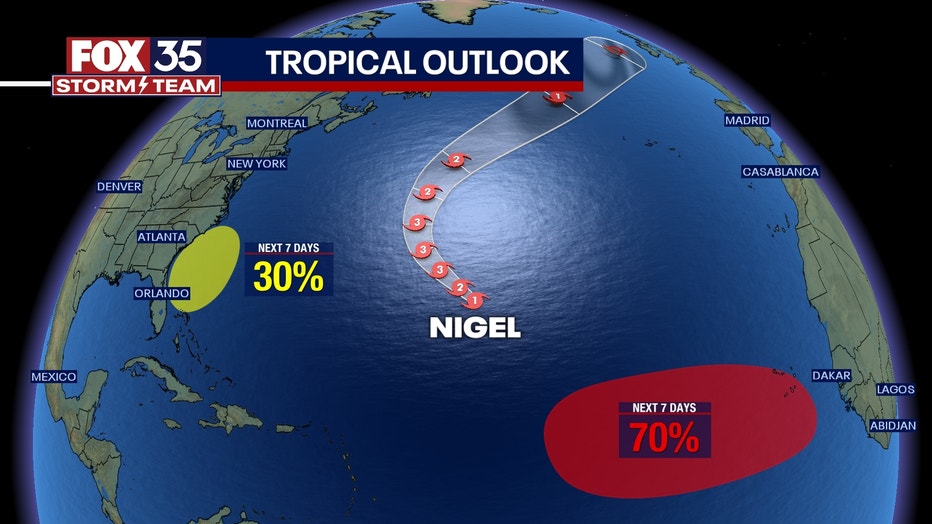 MORE CENTRAL FLORIDA HEADLINES:
Elsewhere in the eastern tropical Atlantic, a tropical wave is forecast to move off the west coast of Africa by Wednesday. Environmental conditions are conducive for gradual development and a tropical depression could form late this week or this weekend as it moves westward across the eastern and central tropical Atlantic.
It has a high chance – 70% – of formation over the next seven days.
The next storm name for the 2023 Atlantic hurricane season is Ophelia. 
Hurricane season runs through Nov. 30.