Hurricane Idalia: Crews rescue Hudson Beach residents trapped inside homes
HUDSON BEACH, Fla. - Pasco County rescue crews are working to free people in a Hudson Beach community from their homes after a storm surge from Hurricane Idalia caused flooding in the area.
The crews are staging near Highway 19 and Sea Ranch Drive in Hudson Beach. 
READ: Hurricane Idalia Updates: Storm causes flooding, damage in Bay Area 
After trying to drive down to the trapped residents, Pasco County Fire Rescue and the Pasco County Sheriff's Office loaded up boats on the back of a high-profile vehicle because the water was too deep to reach the impacted area.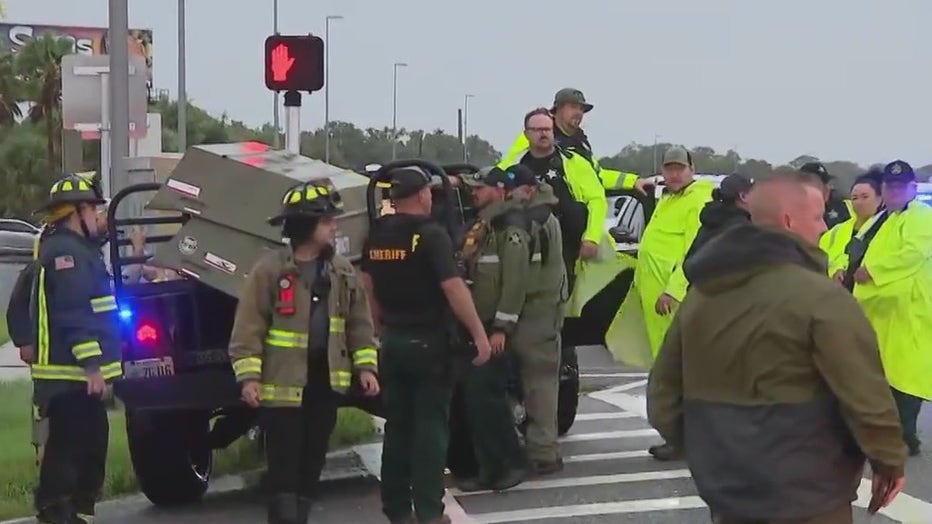 Emergency crews in Pasco County are working to rescue residents trapped in their homes following a storm surge caused by Hurricane Idalia.
One person has already been brought out and crews are going back in because there are several people stuck in that neighborhood. 
READ: Why Hurricane Idalia's landfall in Florida during full moon will increase storm surge threat
"We're getting reports of anywhere between 3-5 feet of water that's come inland and people are trapped in their houses. Please, if you are in your house and you have water come in your house, we have people staying in their homes, climbing into their attics. Please, do not go into your attic. We have vehicles out here that can come get you out. Please, come out, wave us down or whatever. You can call 911. We are here to get the residents out," stated Jeremy Sidlauskas, Pasco County deputy fire chief. 
That community is in evacuation zone A in Pasco County. A mandatory evacuation was issued for the area on Monday.
Pasco County officials are urging residents to stay home and stay off the roads.  
If your home is flooding, authorities ask that you turn off the power, call 911, and emergency crews will respond as quickly as we can.