Hundreds gather outside Orange County Courthouse calling for abortion rights
ORANGE COUNTY, Fla. - Hundreds of people have gathered this Independence Day in front of the Orange County Courthouse to protest the Supreme Court's recent decision to overturn Roe v. Wade, a 1973 case that legalized abortion nationwide, letting the states have the final say. 
The protest is one of many pro-choice rallies that have sparked across the nation.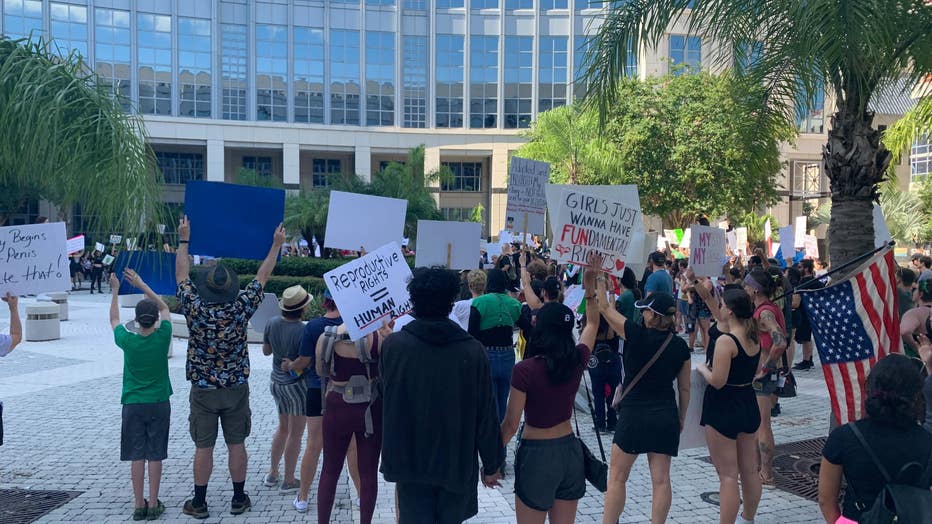 Abortion rights protest in front of Orange County Court House (FOX 35 image)
Rep. Anna Eskamani said at the event that for many in the crowd, it was important to protest on Independence Day. 
"As we come together as Americans to mark July 4, our Independence Day it's a reminder that we have to fight for the collective liberties that we have and some that we're losing," said Rep. Eskamani. 
FOX 35's Stephanie Buffamonte said protesters could be heard chanting "My body, my choice. Their body, their choice."
There were protests not only in Orlando but across Central Florida. There was also an abortion rights rally held in Viera where more than 100 people came to protest outside the Moore Justice Center.
"I have this fire. I have this fire to stand up and for everyone to hear our voices because that's the most important thing right now," a woman who was at the protest said. 
Last week, Florida Judge John C. Cooper said he would temporarily block a 15-week abortion ban from taking effect, following a court challenge by reproductive health providers who said the state constitution guarantees a right to the procedure. The law was supposed to go into effect on July 1. 
Florida's 15-week abortion ban was signed into law by Gov. Ron DeSantis this past spring. Judge Cooper, however, said his verbal ruling will not be binding until he signs a written order. That written order could come Tuesday morning.