Hail storm possible in parts of Central Florida today, how is it formed?
Hail storms shook Central Florida on Tuesday, but according to the FOX 35 Storm Team — it's not over yet. 
Photos and videos of hail raining down in Clermont, Winter Garden, Kissimmee, and even Disney's Animal Kingdom were sent to FOX 35 Tuesday as the National Weather Service confirmed some of the hail was the size of baseballs. The severe weather also toppled trees leaving damage behind. 
Will it hail in Central Florida today? 
Wednesday has been declared a FOX 35 Storm Alert Day. There is the potential for strong to severe storms to form across much of Central Florida during the afternoon and evening hours, bringing with them the risk of large and damaging hail, gusty winds, frequent lightning, and heavy downpours. A brief tornado could also be possible.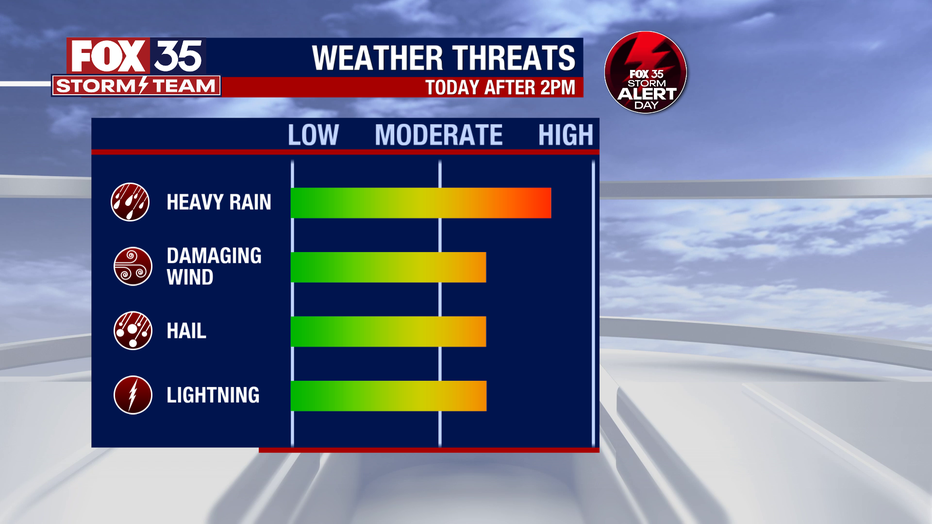 Most of Central Florida including Volusia County, Marion County, Seminole County, Brevard County, and Orange County are facing the large hail threat Wednesday. Severe storms could form anytime between 2 p.m. and 9 p.m., though the strongest storms could form around 5 p.m. during the evening commute. Again, the biggest threats are large and destructive hail – potential stones between 2-3 inches in diameter – heavy rain, lightning, and wind gusts up to 60 mph.
Hail in Florida is pretty rare and many may be wondering how it forms. 
How does hail form? 
Hail is a form of precipitation consisting of solid ice that forms inside thunderstorm updrafts, according to the National Oceanic and Atmospheric Administration. Hail can damage aircraft, homes, and cars, and can be deadly to livestock and people.
Hail is formed when raindrops are carried upward by thunderstorm updrafts into extremely cold areas of the atmosphere and freeze. They then grow by colliding with liquid water drops that freeze on the hailstone's surface. 
If the water freezes instantaneously when colliding with the hailstone, cloudy ice will form as air bubbles will be trapped in the newly formed ice. However, if the water freezes slowly, the air bubbles can escape and the new ice will be clear.
The hail falls when the thunderstorm's updraft can no longer support the weight of the hailstone, which can occur if the stone becomes large enough or the updraft weakens.