With 10,000 students stuck home, Hillsborough School Board votes to mandate masks
TAMPA, Fla. - Faced with rising numbers of COVID-19 cases and students quarantining at home due to contact with the virus, the Hillsborough County School Board voted Wednesday to buck the governor's order and mandate masks for all students and staff.
The vote eliminates the option for parents to immediately opt their children out of the mask mandate and instead require a doctor's note – a move that may result in repercussions from the state. 
But school board members said they felt they had no choice.
"There is an immediate danger to the public health, safety, and welfare," board member Nadia Combs stated, opening debate on her motion to mandate masks.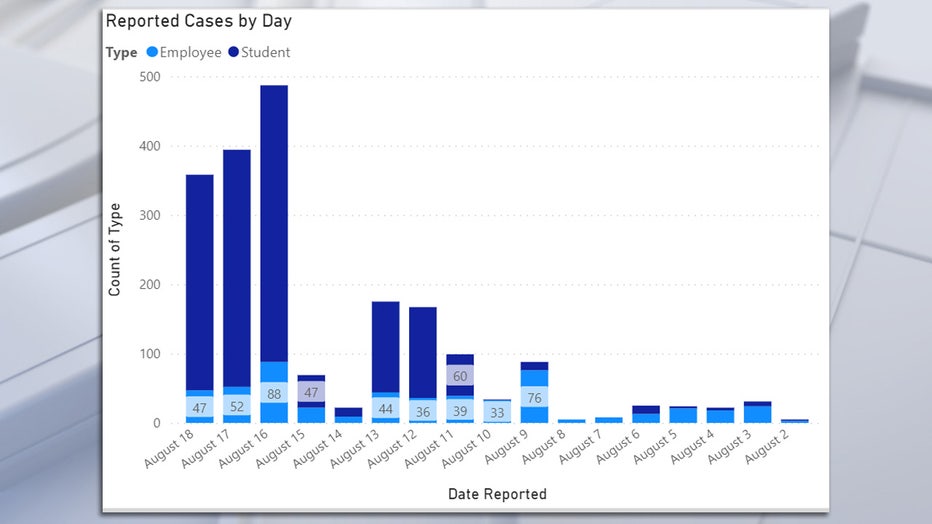 COVID-19 cases in Hillsborough schools, as of 5 p.m. Wednesday.
IMPACT OF QUARANTINES
As of Wednesday afternoon, 1,421 students and 537 staff had been diagnosed with the virus since August 2. Another 10,384 students and 338 staff members were in quarantine due to possible exposure of COVID-19 at school.
For comparison, the district had a total of 8,771 COVID cases from March of 2020 through August 1, 2021.
Data presented in the Hillsborough School Board meeting on August 18, 2021.
RELATED: As COVID-19 cases rise in Hillsborough, a 'pandemic of the unvaccinated' emerges
"Quarantining is out of hand," board chair Lynn Gray offered. "We cannot sustain any longer the plethora of our children who are being quarantined. They are not getting an education."
District policy is to quarantine students for at least seven days after unmasked close contact with COVID cases; vaccinated students do not have to stay home unless they show symptoms. 
That means the majority of the quarantined students – nearly 5% of the student population – were likely sent home because they had opted out of wearing masks, were in close contact with an opted-out student, or were exposed during a setting like lunch where masks could not be worn. 
"As we talk about lunch, that's one of the areas we're struggling with," Superintendent Addison Davis admitted, pointing out that social distancing in many cases was "just not feasible."
LINK: HCPS COVID-19 dashboard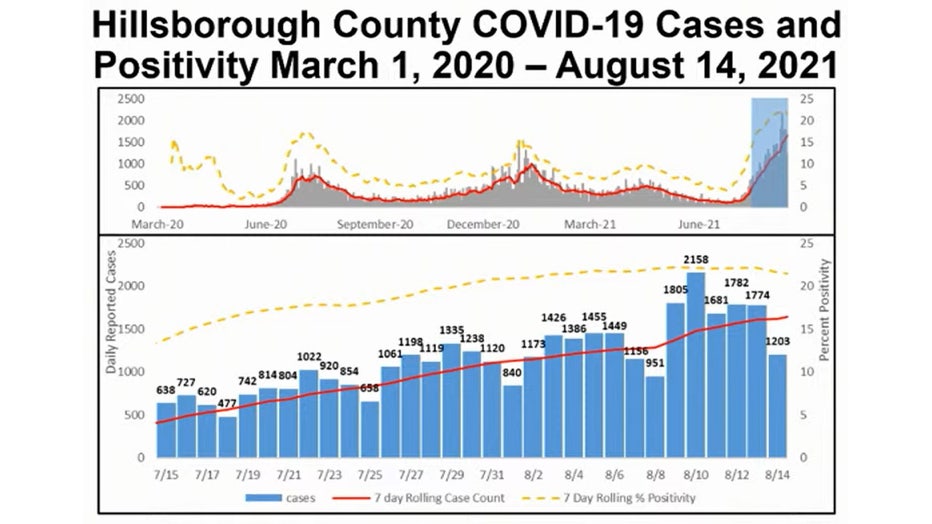 Data presented in the Hillsborough School Board meeting on August 18, 2021.
MASK EFFECTIVENESS
After hearing about the county's spike in cases, board members opened the debate by asking about the effectiveness of masks against other possible options.
Dr. Patricia Emmanuel, a USF Health pediatric infectious disease specialist, insisted that masks are important because they protect not only the child wearing the mask, but also other children in the classroom.
"The only way to stop this is, number one, get vaccinated," Dr. Emmanuel said. "Right now, one of the only things we can do to protect our children is to have everyone wear masks inside."
Davis said around 28,000 students had formally opted out of wearing masks, but he said many families had chosen not to fill out the opt-out form.
EQUITY IN THE COMMUNITY
Without e-learning as an option this year, isolated and quarantined students potentially have no access to instruction from home unless teachers and students can connect via the Canvas online learning system.
Several board members expressed concern about the high number of quarantined students, their access to technology from home, and the quality of at-home learning.
"Some parents don't have phones. Some don't have transportation," Henry 'Shake' Washington offered. "I want every parent and every student to have a right to an education."
Melissa Snively feared that requiring a doctor's note to opt-out of masks would put a disproportionally large burden on the district's poorer communities, but Superintendent Davis insisted that social and health care resources were in place to reach out to those families.
"By the time some of these students get their medical opt-out forms, 30 days is going to be gone," Snively argued.
DETAILS OF MANDATE
After two hours of debate, the board voted 5 to 2 – with only Snively and Dr. Stacy Hahn dissenting – to implement the mandatory mask policy. All students will be required to wear masks and a doctor's note will be required to opt-out.
Medical opt-outs from last school year would roll over and be valid this year, Davis said.
The rule starts immediately, taking effect Thursday, and will remain in place for 30 days.
"I know that children want to be in school," Combs said before the vote. "If it requires children to wear masks for 30 days so we can go past this peak, that is what I'm asking for."
"If we're just asking for a 30-day protective measure, isn't that the least that we can do for our children?" Gray added. "If it saves one life, 10 hospitalizations, isn't that the least we can do?" 
THREAT FROM TALLAHASSEE
The board's vote makes Hillsborough County just one of just four counties in the state of Florida that are going against Governor Ron DeSantis' executive order stating that school districts cannot require masks for their students without an opt-out option.
Education Commissioner Richard Corcoran has threatened stiff consequences for Alachua, Broward, and anyone else who opposes the order, including cutting funding.
MORE: State education board takes aim at districts over mask mandates
Before the vote, Superintendent Davis recommended against any change to the mask policy, referencing the state Board of Education's Tuesday meeting about Alachua and Broward.
"They stood really strong against the stances that two school districts took," Davis said, warning that the district could not afford to lose funds or suffer other "disruptive" penalties.
Jim Porter, the board's attorney, also noted the state's position on Alachua and Broward, but added that a legal argument could be made that the medical opt-out would suffice.
"I have no interest today in breaking the law," board member Snively said. "If we go against this order, we will be breaking the law."
"I think this executive order really needs an interpretation by our judicial system to figure out whether this falls under state law or whether or not this is actual law," board member Jessica Vaughn countered.  "So I don't necessarily appreciate people saying that by putting the health and safety of our students first and our staff members, that that is an admission of breaking the law." 
RELATED: Florida parents push back against state's attempt to dismiss lawsuit challenging ban on school mask mandates
WHAT'S NEXT
It was not immediately clear what, if anything, the state Board of Education would do about Hillsborough's decision. Moments after the Hillsborough vote, Miami-Dade followed suit, making four counties in potential violation of the governor's order – including the state's three largest districts.
The Biden administration has said that there's a possibility they will reimburse districts that face cuts due to mask mandates.
RELATED: US Department of Education says it's 'deeply concerned' about DeSantis' ban on school mask mandates
One other unsolved issue is what to do if students refuse to wear a mask. Last year, repeat offenders were sent to e-learning. Without that option this year, Davis said the district would have to find another solution.
"There is nothing we can actually do?" Washington asked.
"It becomes very difficult," Davis replied, suggesting the dress code could be invoked. "It becomes a very complex implementation process."