'Heartbreaking': Community rallies behind 3 children, grandmother killed in Osceola County crash
OSCEOLA COUNTY, Fla. - The community is coming together to remember three children and their grandmother who were all killed in a crash in Osceola County.
A15-year-old was speeding and ran a stop sign when he T-boned an SUV with a family inside, according to Florida Highway Patrol. The crash killed a grandmother and her three grandchildren inside – ages 1, 9, and 11 – around 7 p.m. Sunday.
The community came together to bring flowers and balloons to the crash site. The memorial grew throughout the day Monday.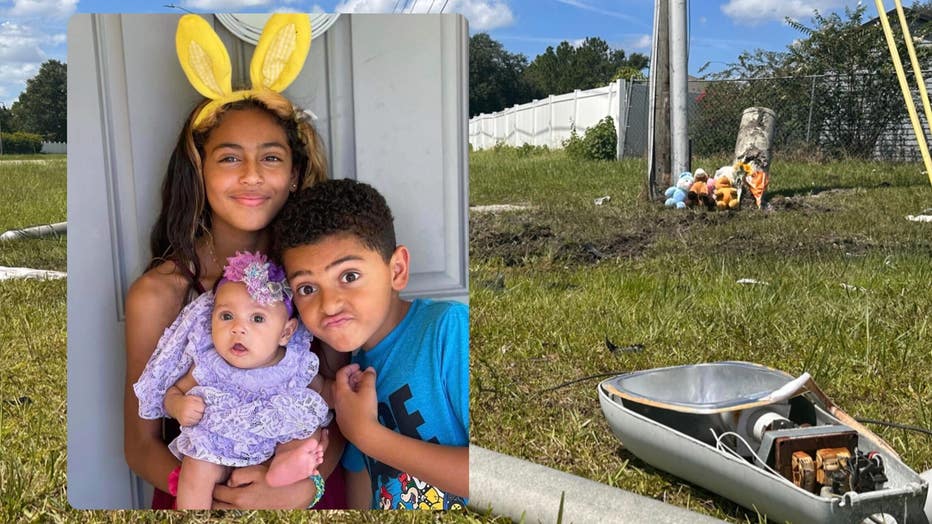 Michele Torres said that her husband was outside in their yard when he saw the crash at Laurel Avenue and San Miguel Road in Poinciana.
"He said (the car) kind of went up and into the air and came down on its side and landing on its tires. It was pretty mangled," said Torres.
Annivette Santiago was on her way home when she saw emergency responders trying to save the children.
"They were cutting the door open. They were trying to get the people out. It was a very traumatic scene," said Santiago. "I was praying with my boyfriend in the car, and I was asking, 'God, please do something.'"
She and her family brought sunflowers to the memorial Monday.
"I can just imagine how family members are grieving right now. That was someone's family member," Santiago said. "I just wanted them to know that the community supports them and we're there for them."
The 15-year-old driver didn't have a learners permit and should not have been driving a car, FHP said. 
The agency added it's important for parents to educate their children. 
"Parents need to take the time and have these tough conversations. And use this as an example. It's very tragic. It's not something we should ever go through, or ever go through again," said Trooper Migdalisis Garcia.
Residents in the area say the intersection constantly has crashes and people driving recklessly in the area. 
They'd like something to be done to prevent this from happening again, like putting in a speed hump or roundabout.