Official: Escaped Florida prisoner found in Volusia County
BREVARD COUNTY, Fla. - Update: On Thursday, April 27, the Volusia County Sheriff's Office said Nathan Barker has been arrested in the New Smyrna Beach area and was taken into custody. 
Original story
The Brevard County Sheriff's Office is searching for an escaped prisoner who left his work release camp Friday evening, according to a Facebook post. 
Nathan Barker, 20, reportedly walked away from the Florida Department of Corrections Work Release Camp in Sharpes. Deputies said Barker left the area in an unknown direction from Camp Road in Cocoa and may be headed to Volusia County, where he is originally from. 
Barker is 5 feet 10 inches, white, has blonde hair and blue eyes, and was last seen wearing a bright green shirt.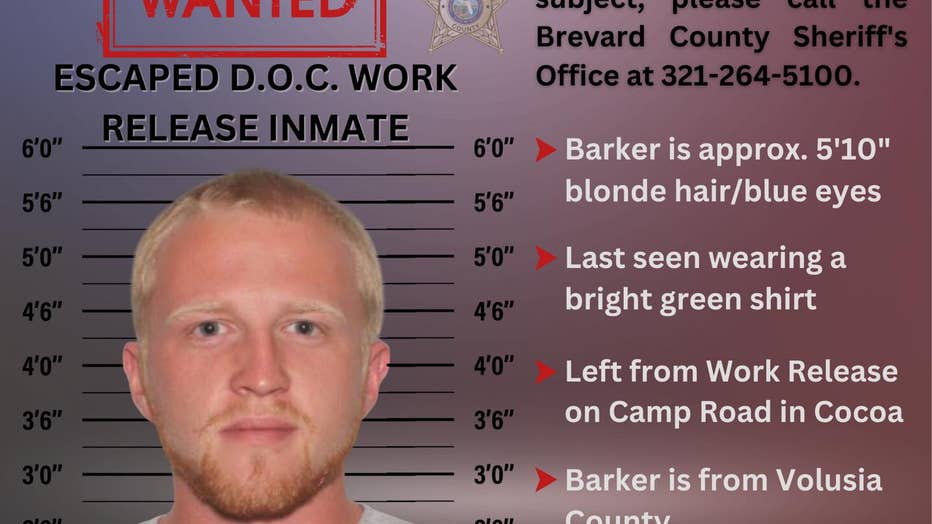 He also has a lengthy criminal history including drug charges and eluding law enforcement. 
If you have any information regarding his whereabouts or contact is made with this subject, please notify Agent Wynn at (321) 264-5100 or you can also contact Crimeline at (800) 423-8477 and be eligible for a reward