Florida deputies on the hunt for pigeon bandit: 'Please help us find this fowl felon'
REDDICK, Fla. - Deputies in Central Florida are on the hunt for a man who allegedly stole… pigeons?
A man wearing a green bandana as a face mask, black hat and black tank top was spotted on surveillance footage stealing over $2,000 worth of homing pigeons from a home in the 18760 block of NW 53rd Court in Reddick last week, according to the Marion County Sheriff's Office. 
According to an incident report from the sheriff's office, the homeowner said all his pigeons were in their enclosure around 7 a.m. on August 14. The enclosure is wooden with wiring and a roof, which stops the birds from flying away.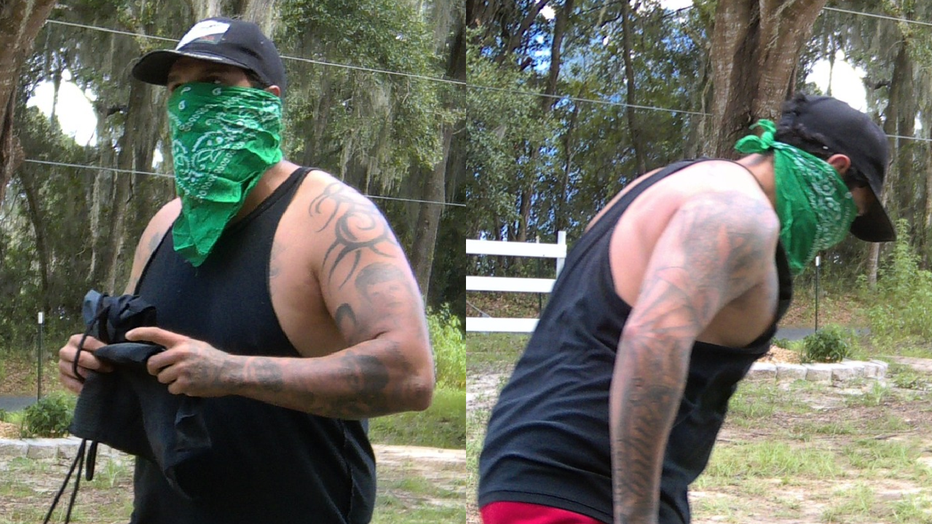 Photo: Marion County Sheriffs Office
Surveillance footage shows the man near the bird cage.
"When we catch him, we can't tar-and-feather him, but we can make him the next jailbird to roost at the Marion County Jail," deputies said on Facebook. "Our feathered friends are counting on us to reunite them with their rightful owner."
ALSO IN MARION COUNTY: Central Florida firefighters rescue raccoon stuck in tree with jar on its head
Deputies are asking anyone with information about the man's identity or location to contact the Marion County Sheriff's Office at 352-732-9111 or Crime Stoppers at 352-368-STOP.