Florida couple ambushed, shot by 'mob' gathered for illegal street racing: sheriff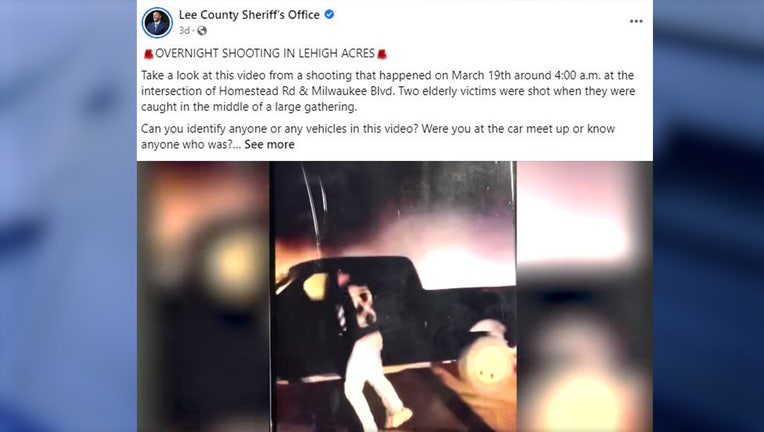 article
LEHIGH ACRES, Fla. - **WARNING: Video below contains graphic violence. Viewer discretion advised**
An elderly Florida couple were shot after being surrounded by a mob who were gathered for an illegal street race, according to the Lee County Sheriff's Office.
Sheriff Carmine Marceno announced the arrest of 17-year-old Armando Cruz in connection to the shooting. He's facing several charges, including two counts of attempted murder and aggravated rioting. He's being held for 21 days at the Department of Juvenile Justice and could be charged as an adult.
During a news conference, Sheriff Marceno explained that on Sunday, the victims were towing their boat as they were on their way to Key West. As they approached the intersection of Milwaukee Blvd. and Homestead Road in Lehigh Acres, a car club blocked the entire intersection for a street race. 
"At the intersection, a mob broke away from the larger group and surrounded the victims truck and boat and began to hit, punch and kick the vehicle," the sheriff said.
Several people also jumped onto the truck and boat. According to the sheriff, the couple were then "terrorized by these thugs."
MORE NEWS: Florida man wanted in homicide dies in crash while fleeing police, officials say
Before they could drive away, the sheriff says Cruz ran up to the truck and fired inside, shooting both victims. Video from the scene shows shots being fired into a truck during the chaos. 
The victims were able to drive away and get help. 
(WARNING: Graphic content)
According to the sheriff, in July 2022, Cruz was arrested after a video showed him beating a disabled man in a wheelchair. The video surfaced on social media and he was arrested.
"With his criminal future clear, to me, I will do everything in my power to make sure he does not see the light of day ever again."
Two additional arrests were made after Sheriff Marceno said their fingerprints matched those found on the victims truck. Robert Moya, 19, and Savion Woods, 22, are facing aggravated rioting charges. 
MORE NEWS: Florida man slaps woman with slice of pizza during argument, deputies say
Moya and Woods are currently held with no bond. Days later, 20-year-old Mia Mejia-Perez, 18-year-old Timothy Gibson, and 22-year-old Jairo Zelaya were also arrested and are facing charges of aggravated rioting and racing on highways, street takeovers, and stunt driving while filming and posting to social media. 
The sheriff's office said the elderly couple received treatment at a local hospital.
Sheriff Marceno ended the news conference by saying they will continue to make arrests in this case.
"We will hunt you, we will arrest you, and we will put you in jail. You cannot hide as part of a mob. We will find you and we will bring you to justice. I've officially declared war on anyone who thinks otherwise."