Florida Agriculture Commissioner Simpson warns of wildfire threat
TALLAHASSEE, Fla. - Agriculture Commissioner Wilton Simpson on Thursday urged Floridians to take precautions as the state's wildfire season has arrived. 
"Prepare your home regularly by clearing your roof and your gutters of debris," Simpson said during an appearance at the Florida Forest Service Valrico Forestry Station in Dover. "Prepare your yard by creating and maintaining a defensible space or buffer around your home." 
State Forester Rick Dolan said Florida has already had 1,098 fires since the start of the year that have consumed 35,424 acres. He said conditions are considered "extremely dry" across Central Florida and South Florida.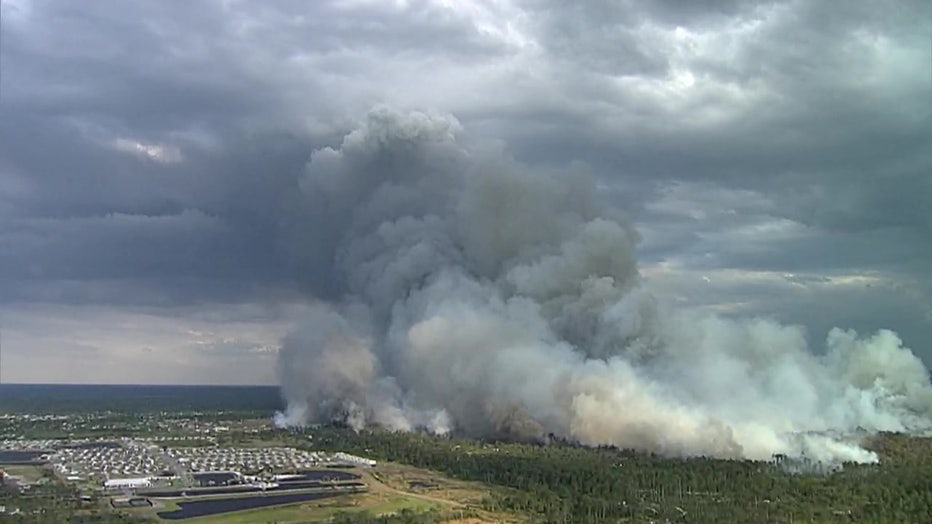 Aerial view from 300-acre wildfire in Polk County.
"The further south you go, the drier it is," Dolan said. "Southwest Florida is the driest part of the state, around the Fort Myers area, very dry right now." 
Also, he said, the lightning season is about to start. While lightning is a threat, Simpson said arson and sparks from yard debris are the leading causes of wildfires in Florida. Simpson pointed to an added concern in Southwest Florida, where debris and fallen trees remain scattered across the region after Hurricane Ian. Also, about half of the debris created in 2018 by Hurricane Michael in the Panhandle has not been cleared.
"We're going to try to be very aggressive this coming year in getting rid of that fuel on the ground," Simpson said.