FBI: Fugitive arrested nearly 40 years after Florida killing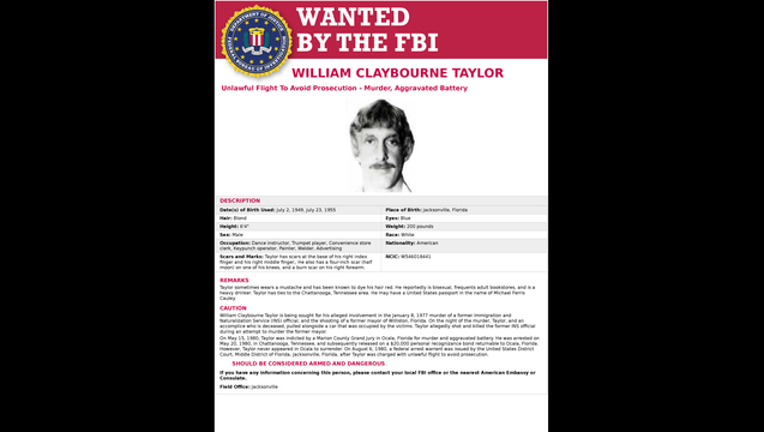 GREENSBORO, N.C. (AP) - When he was initially arrested in the 1977 shooting death of a former immigration official in Florida, William Claybourne Taylor posted bond and disappeared. Decades later, federal agents have finally caught up to him in North Carolina.
Taylor, 67, was taken into custody Thursday in Reidsville, North Carolina, where he had been living under a false name, the FBI said in a news release.
The FBI has identified Taylor, who was on the agency's Most Wanted list, as the triggerman in an attempt to kill the former mayor of a small Florida town. The January 1977 shooting left the mayor wounded and a former official with the Immigration and Naturalization Service dead, the release said.
According to an account in The Gainesville Sun on the 36th anniversary of his disappearance, three years passed before Taylor, older brother Ray Taylor and another man were accused of scheming to assassinate the mayor and then collect legal fees by representing his family.
Ray Taylor had moved to Tennessee and become a successful prosecutor, according to the paper, but was convicted in 1980 as chief planner in the plot.
Media reports say the third man, believed to be the driver of the car from which the shots were fired, testified against Ray Taylor in exchange for a manslaughter conviction and was sentenced to 15 years of probation.
William Taylor was indicted in May 1980 on charges of murder and aggravated battery and arrested five days later in Chattanooga, Tennessee, the FBI said. The agency said he never returned to Ocala, Florida, after being released in Tennessee on a $20,000 personal recognizance bond. A federal arrest warrant was issued in August 1980 after Taylor was charged with unlawful flight to avoid prosecution.
Taylor's wanted poster lists his occupations as dance instructor, trumpet player, keypunch operator and welder, among other things.
The FBI's release doesn't give details but says the agency recently discovered he was living under a false name and confirmed his identity once he was in custody.
"William Claybourne Taylor thought he could avoid taking responsibility for this horrible crime, but our agents continued an exhaustive search year after year," said Michelle S. Klimt, special agent in charge of the FBI Jacksonville Division.
The FBI statement doesn't identify the victims. However, a story published in 2013 in the Ocala Star-Banner identified the man killed as 64-year-old Walter H. Scott, of Archer, and the man injured as former Williston Mayor Eugene T. Bailey, who was shot three times.
The report says the shooting occurred as they were driving along U.S. 27 about 18 miles west of Ocala when another car pulled alongside their vehicle. The newspaper report says the victims' car veered into pine trees after the driver was shot. A person approached the back of the car and shot Bailey, the newspaper reported.
Two other men in the car escaped unharmed, the newspaper reported.
Taylor is being held in a detention center in Guilford County, the release said. It wasn't clear Thursday if he has an attorney.
Reidsville police didn't return phone calls seeking comment.