Fans enjoy Daytona 500 festivities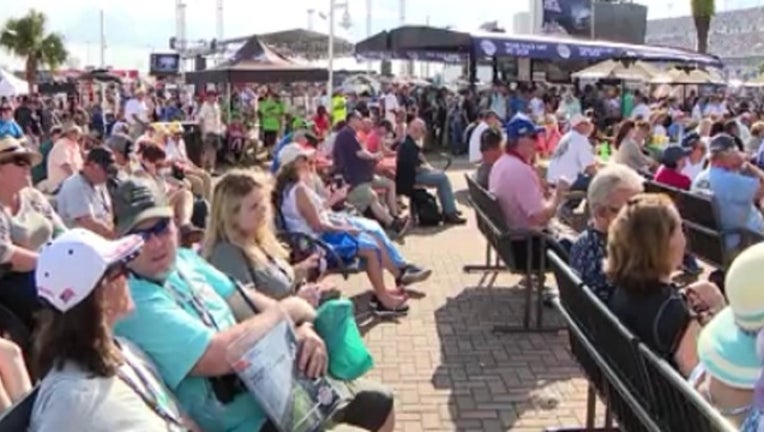 DAYTONA BEACH, Fla. (WOFL FOX 35) - A dramatic Daytona 500 race had fans on the edge of their seats until the very end of the night.
With a flyover above the speedway, the race was on, and fans were along for the ride.
"This is one place that is always on my list. Always. It's so exciting," said Janet Rovelli, of Jacksonville. 
"I had some friends that invited me out here and I thought, 'You know what? It's not cold this year, so why not come out and enjoy the beautiful weather,'" said Lori Trainer, of Winter Garden.
Longtime race fan Gilles Pelland visited from Ontario, Canada. 
It was his first race in Daytona.
"This one's better because it's the first time I'm with my brother," he said.
Fiery crashes in the last 10 laps kept fans fired up until the very end.
"It's exciting. It's gotten more exciting every year we've been coming down," said Evan Wallace, of Georgia.
"I think it's why a lot of people come to NASCAR. They come to NASCAR to see action, not the single file of cars running around the tracks," said Andy Brown, of DeLand.
Folks from far away and near, fans who need headphones and those who find silence on their own... from racing newbies to longtime fans, everyone has a reason to come to the Daytona 500.
"I've been coming here every year since '92," said John Kiley, Port Orange.
"I really had no idea what I was getting into. I know nothing about racing. Drake Owen, free concert. Can't beat that, right? And the patriotism. I love the patriotism," said Trainer.
"I love it. it's fantastic. You meet all types of beautiful people. You have all kinds of fun," said Pelland.