Excitement builds at UCF for 'College Gameday' debut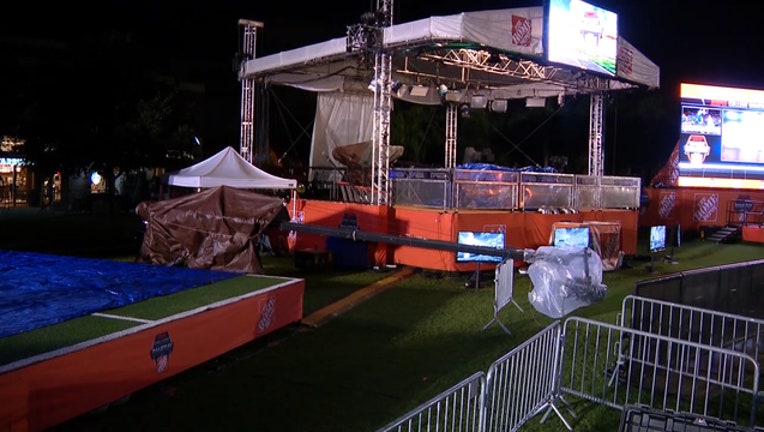 article
ORANGE COUNTY, Fla. (WOFL FOX 35) - It is going to be cold Saturday morning for ESPN's College Gameday Show, but that is not stopping Knights fans from getting fired up. 
The Gameday stage is set, and students are already scoping out their spots for this weekend's tailgate. 
With the arrival of the College Gameday bus, a buzz is in the air on the University of Central Florida campus.
"It's College Gameday. It's going to be wild on campus. It's going to be an amazing day," said UCF freshman Nathaniel Miller.
Preparations are well underway as ESPN puts the finishing touches on its stage and pit area. The pit normally holds 500 people. But for UCF, they've made it large enough to fit 1,500.
"They expect and we expect this to be maybe a record-selling College Gameday," said UCF Police Chief Carl Metzger. 
UCF junior Matthew Lopez was already scoping out the space two nights before the game. If he can't get a tailgating spot Friday, "we're going to be over here by 3:00 AM or 4:00 AM Saturday morning.
Because after everything UCF has been through with ESPN and not being recognized as national champions, "it feels good that College Gameday is starting to recognize UCF for all the hard work that they put in," said UCF junior Jonathan Anderson. 
Campus police and area law enforcement are upping patrols for game day. 
"There'll be safety measure at the ground level, above ground level and in some cases, measures that you won't even see," said Chief Metzger.
They also plan to strongly enforce the no drinking until 2 p.m. rule. 
"Be respectful. We want to show the rest of the country that we are a classy institution."
If you plan to go to the game Saturday, campus police suggest arriving early because of traffic. There's no specific time people can start to camp out, but campus police expects that to happen around 3 p.m. Saturday.