Eminem reportedly sent Vivek Ramaswamy campaign cease and desist letter demanding he stop rapping his songs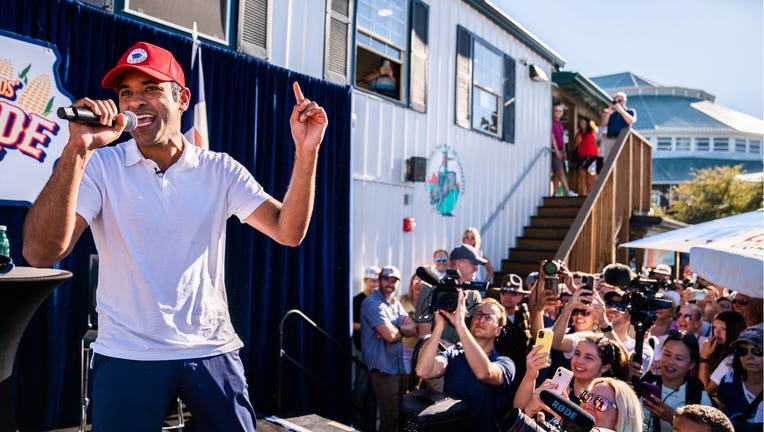 article
Republican presidential candidate Vivek Ramaswamy made headlines for rapping Eminem lyrics in public, and now the original artist has reportedly revoked privileges to use his music on the campaign trail.
Ramaswamy rapped a segment of Eminem's 2002 hit song "Lose Yourself" onstage at the Iowa State Fair in early August. Ramaswamy had just wrapped up his "Fair-Side Chat" with Republican Gov. Kim Reynolds and was signing autographs onstage when the Eminem song started playing. Ramaswamy told Reynolds that the song, featured in the film "8 Mile," starring Eminem, is his favorite "walkout song" while on the campaign trail.
However, Marshall B. Mathers, III, professionally known as Eminem, reportedly objects to the Republican hopeful using his music at public events.
"Rapper Eminem has objected to Republican candidate Vivek Ramaswamy using his music on the campaign trail," the Daily Mail reported. "A representative for the music licenser BMI informed Ramaswamy's campaign earlier this month the candidate can no longer use Eminem's music."
RAMASWAMY FIRST GOP PRESIDENTIAL CANDIDATE TO QUALIFY FOR DEBATE WITH PLEDGE TO SUPPORT EVENTUAL PARTY NOMINEE
According to a screenshot of the letter, BMI will "consider any performance of the Eminem Works by the Vivek 2024 campaign from this date forward to be a material breach of the Agreement for which BMI reserves all rights and remedies with respect thereto."
VIVEK RAMASWAMY WAS MOST GOOGLE-SEARCHED CANDIDATE AT GOP DEBATE
A spokesperson for Ramaswamy's campaign reportedly responded to the letter with a statement to the Daily Mail, "Vivek just got on the stage and cut loose. To the American people's chagrin, we will have to leave the rapping to the real slim shady."
Former UFC/MMA fighter and commentator Jake Shields posed a screenshot of the Daily Mail's story on X, formerly known as Twitter, and wrote, "Eminem has turned into such a dork that he makes Vivek look cool."
Ramaswamy tagged Eminem in a post and responded, "Will The REAL Slim Shady Please Stand Up? He didn't just say what I think he did, did he?"
Jessica Chasmar contributed to this report.