Disney employee among 8 men arrested in 'horrific' Polk County child pornography bust, sheriff says
WINTER HAVEN, Fla. - The Polk County Sheriff's Office is searching for children who may have been sexually victimized after detectives arrested eight men, including a Disney employee, for child pornography. 
According to the Polk County Sheriff's Office, the men were arrested during "Operation May's Monsters," an investigation by the PCSO computer crimes unit which focused on identifying those who possessed and distributed child pornography.
Detectives say the child pornography included thousands of photos and videos depicting babies, toddlers, and children being sexually battered, forced to engage in sex acts, or displayed in sexually explicit poses.
According to Polk County Sheriff Grady Judd, PCSO began investigating 58-year-old Stefan Young a self-employed boudoir photographer in Polk County, after a concerned citizen reported seeing an advertisement on Craigslist in which the man said he would take photos of children. 
Judd says the 'photographer' bragged to an undercover deputy that he took the pictures of the kids in their underwear, or sometimes totally nude, with their parent's permission.
READ: Polk couple arrested in 'bone chilling' child abuse case
"He said if Grady Judd finds out, we're in trouble because he will take art and make it pornography," Judd stated.
According to Judd, the photographer told the undercover agent that he had physical, sexual contact with girls who were 8 and 9 years old. Judd says he was arrested and charged with three counts of possession of child pornography. Judd added that the children in the images did not appear to be from Polk County. 
"We want to find these victims," Judd said. "Help us out. This is a bad man, and we want him to go to prison for a long time."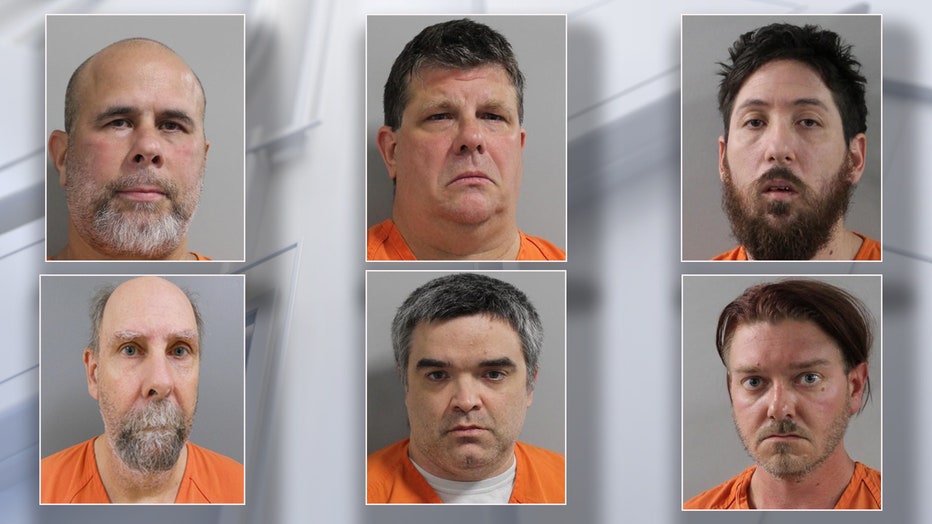 Six of eight men arrested in Polk County on child pornography charges. Images are courtesy of the Polk County Sheriff's Office. 
Another man who was arrested, 40-year-old Paul Viel, of Davenport worked at the Cosmic Rays Restaurant at Disney World, according to investigators. 
"He was a sadomasochist.  There were photos where they tied up babies in prep for sexual battery.  There was one, a weeks old child where the child's hands are tied behind her back?! Can you believe that?" Sheriff Judd described. 
Veil faces a whopping 540 counts of child porn.  That's 540 felony charges.
READ: What does it take to be a member of the SWAT team?
"Why do people like Paul Viel work at Disney? That's where the children are," explained Judd.
Judd added, "His wife asked, she's only been married to him for a year, she asked, did I marry a monster? Yes, you married a monster."
The sheriff said another man who was arrested worked at Best Buy and another made potato salad at Publix.
READ: 'We're not going to have it': Polk County Sheriff Grady Judd on recent gun violence involving kids
"We're not letting that rascal make potato salad in the jail," said Judd
Judd said that most of the men were employed, though one did not work and live with his parents. He added that many of the men were married and at least one had children though detectives did not find images of those children in the child pornography.
According to PCSO, deputies seized 1,276 images during this child pornography operation. 
"These videos and photographs are some of the most horrific my detectives have ever seen - images of children being forced to expose their genitalia and raped," said Polk County Sheriff Grady Judd. "Each time one of these monsters upload and share child pornography, they are feeding a child exploitation pipeline and they are victimizing children over and over again. Parents, this is another stark reminder of why it is important to get all in your child's business when it comes to their gaming stations, cell phones, and other electronic devices."
In total the suspects face 1280 felony charges, with more expected as the investigation continues.