Deputy reunited with girl he saved from hot car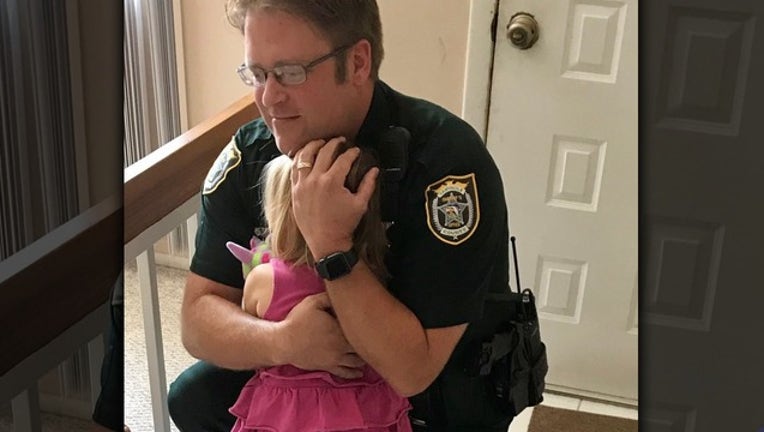 article
SEMINOLE COUNTY, Fla. (FOX 35 WOFL) - A photograph tweeted by the Seminole County Sheriff's Office Wednesday shows a three-year-old hugging the deputy who saved her life.
Seminole County Deputy Bill Dunn rushed the girl to the hospital in his squad car on Sunday morning after her mother allegedly left her in a hot car for more than twelve hours.  
"It was amazing," Dunn said about his chance to reunite with the girl.
They met Wednesday after the child's father called the sheriff's office and asked to speak to Dunn and say "thank you."
Dunn said he asked if he could meet the girl and the father agreed.  
"It was good for me, it was healthy for me to be able to see her healthy and up running and acting like a three-year-old should act," Dunn said.  
The last time Dunn saw the three-year-old she was near death.
He'd rushed to the Vista Haven apartments after the girl's mom called 911, claiming someone stole her car with the child inside.
According to deputies, Casey Keller had actually left the girl strapped in her car seat overnight after a liquor run.  
Dunn said it didn't take him long to find the car and the girl in the backseat.  
He said she was "sweaty and limp" when he pulled her out, so he stuck her under his car's air conditioning vent and rushed her to the hospital.
"I know the brain can only accept a certain degree before it gets damaged and so I put her face right underneath there just trying to cool her down, you know?" he said.
Dunn said he waited for a couple hours at the emergency room until doctors told him the child would be okay, but he's thankful for the reassurance he was able to get by meeting the girl and playing with her for a little while.  
"It was just like playing with my little girls.  It comes easy when you're a dad sometimes," he said.