Deputy resigns after slamming K-9 to the ground, fracturing leg, report says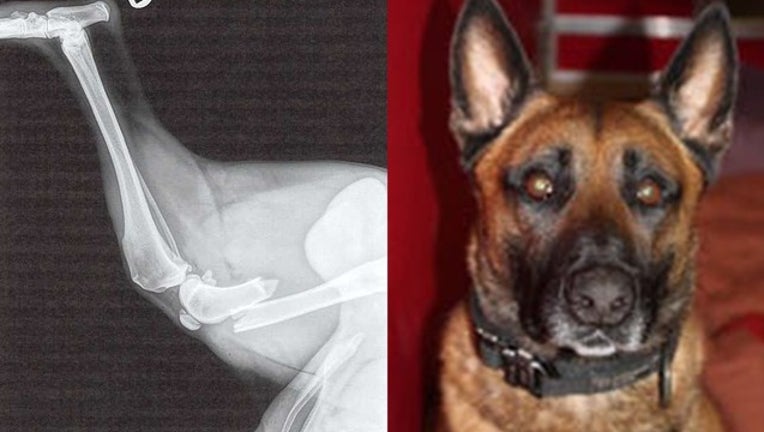 article
ANDERSON COUNTY, S.C. (FOX 35 ORLANDO) - A South Carolina deputy who is accused of injuring a K-9 by slamming the dog to the ground multiple times has resigned.
An investigation was launched six months ago after authorities said that K-9 Magnum was injured by his own handler, Anderson County Sheriff's Office Deputy Jacob Saxon. 
RELATED: K-9 dies after suffering allergic reaction during drug search at Alabama prison
Magnum had reportedly suffered a broken leg while in Saxon's care during a training exercise. According to an internal affairs memo released through a Freedom of Information Act request, back in January, Deputy Saxon "slammed K9 Magnum to the ground multiple times." The sheriff's office released X-ray photos of the dog's severe injuries.
The Independent Mail reports that another officer who was present during the training exercise heard Magnum whimper and saw the dog struggle to walk to a patrol car. 
Internal affairs records state that at the time, Magnum bit Saxon and that is when Saxon reportedly "slammed Magnum on the ground several times on an asphalt surface."
Magnum was taken to a veterinarian where it was determined he had a fractured leg.
Days later, Saxon reportedly resigned from his position.
The department also looked into a concern that "the illegal use of steroids played a part in the conduct of Deputy Jacob Saxon and the injury of K9 Magnum."
The investigation has been completed and presented to the state attorney general's office, which recommended that he not face criminal charges because of lack of enough evidence to prosecute.
Officials said that Magnum has since retired and has been adopted by the owner of Anderson County P.A.W.S.