Deputies: dump your Christmas trash in burglary boxes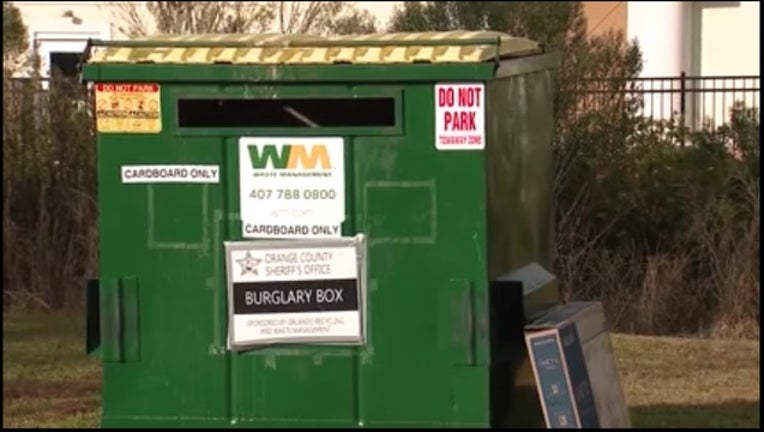 article
ORANGE COUNTY, Fla.- Law enforcement across central Florida are encouraging people to use Burglary Boxes to recycle boxes from big, expensive Christmas gifts like TVs.
Orange County sheriff's deputies say normally there is an increase in home burglaries during the holiday season which is why they've set-up eight burglary boxes to help homeowners reduce the potential of a break-in.
Deputies say leaving big boxes on the curb lets burglars know what you have inside your home. They say some burglars select potential homes to burglarize based on what is on the curb.
Below are Burglary Box locations in Orange County:
• Sector I 1111 North Rock Springs Rd. Apopka, FL 32712
(Orange County Sheriff's Office Substation).
• Sector I 2714 N. Pine Hills Rd. Orlando, FL 32808 Silver Star Rd/ Pine Hills Rd.
(Auto Zone / Citi Trends Plaza)
• Sector II 525 N Alafaya Trl. Waterford Lakes Towne Center (Behind Pier 1)
• Sector III 4851 South Apopka Vineland Rd. Orlando, FL 32819
(St. Luke's United Methodist Church at Windermere)
• Sector III 313 New Independence Parkway, Fl. 34787
(Wal-Mart over flow parking lot near Wendy's)
• Sector IV 3401 South Conway Rd. Orlando, Fl. Conway United Methodist Church
(South side of the property near the dumpsters).
• Sector V / VI 11957 S. Apopka Vineland Rd, Orlando, Fl. 32836
(Winn-Dixie over flow parking lot area)
The Kissimmee Police Department also has a box set-up through Dec. 28 at 2118 Mabbette Street.
Reach out to your local law enforcement to see if there is a Burglary Box near you.