DeLand parents face combined $1M bond after drug arrests: Deputies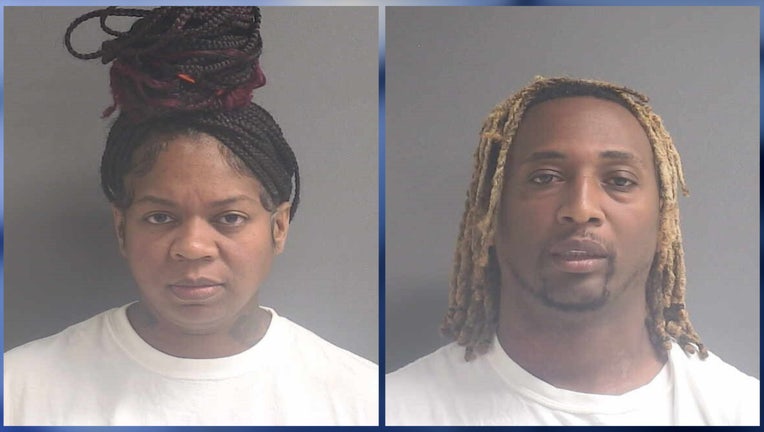 article
DELAND, Fla. - An alleged DeLand area 'drug dealer' and his wife were both arrested after deputies found an assortment of illegal drugs in their car and home Thursday morning. 
According to deputies, Wynell and Antiqua Pitts are facing multiple charges after deputies discovered "trafficking amounts of fentanyl and other drugs along with several guns and more than 1000 rounds of ammunition, all within reach of children in the home."
Wynell Pitts was arrested after dropping his children off at daycare before completing two drug transactions from his car, deputies said. An investigation into Pitts started earlier this year, deputies said. 
He was initially arrested for sale and delivery of fentanyl within 1,000 feet of a middle school. During the search, detectives said they found: 
21.6 grams fentanyl (97 fentanyl pills)
18.8 grams cocaine
4.4 grams crack cocaine
8.3 grams methamphetamine
23 Suboxone films
27 Dilaudid pills
7 Hydrocodone pills
42 Oxycodone pills
77 Alprazolam pills
5 Clonazepam pills
18 Amphetamine pills
40 grams cannabis
1 cell phone
$376 U.S. currency
Credit: Volusia County Sheriff's Office
Members of law enforcement then conducted a search warrant on the Pitts' home and found: 
18.8 grams fentanyl
1.6 grams crack cocaine
147 grams/240 Hydrocodone pills
1.6 grams MDMA
1,055.9 grams cannabis
15 grams Psilocybin
Unknown make/model rifle
S&W MP22 rife
Mossberg 12g shotgun
Dragonoff 7.62 rifle
ERA Shotgun
SKS 7.62 rifle
Ruger 9mm
US Charter Arms 38 cal revolver
Glock 27 40cal
Glock 17 9mm
RG23 22 cal revolver
Jimenez Arms 380 cal handgun
$4,497 U.S. currency
$606 Dominican currency
Miscellaneous jewelry
Drug ledger
2 cell phones
Detectives said all the firearms in the home were "readily accessible to children, with no trigger locks." The drugs were also easily accessible to the children. 
The couple faces multiple drug charges some of which include: trafficking fentanyl, possession of methamphetamine, possession of cocaine, and armed trafficking of hydrocodone.