Dearborn's historic 'Kingsbury Castle' goes up for sale
DEARBORN, Mich (FOX 2) - "We are at the 'Kingsbury Castle' in Dearborn, one of the most historic and famous houses in Dearborn," said James Marusak.
James and his two sisters had the privilege of growing up in a beautiful old tutor built in the roaring '20s by a successful real estate developer named Edith Mae Cummings.
" A lot of memories here," Jim said. "My family has owned this property for 48 years."
A lifetime of memories. His parents Ed and Carol bought the mansion when James was just 4 years old. But now his father has passed away, his mother has moved away, and it's time for a new family to call the castle home.
James took FOX 2 viewers on a tour.
After walking through the front door - the plasterwork and the details stand out immediately.
"It's all handmade - they don't build them like this anymore," he said.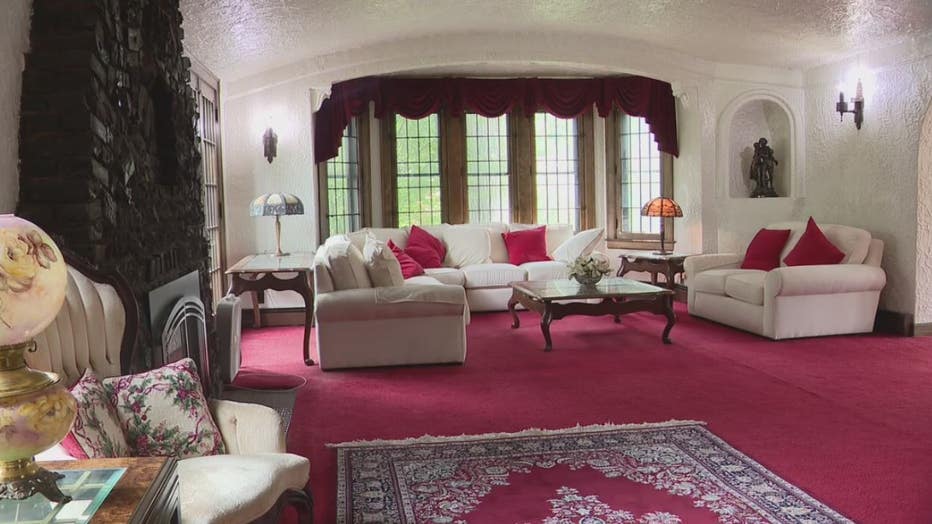 From the ornate living room to the brick fireplace to the elaborate chandeliers and original windows.
"The character of the home," he said. "You know, even the lighting fixtures - this is all original, this is all 1927. We kept all of that."
Jim's father dealt in rare coins. He was a jeweler and a collector. The 8,000-square-foot home is filled with coves, displaying bronze statues and Tiffany lamps.
But perhaps the most intriguing feature of the Tudor - is the turret.
"This is the turret, he said. "We have the spiral staircase. Again, all this (is) original wrought iron work."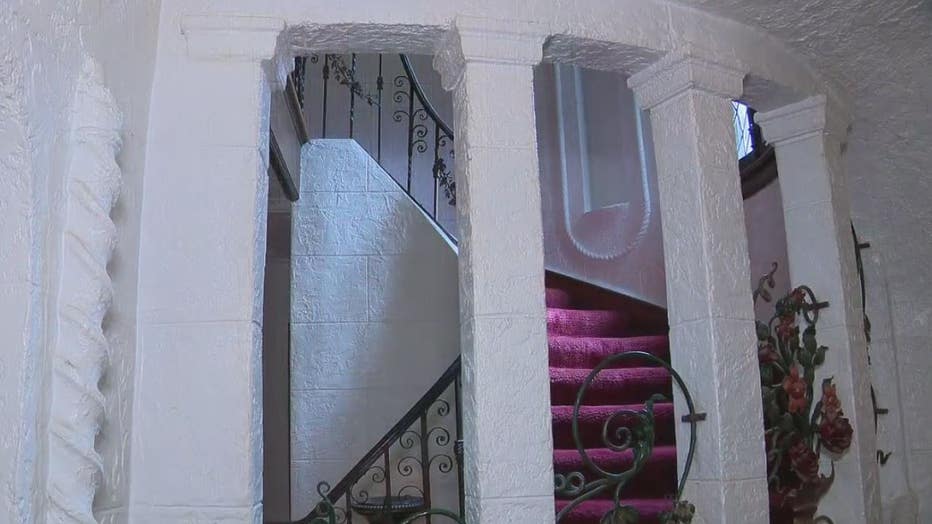 A tiny powder room is tucked beneath the spiral staircase. There's a large formal dining room - with the original chandelier, and that's not all.
"This is original, these light bulbs are original - they're low voltage," James said. "These are 96-year-old light bulbs. They still work."
And there's another original chandelier in the charming breakfast nook where his family ate most of their meals.
"And (when) we come back here, we still go to our assigned seats - you know, even after all these years," he said.
So many childhood memories tucked in alongside the spacious bedrooms and bathrooms on the second floor, and the large third floor with more bedrooms and another bathroom.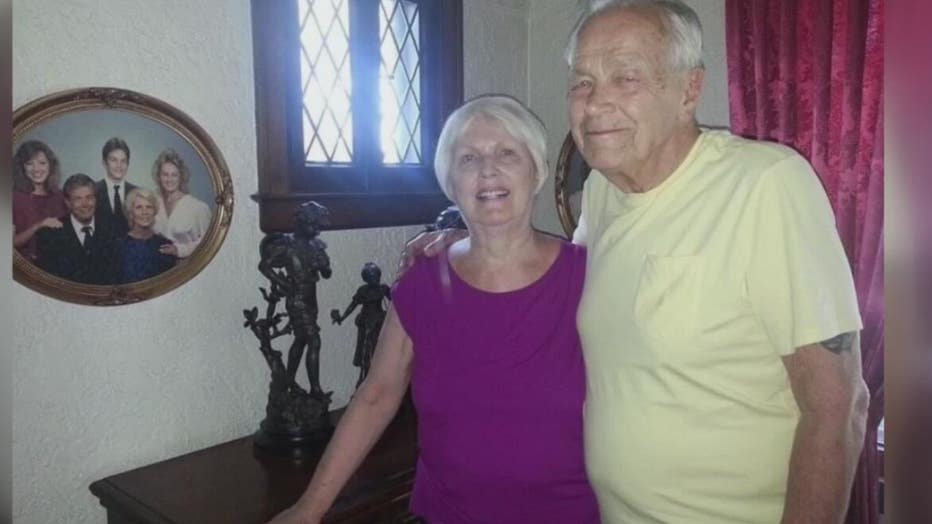 And then there's the secret closet within a closet perfect for kids playing hide-and-seek.
"We would have family gatherings here and all my cousins and friends would be here," he said. "We'd play hide and seek, and I would win every time because I knew about the little nooks and crannies and the little secret rooms of the house."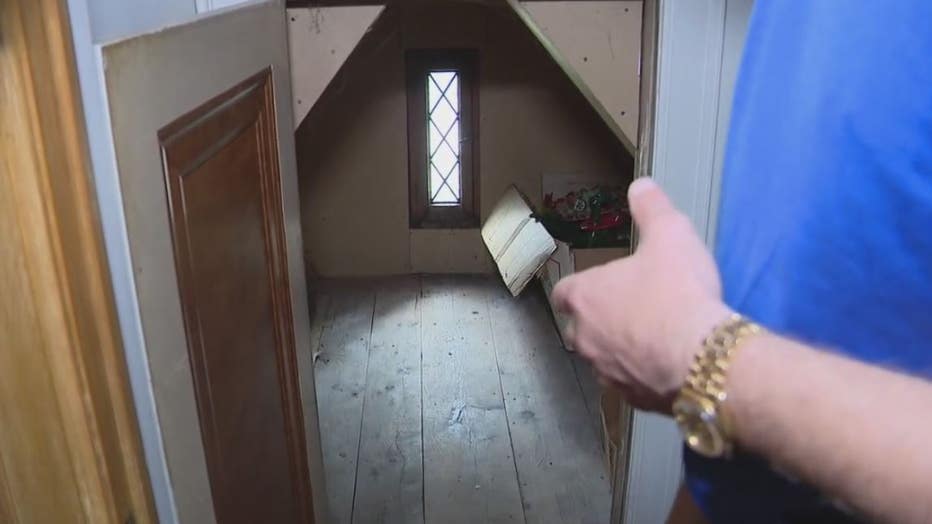 The secret room inside the second floor closet in the Kingsbury Castle.
Jim says his parents threw large parties in the basement which features a full bar. His dad had his own philosophy about living well.
"He said, 'We're going to have our home, and our up north cottage will be right out back,'" Jim said. "So you walk out the back door - and there you are."
The home sits on four lots with beautiful gardens and outdoor cooking space. Plenty of room for entertaining and Jim's dad put in a huge pool.
"We dug the pool, we put that in," he said.
FOX 2: "So you guys put the pool in?"
"Yes, that was fun," he quipped. "It's a large pool 36,000 gallons. My parents loved to entertain."
Edith Mae Cummings built the 8,000-plus square-foot house in the 1920s.
Jim knows the new owners may want a new kitchen or to show off the original hardwood floors beneath all the carpet. But he hopes they will maintain the home's original character that his family worked so hard to restore and maintain, for nearly half a century.
"It's a very difficult house to put a number on - because there's nothing else like it," he said. "The slate roof, the plasterwork. You know, who knows how to do this anymore. So it really is one of a kind."
A one-of-a-kind 'castle' just waiting for the next family to make new memories.
"Hopefully, a family with a lot of kids who can enjoy all the space in the pool and the big yard," he said.
The listing price for the 'Kingsbury Castle' is $1.399 million.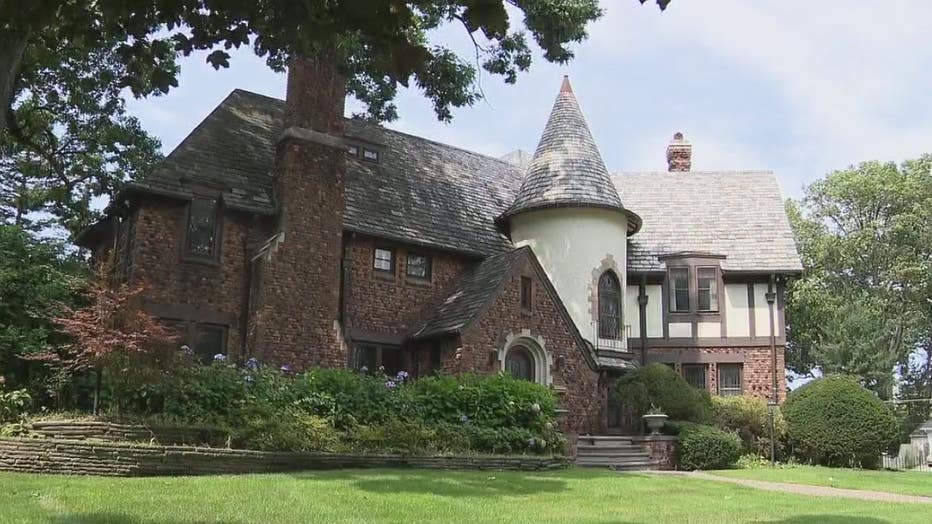 Dearborn's Kingsbury Castle