Controlled burn sending heavy smoke into Orlando's tourist district
LAKE MARY, Fla. - If you detect a haze in the air this Valentine's Day or the smell of smoke, do not be alarmed!
There is a controlled burn underway in northern Lake County that is sending smoke into Orlando's tourist district.  It is reducing visibility as winds are carrying the smoke south at about 10 mph.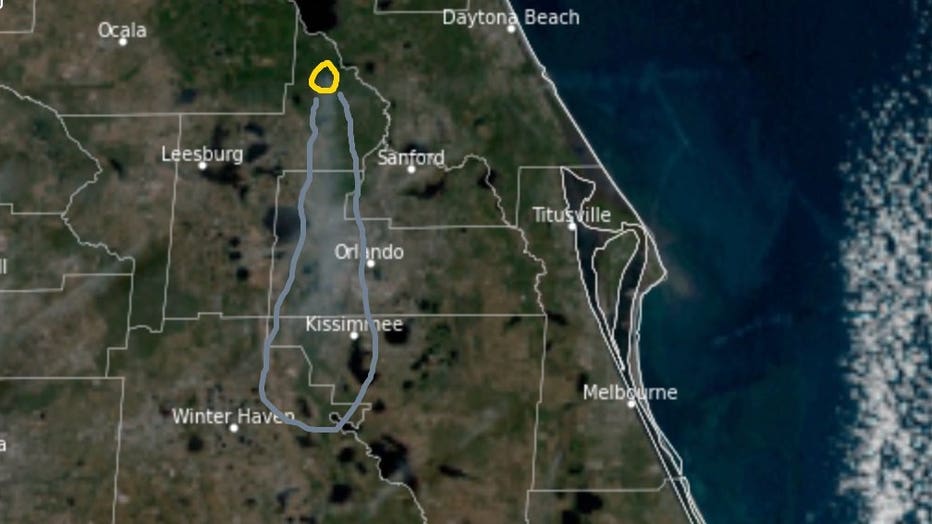 "A plume of smoke from the prescribed, controlled burn of wildlands in northern Lake County near Lake Kathryn is raising alarm in some who can't help but notice its thick veil wafting over our region's attractions and communities on the west side of Orlando," said FOX 35 Meteorologist Brooks Garner. "It's traveling more than 40 miles to get here, but its intensity is strong enough to have some believing this blaze is happening just around the corner."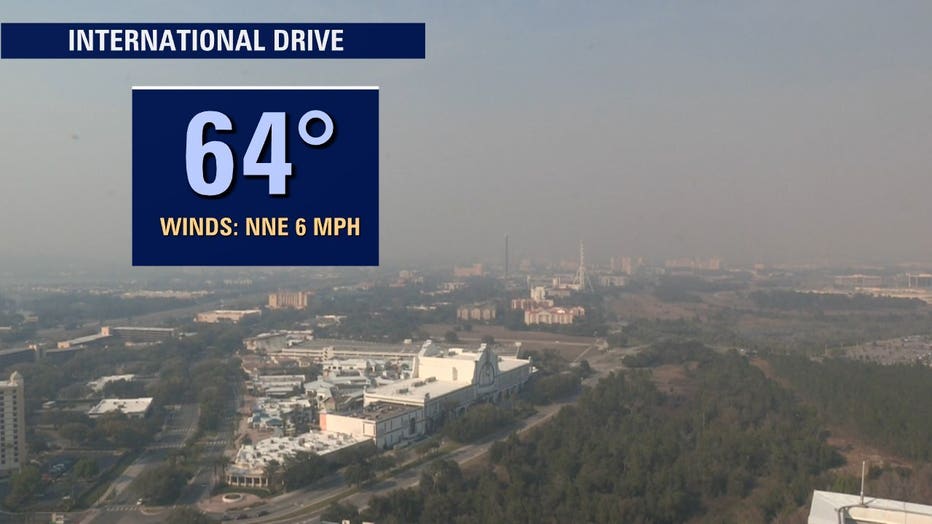 Florida Forest Service ecologists conduct these controlled, or "prescribed," burns across hundreds of acres throughout the state each year. 
"Prescribed fire is used to reduce hazardous fuel buildups, thus providing increased protection to people, their homes, and the forest," the Florida Forest Service says. "Other uses include disease control in young pines, wildlife habitat improvement, range management, preservation of endangered plant and animal species, and the maintenance of fire-dependent ecosystems."
This burn in Lake County a greater than 1,800 acre prescribed burn being conducted by the U.S. Forest Service on their land, in the Ocala National Forest. They advise that folks use caution if driving in areas of reduced visibility.
Late winter and early spring are popular times for land managers to clear debris and manage forests, in hopes of avoiding larger, uncontrolled fires should lightning strike or sparks fly during a particularly dry period. Often, however, these beautiful, "blue bird sky" days can be interrupted with viscous smoke, made even thicker from water-laden swamp brush burning. 
As the sun sets and the atmosphere cools, this smoke will lay down and dissipate. Winds are due north but will shift to the northeast later tonight, pushing the smoke into Sumter, Hernando and Pasco Counties, instead of Orange and Polk Counties, further reducing any smell or visible trace. 
Watch FOX 35 News for the latest updates. Click here for Orlando weather, Central Florida weather conditions, and live radar.